I've said it before, but custom card orders give the chance to use cuts I haven't used before! This particular card was requested for a group of school administrators. It took quite a lot of time, and it's not really one that I would want to mass produce because of all the details. However, I do really love how it turned out. I got my inspiration from this
pin
on Pinterest but changed it a bit.
The first task was to cut out the stack of books from the "Locker Talk" cartridge at 2.75 inches. It actually cuts as one color, but I cut it out in blue and then again in yellow. I snipped the 2nd and 4th book and glued it on the blue piece so that the colors of the covers wouldn't be all the same.
This clearly took a bit more time, but the result was worth it. I have seen others use a pencil to make it look like there are pages on the white portion of the books, but I didn't want to mess with it.
The apple was cut at 1 inch from "Create a Critter" and the worm was cut at 1.75 inches from the same cartridge. I checked the sizes on Craft Room to make sure it would work with the books. I played around with the location of the worm and apple to see where I would end up placing them. I actually took this picture to send to Howard for help with placement. I actually ended up changing the placement entirely because I wanted it to be a little shorter.
I needed a way to add the "thank you" sentiment from Pink by Design's set "Scripted Year." I used the 3rd smallest Spellbinders Nestabilities die from the Big Scalloped Circles Large. I needed a circle to fit into it, so I cut them out at 1 5/16 inches using the Martha Stewart circle cutter.
And after all that work, this is the final result!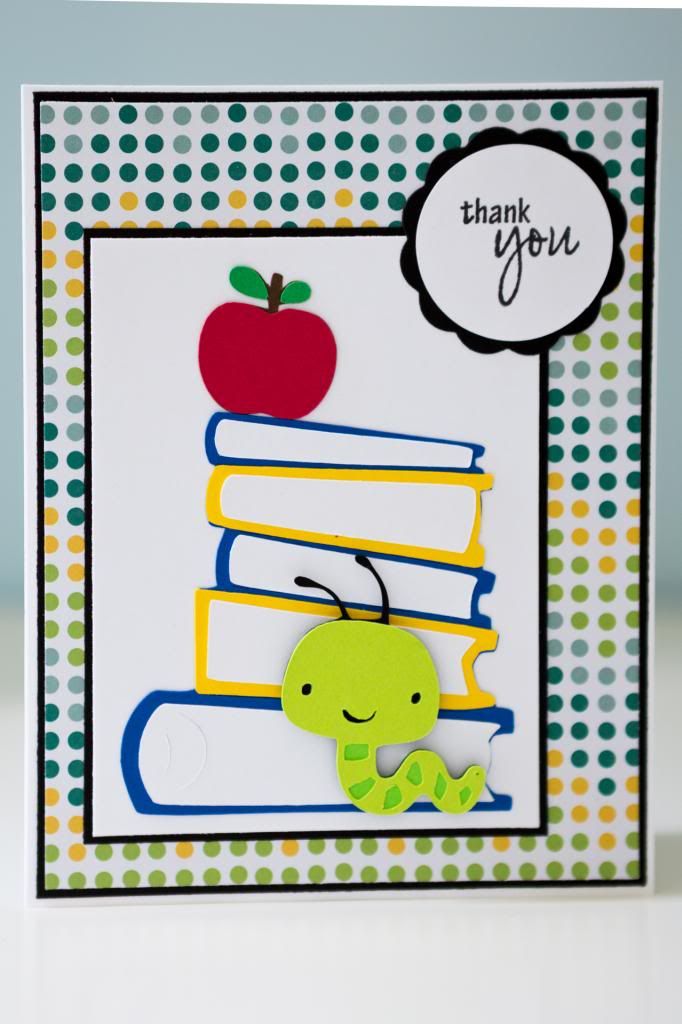 The card base was the standard A2 size at 5.5 x 4.25 inches, but I chose to make the layers thinner than normal. The larger black mat was actually cut at 5 3/8 x 4 1/8 inches, and the polka dotted patterned paper was 5.25 x 4 inches. Lastly, the white layer was 4 x 3 inches for the image itself.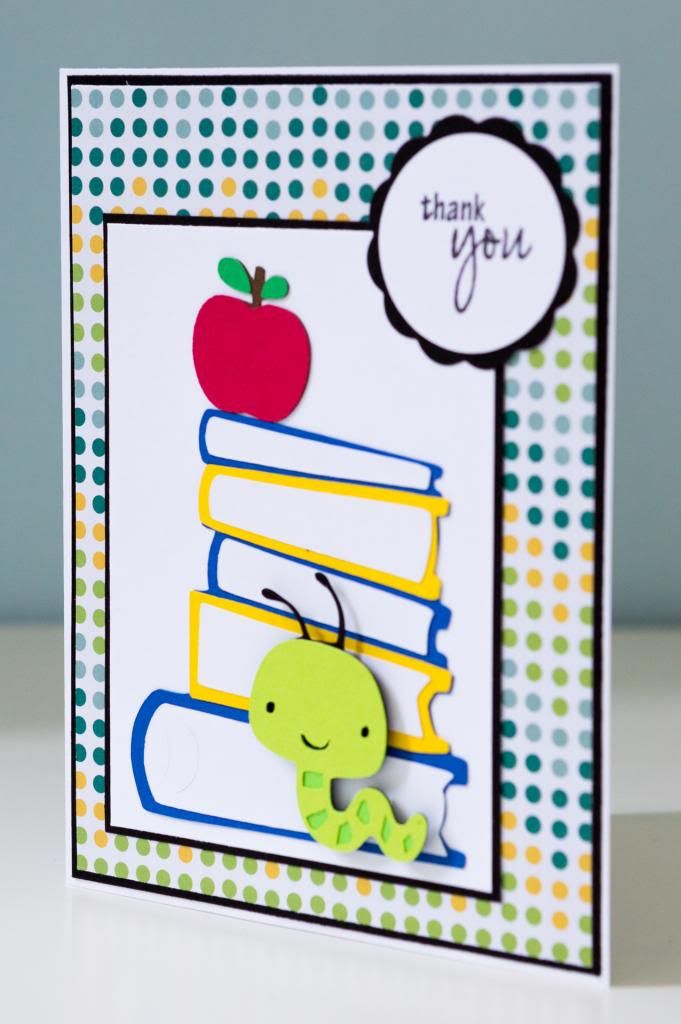 The itty-bitty worm was popped up every so slightly to give it a bit of dimension. Out of all the cards I had done that week, this was by far my favorite.
The funny thing is that as much as I love books, I don't know why we positively associate worms with them or with apples! If I were reading a book, I'd be pretty upset if there were a worm in it or anywhere near me!