It's a given that a huge Disney fan like me would have all the licensed Disney Cricut cartridges. The only bad thing about them is that the characters are so detailed with such small cuts that they're sometimes difficult to assemble. Thankfully, the Mickey and Friends cartridge isn't too bad! The only reason why I hadn't really used it before for the characters is because I knew I would need a skin color cardstock for Mickey's face.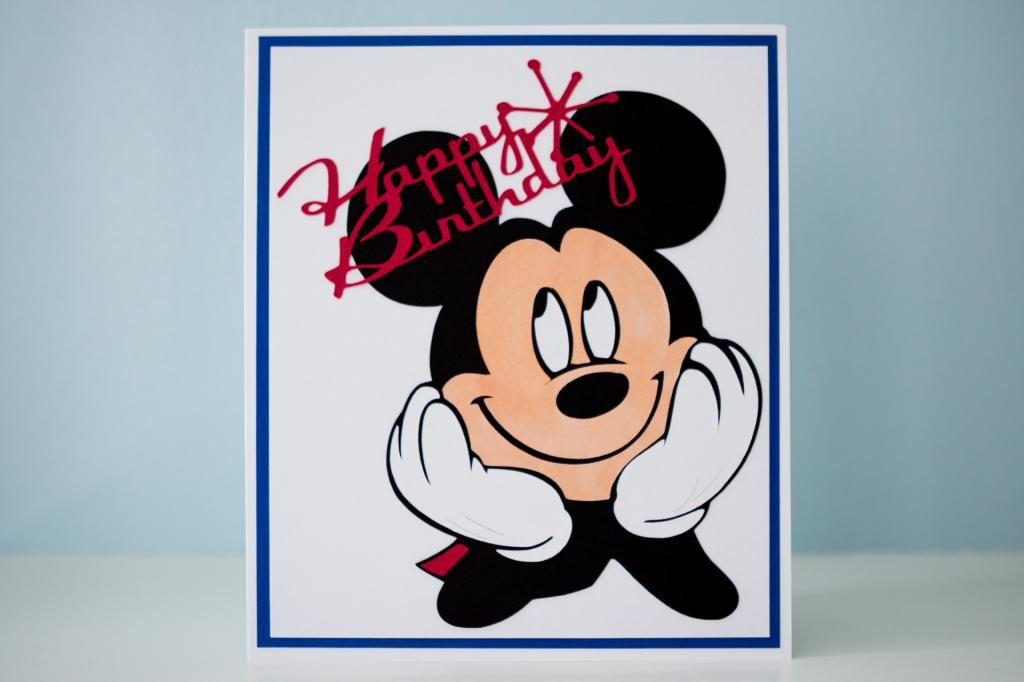 Well, that problem was solved with my Copic markers! I just had the face cut out in white, and then I used the E00 Skin White Copic marker to color it in. I didn't make the picture below too large because I know it might be a little frightening, haha.
This was actually the birthday card I made for our friends' son. His 2nd birthday party was this Saturday, and I helped with the decorations. I knew I had to use an actual cut of Mickey on the card itself! Knowing that it might be a little difficult dealing with the separate pieces, my base was actually a 6 x 7 inch card. It's easy being able to make different-sized cards nowadays (well, at least for myself when I need it) because I can just make the envelope myself. The image was cut from "Mickey and Friends" at 6 inches, and the sentiment was cut from "Lyrical Letters" at 2 inches. A simple blue mat was the only thing I felt was needed to tie this card together since the focal point was obviously Mickey himself!
I didn't write down the cartridges or sizes for the cuts I used on the envelope because I kind of did it last minute, but I really enjoy being able to dress up envelopes when it's not being mailed to the recipient! I welded all the letters together so it'd cut in one piece, thus making it easier to adhere to the front of the envelope.
After I finished this card, I was definitely in the mood to make some more character cuts from the cartridge! I haven't yet had a chance to do so, but now I know it'll be manageable. I have so many Disney friends who would appreciate them too!