These were the last two colors I've used recently. The first one is an NYC New York Color polish called "Prospect Park Pink." I was really in the mood for a brighter pink without being too light or neon, and this one definitely fit the bill. These polishes are only $1.99, but the color actually lasted a pretty long time on my nails. There wasn't much chipping at all as the week came to an end.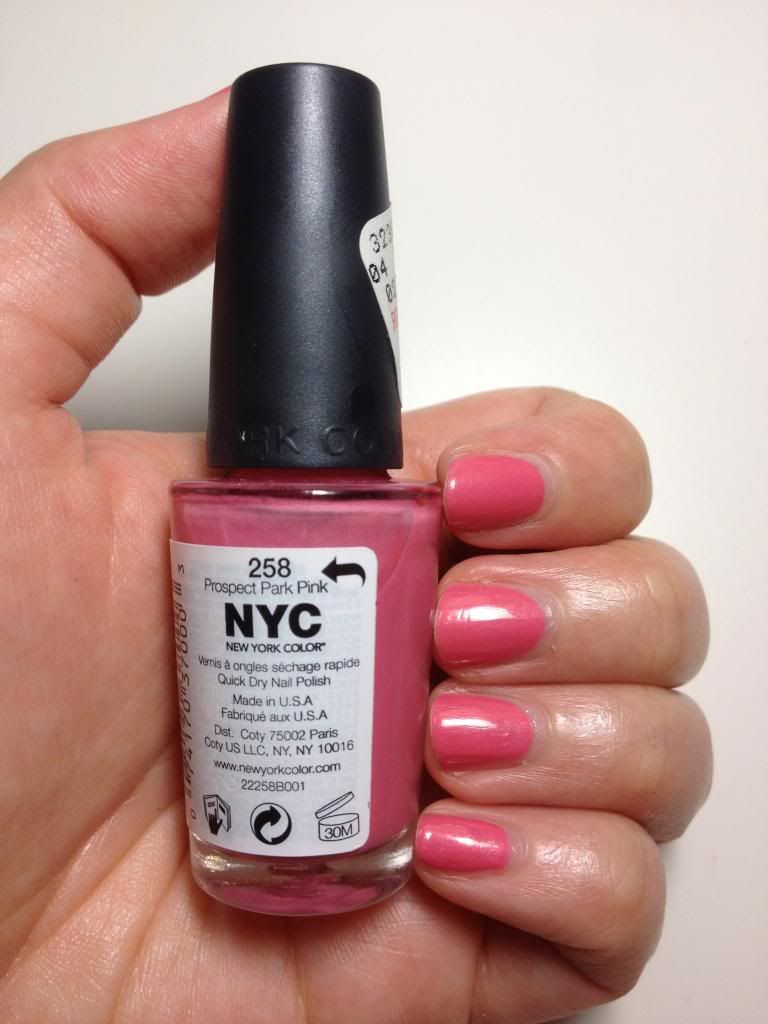 Every time I use an inexpensive drugstore polish that lasts, I'm still amazed by it. When I first started buying polishes, I asked my friends a question on Instagram because I wanted to know what brands they liked that lasted. I knew that there were a ton of Essie fans, but I just couldn't see myself spending that much on ONE bottle. In the same way that I'd rather spend the amount of money that others would use to buy one designer bag on a bunch to have options, I do the same with nail polish. Of course, it has to last and be worth even the $0.99 or $1.99 though! I would definitely get more of these NYC "In a New York Color Minute Quick Dry Nail Polish." That's a mouthful!
The following week, I still chose a pink color because I was going to the 8th grade graduation. I had taught them when they were in 6th and 7th grade, so it was important for me to see them on that special day. I used Sinful Colors "Ablaze" on my hands and my toes. It was definitely darker than the polish used the previous week, and I liked how it was eye-catching without having to use an actual red polish. This is the bottle that I got in my PinchMe box, which is basically a service that sends out freebies if you can snag them in time. This is the second time I've been able to get nail polish in my box. If I didn't get this for free, I don't think I'd purchase it. I personally am not as big of a fan of Sinful Colors. Though they have a wide selection of colors, I found it too thin for me to work with comfortably. I know it's supposed to be 2-3
thin
layers, but I'm used to using polishes that are a bit thicker. Maybe I just don't have patience and want the polish to be opaque a bit faster. Some of my nails required the 3 layers. But because it was absolutely free, I still loved it because of the color!
By the way, even though I've been doing my nails more often, I haven't taken the time to take care of my cuticles, so that's why they're not moisturized and pushed back. It's okay though because I've gotten used to painting my nails and staying away from the cuticles, which is what you're apparently supposed to do anyway! It doesn't require any clean-up for me, and the removal process is much easier. For me, it's definitely a cleaner look by staying away from the sides.
Okay, I used pink colors two weeks in a row. I definitely need a blue or a green next!
(Read Part I of the series)