Despite the fact that I've only completely finished 2 of the 3-wick candles I have purchased, I just bought more. And I'm not making any apologies for it! I know I have mentioned it before, but I really started burning candles more often to cover the smells from the hallway that would travel into our apartment. Once I picked up a few around Black Friday 2013, I've been loving my stops at Bath & Body Works even if I don't actually purchase anything. Sometimes it's just as much fun going in to sniff the new scents that I know I won't like (ex. bakery/dessert scents, floral scents, and pumpkin scents), but the curiosity gets the better of me because I see everyone else loving them.
At this point, I can pretty much predict which ones I will enjoy since I'm fairly predictable! Citrus scents or musky scents (like "mandles" because they smell like men's cologne) are the ones I typically enjoy. Because I saw that the fall test candles were mainly pumpkin scents and other items that don't look like they're for me, I knew I should grab a last few summer candles and be set for the year. I still have plenty of winter candles from last year (mmm, Sparkling Icicles, Black Tuxedo, and Mahogany Teakwood!), so these would be the last set for a while. I did recently buy 2 Pomelo Grapefruit as backups just in case they don't bring it back next year since it might be my favorite summer candle, but other than that, I haven't bought any in a really long time.
Now before I get into the actual scents I chose, I'd like to point out that I did not pay ONE CENT for any of these candles! Because of
Swagbucks
, as usual, I got all 6 candles absolutely
FREE
! I knew I would want to get some of the Summer Sips candles, so I exchanged 5000 SB for a $50 e-gift card. I used the code on that to purchase an actual gift card online, which I received in the mail to spend in the store!
Howard was with me that day, so these are the ones that we chose together.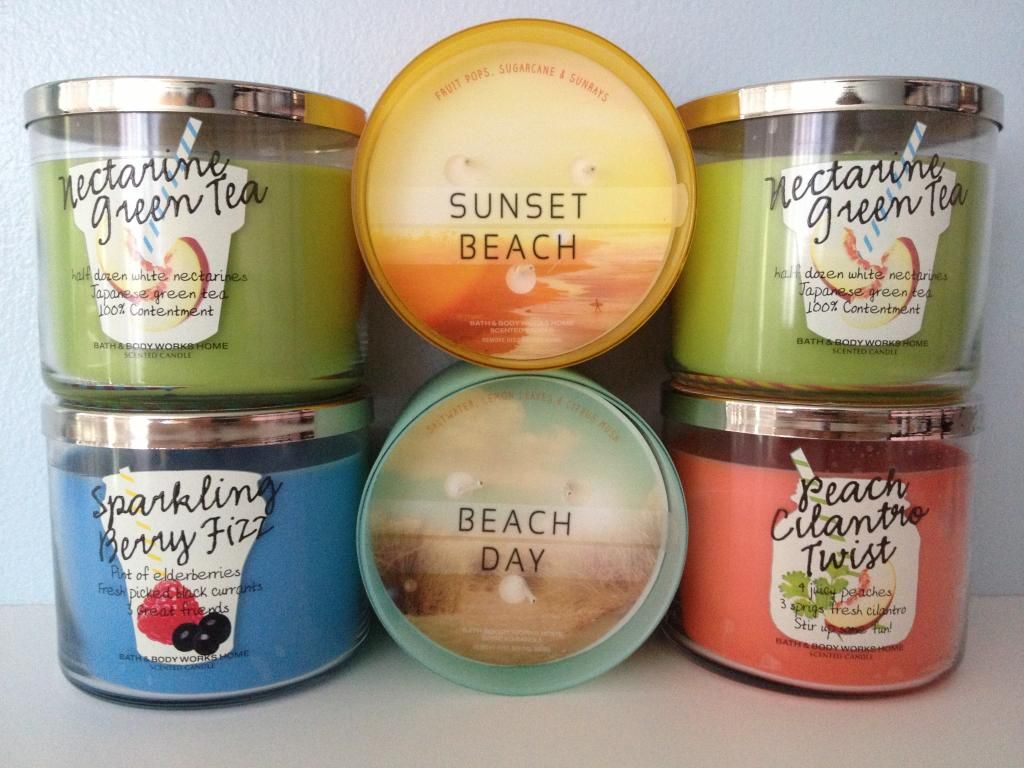 These four are from the Summer Sips line:
Nectarine Green Tea (Japanese green tea and ripe nectarines): This was the one I was looking forward to getting when I saw the Summer Sips candles online and on Instagram during the testing phase. I adore London Calling (Tea & Lemon) because it's just so calming. I was hoping this tea scent would come through fairly strongly too, but at first sniff, I was actually a little disappointed. I didn't think it was too special because all I could smell at first was the nectarine. Later on, I took another whiff and got some of that green tea. I'm hoping it burns really well too, so I chose to get two of them instead of one of the Pink Apple Punch candles in the same line. That one smelled a lot like Jolly Ranchers to me, so it was just a bit too sweet.
Sparkling Berry Fizz (sweet elderberry, tart black currants and bubbly spring water): So I don't know what elderberry or black currants are supposed to smell like, but this is a pleasantly sweet candle. I'm okay when candles have a sweet fruity scent, but I don't like sweet bakery scents. This is actually very close to the "almost too sweet" side of things for me. The first whiff smells a bit like candy, but then when I smell it a bit more, I get a deeper berry scent. I was okay just having one of these. I have to say that the wax colors in this line are really pretty!
Peach Cilantro Twist (summer peach, garden cilantro, and a hint of juicy mango): Howard really enjoyed this candle! He really zoned in on the peach aspect of it, but when I smelled it, it was almost all cilantro! If you don't cilantro, steer clear of this one. I feel as if there's no escaping it. I said that it reminded me of fish, haha. It's not that it smells like fish, but my mom used to grow cilantro and use it on whole fish because that along with ginger really takes away fishiness (it's the equivalent of other types of cuisine that use lemon or other acids to remove fishiness). I admit I actually chose this one because he liked it so much. If I were choosing them quickly, I might have chosen a Pink Apple Punch instead. I have a feeling it's going to burn very well though and work very well in our apartment since burning a candle in the apartment means burning it in the bedroom, the computer area, and the kitchen since we're in a studio.
These two are from the Coastal Cool collection, and are in frosted holders without lids:
Sunset Beach (pineapple, papaya & sugarcane fragrance although the paper lid says "Fruit Pops, Sugarcane, & Sunrays"): First of all, I'm really hoping that this burns well because I did see after the fact that many people had bad experiences with it having no throw. We'll see what happens when I try it out myself. In terms of the cold sniff, it has a fruity scent, but it's very different than the other ones that I already have. It must be the papaya since it has a bit of tropicalness to it. If there are issues with the burn though, it'll have to go back. I do love the colors of these frosted holders though. Haha, that did sway us a bit in terms of narrowing it down. I do wish they had lids though for easier storage and also knowing that the wax is protected from losing all of its scent.
Beach Day (saltwater, lemon leaves and citrus musk): The thing that I think of when I sniff this candle is "summer musk." I do like the musky scents when it gets warmer because when I'm cold, the smell just fills the room and makes it much more inviting. This candle is a much lighter version of the muskier scents from the winter lines, but if you don't like that aspect of candles, this is another you'd have to avoid. I was actually thinking of getting the Coastal Sun one because it was orange and grapefruit, but Howard pointed out that I like it because it's citrus ... just like other candles I already have. He said that the Beach Day is much more unique, and he was absolutely right. I like having quite a large variety instead of having the same ol' same ol'.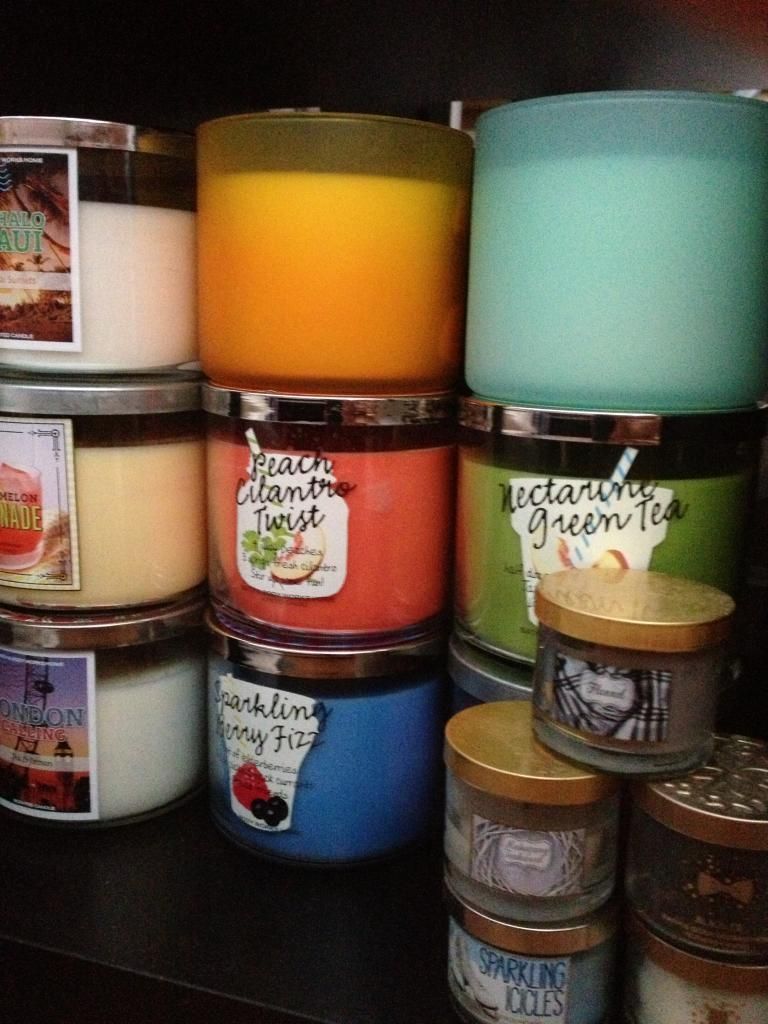 Yesterday I took the time to pull out the two candles I finished from the one Expedit square I have reserved for candles (one Sparkling Icicles and one Flannel), so I could fit the new ones in. Of course, I didn't have enough room, so I had to pull out the ones I had triples of and put them in the big BBW bag I have off to the side with extra lotions and body washes I bought at the last winter semi-annual sale. Do I have a ton of candles now? Yes, I absolutely do! But I know I'm really going to appreciate them even more when it gets cooler out, and I look forward to returning home each day in September and then throughout the winter!
Oh, can I just end by reiterating that I got these new candles for free? Okay, just had to get that out again.
(edit)
I just wanted to add for my own records that the candles were on sale 2 for $22, and RetailMeNot had a coupon for a free 3-wick when spending $20. That meant that each candle was only $7.33 not including tax. We split this up into two transactions (Howard had to pull up the coupon on RetailMeNot on his phone), so that means I still have money left on my gift card too!