I went out to do some errands on Friday because we were in need of groceries, and I wanted to snag some good deals. That included Target because I definitely needed some milk and some hamburger buns. My mom has pointed out to me that getting lactose-free milk at Costco would be cheaper than just picking up the Market Pantry half gallon, but since I use gift cards from Swagbucks, free is always going to beat cheap.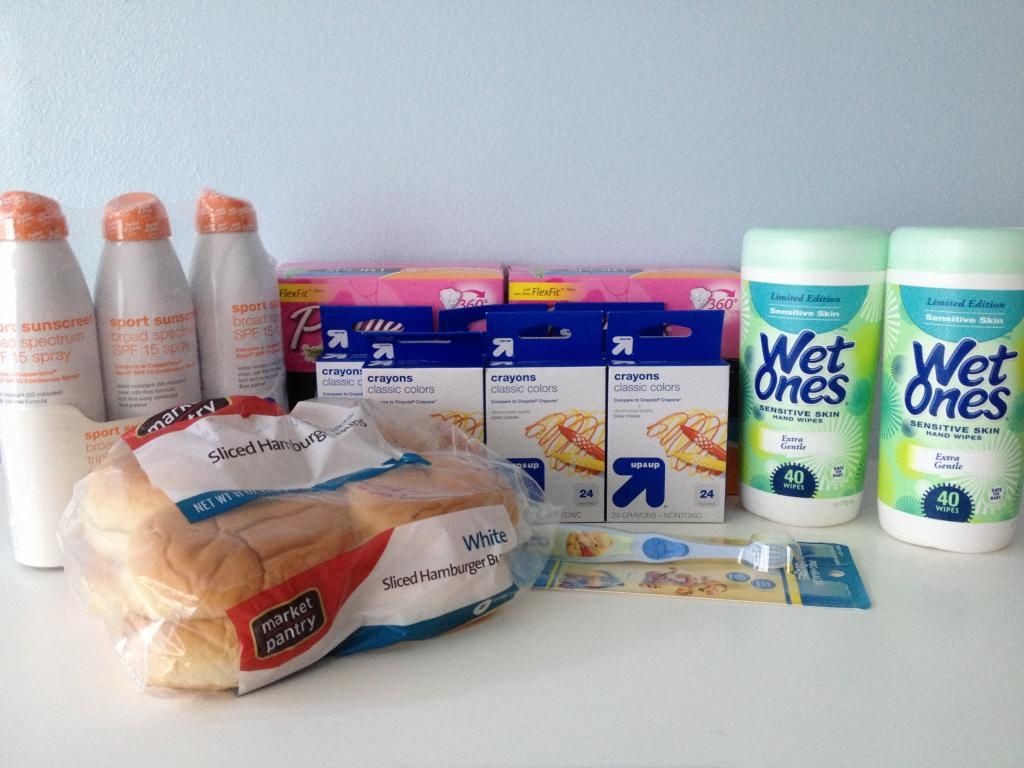 Just missing a half gallon of milk!
Everything in the picture above including the milk that was already open and in the fridge cost just $13.54 including tax. I didn't have to pay a cent out of pocket so I was happy about that as always. Who wouldn't be? I'm particularly excited because the Playtex tampons were $6.99 a box, so already that alone would be $13.98 and I paid less than that for more items. Here are the breakdowns of the items:
Playtex Sports tampons were $6.99 a box. There were $3 manufacturer's coupons on Red Plum online, so I had those printed out and ready to go. I had looked on the Target website to see how much they cost just in case I needed to price match at customer service, but that wasn't a problem at all.
I knew I wanted to use the $5 off $15 personal care Target coupon, so I needed just a little over $1. I chose the Oral B Pro-Health Stage toothbrush (4-24 months) with a baby Winnie the Pooh on it for $2.54 because I had printed out a $0.50 coupon for it. It'll be included in the bucket of things I've purchased for my sister-in-law's baby.
The Up & Up Sport Sunscreen has been a clearance find on Instagram. People were getting it for super cheap when there was the buy 3 get 1 free promo. I had looked for it earlier in the week but couldn't find any. I just randomly spotted this on an endcap by itself. I scanned it for the price, but nothing came up. At the register, I asked the cashier how much it was, and nothing came up there either. I told her that I had seen others get it on clearance, so she just punched in $2 for me. I had a $1 Target coupon and the 5% Cartwheel, so it was $0.95 for all 3. I think that was a pretty good deal even though it's not a high SPF. I don't know if my dad needs it, but if not, it'll get used by us for Disney trips (I don't usually wear any at all except for on my face) and field day at school, haha. It doesn't expire until 2017, so we have time.
The Up & Up crayons were $0.39 each, but I had printed out a $1.50 off 3 school supplies coupon when it was still available. Once it got out on Instagram that you could get free things with it, everyone printed it until it was gone. I had only printed out two. I kept procrastinating and didn't do it on Howard's computer or the laptop! Stupid me for waiting because I was able to get 6 boxes of crayons completely free! There was no overage, but I didn't mind at all. These will be used for Operation Christmas Child. I know there's a new mobile coupon for $1 off of 2 school items, so I will hopefully get 2 more boxes (or 4 if I get Howard's mobile coupon too).
The hamburger buns were $1.13 with the 5% off Cartwheel deducted. Even though the milk isn't pictured, it was $3.17 after the 5% off Cartwheel.
Lastly, I picked up two containers of Wet Ones. They were originally $2.74, but they were on price cut for $1.99. I had Target coupons for $0.50 off along with a manufacturer's coupon of $1 off of 2, so each one ended up being $0.99. These things are perfect for road trips since sometimes you need to actually clean your hands instead of just use hand sanitizer. I purposely picked the sensitive skin one because it said it was safe for babies. I will put one of them in the bucket for my sister-in-law so they can keep it in their car or something too.
Pretty good deals, wouldn't you say? Target hauls are never spectacular or super interesting, but I do like writing them up every once in a while because I have a record of the prices. I'm so glad we have a Target closer to home. Plus, it's right in the same shopping center as Five Below, but I'm getting ahead of myself!