Last Friday we celebrated Howard's birthday with his family. They said that they would drive to where we were to have dinner, but he couldn't decide on anything that would be good since we don't really know the local places and eat at the chains when we do actually get food. We decided to drive to Brooklyn for some birthday sushi at Tenzan, which is the same place we went last year.
Tenzan holds a special place in our hearts because he and I had many a date there. We had long conversations while enjoying California rolls (they make the best ones!) and sashimi. It was because of Tenzan that I grew to LOVE sushi because I only started off with a few raw things way back in 2008. It's not quite the same anymore though since they actually moved their location across the street to a bigger building. It's a lot more modernized, but I actually miss the more local feel of the old restaurant. Even so, it's still SUSHI, and you know how much I LOVE SUSHI!
My sister-in-law made reservations for 7:30pm since everyone had to be done with work. We got there a little bit earlier and waited by the door. I snapped a picture of my guy talking on the phone with his parents and then I attempted to get some pictures of us. I didn't like the middle one because the light makes it looks like I have the worst receding hairline. Then in the picture on the right, I was trying to take a picture when Howard was on his phone, but he saw that I was trying to sneak one, and he looked up. We are clearly not selfies kind of people. I'm keeping these small because we really don't need large photos of our large heads on my blog, haha.
While waiting, I admired the bamboo decorations on the windows. They reminded me so much of crafting because of the image itself and the fact that I always think of the Create a Critter panda when I see bamboo.
When the family arrived, we were shown to our own private room where we had to take off our shoes. I like that it fits the 6 of us and we don't have to be outside with the noise and busyness. Neither of us took pictures of the food, but we did enjoy a lot of sushi and sashimi including spicy mix appetizer, miso soup, California dinner, sake roll, spider roll, yellowtail roll, a plate of assorted sashimi and more. It was really delicious!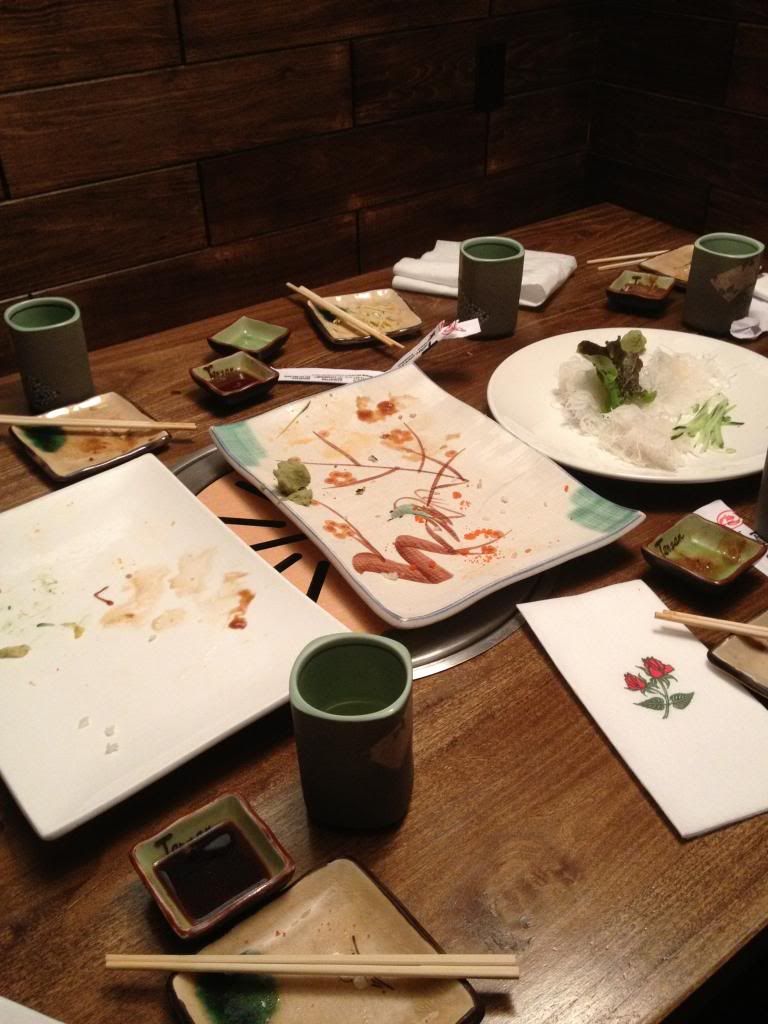 We headed back to my in-laws' house to have some dessert. Before dinner, they had stopped by a bakery called Mona Lisa and chose an assortment of options. It's a little difficult for them to just buy a cake since Howard is lactose intolerant (I actually think I'm not lactose intolerant anymore).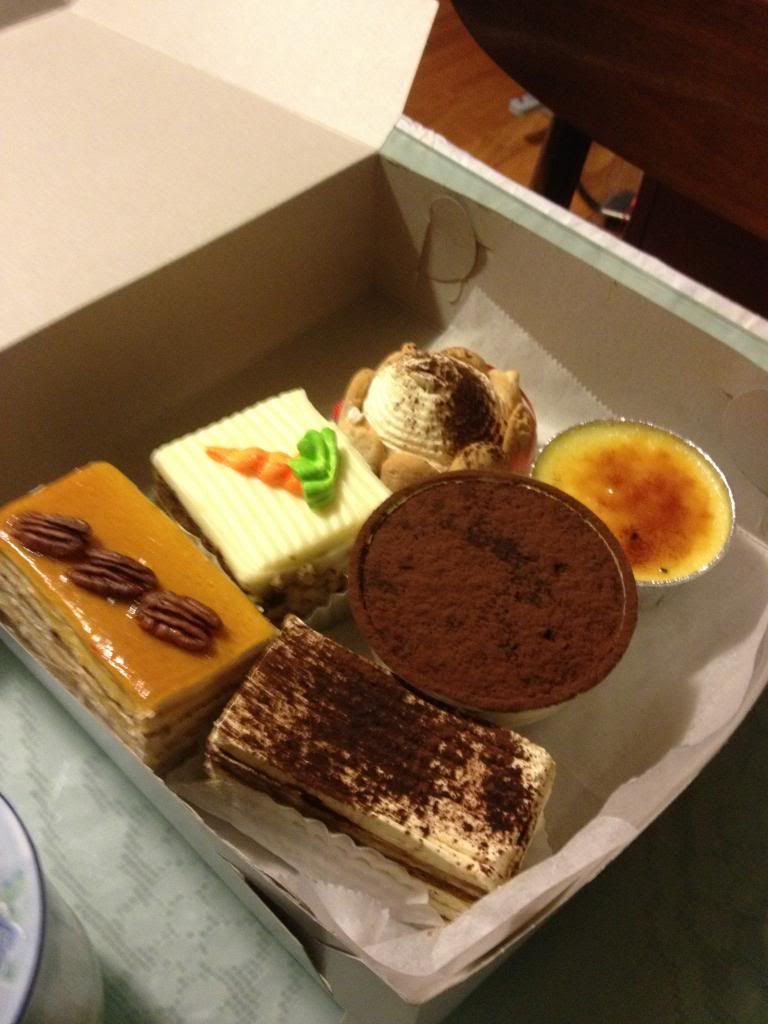 It was so cute how my father-in-law went to get a candle! Howard said that he didn't need one and that they shouldn't waste it, but they said they had plenty. He joked about how he wanted the candle that was a number 4 instead of a regular one.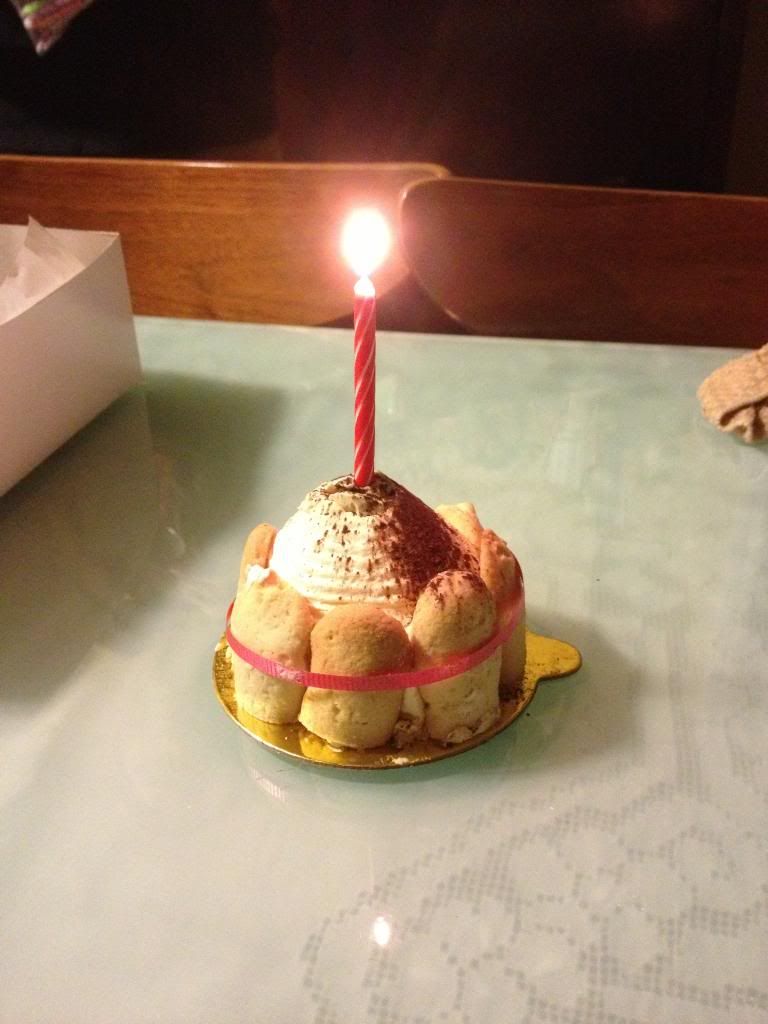 I took a picture of my guy with one of the dessert choices he actually couldn't eat because it was cheesecake. This wasn't for me either because I avoid cheesecake too.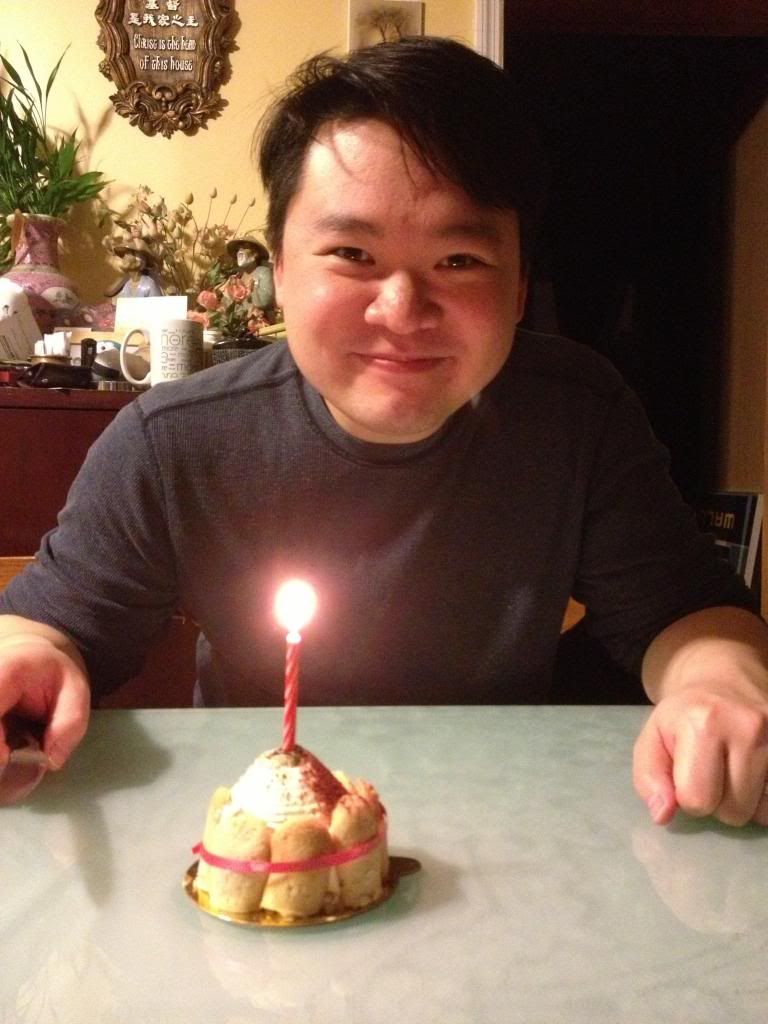 Wait, why is Howard carrying a box of donuts? Well, he cut that cheesecake into sections for everyone else to have a bit. Everyone had their plates, and he and I were deciding which one we would have when his sister noticed that there was mold on the bottom of the dessert! Yes, MOLD! It wasn't even just a small amount; it was pretty dark and green! We joked that Howard should go to the bakery and be in tears saying that it ruined his birthday, haha. We hopped into the car and brought it back. The lady at the counter didn't give us any trouble and in fact uttered a cuss word when she saw the mold herself. My sis-in-law's husband, Keith, remarked that it was kind of anticlimactic, but we were happy that Sharon was able to get the money back without any issues. Instead of those fancy desserts, we stopped at Dunkin' Donuts!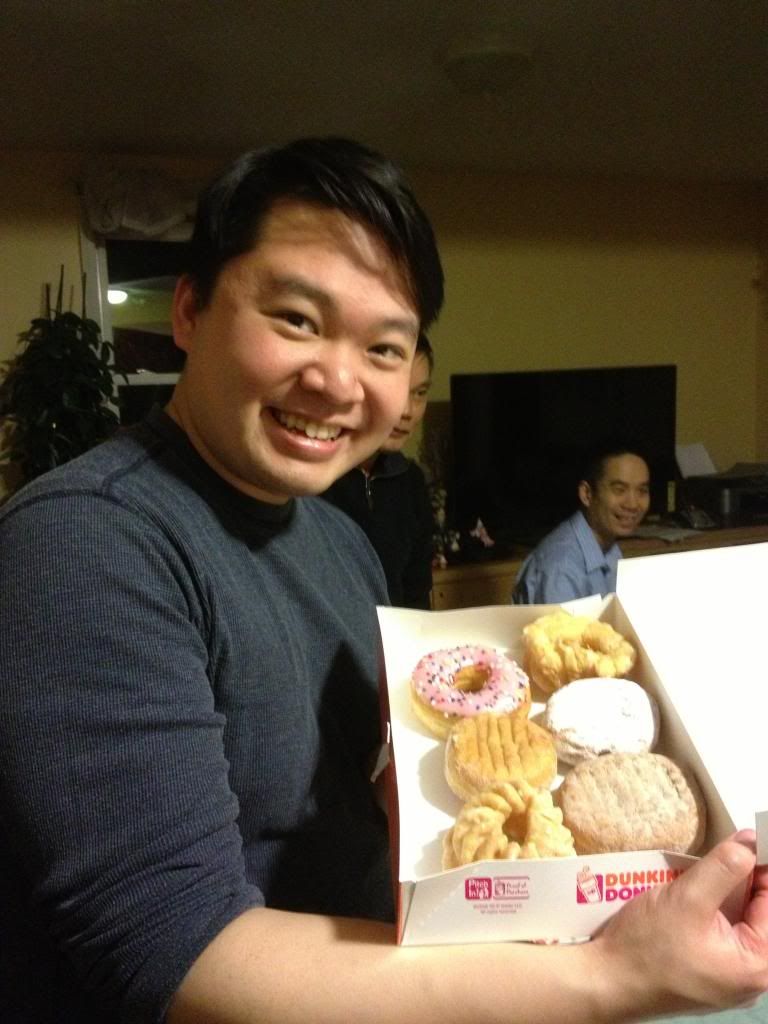 We sat around the table once again and each had a donut. I remarked that it would be funny if this became his birthday tradition!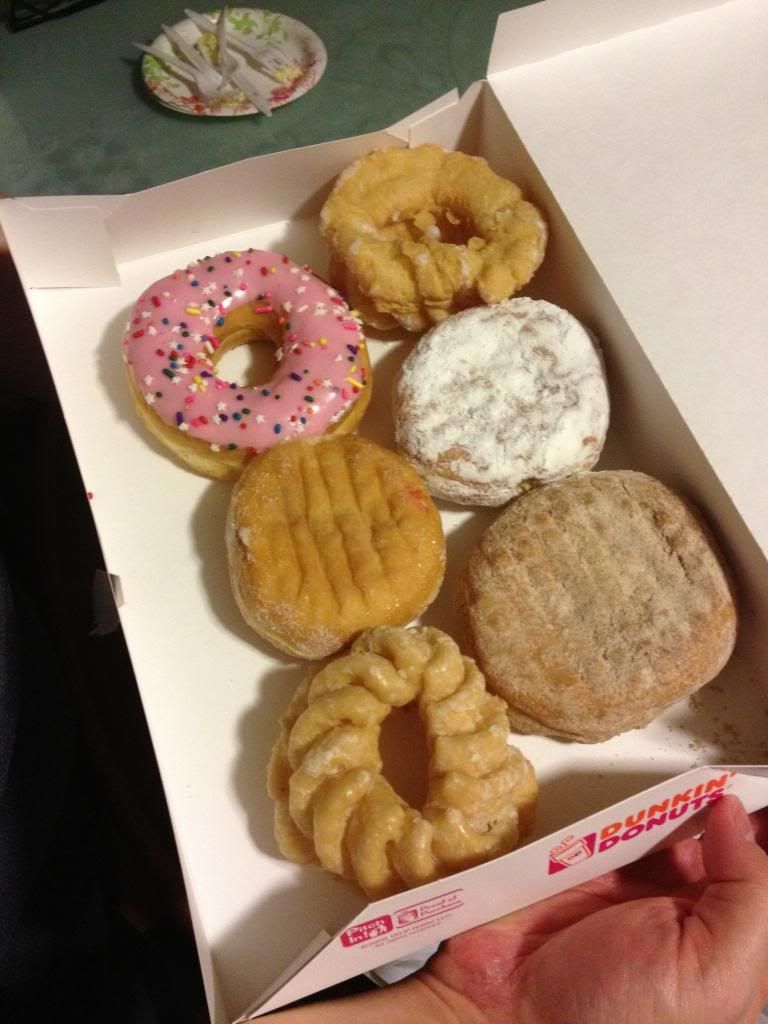 When we left and walked to our car, I told Howard that the dinner was probably the one where I felt the most comfortable out of all the times I've eaten with his family. There's a language barrier, so I get nervous that I won't be able to understand something in Chinese when they try speaking to me. But I think I went not feeling too anxious about it, so it was actually a little easier to understand. My sister-in-law and her husband switch between Chinese and English, and my father-in-law seems to be more mindful of my lack of understanding all of the conversation and sometimes uses English too. It really was a very relaxing and memorable celebration!