The College and Early Career group at my church often passes around cards at the beginning of Sunday School so that everyone can sign them for birthdays. It's kind of funny how some people attempt to do it secretly while others just blatantly skip the recipient when passing it around because we all know what everyone's doing! My sister-in-law Sharon is in charge of keeping track of the birthdays and bringing the cards for everyone to sign.
Well, Sharon's birthday was at the beginning of this month so one of our leaders asked me to make a card for her. Howard and I looked at the options on the Sweet Treats Cricut cartridge and both liked this ice cream cone. I decided to make a large shape card just to make a bit more interesting. I cut it out at 8 inches.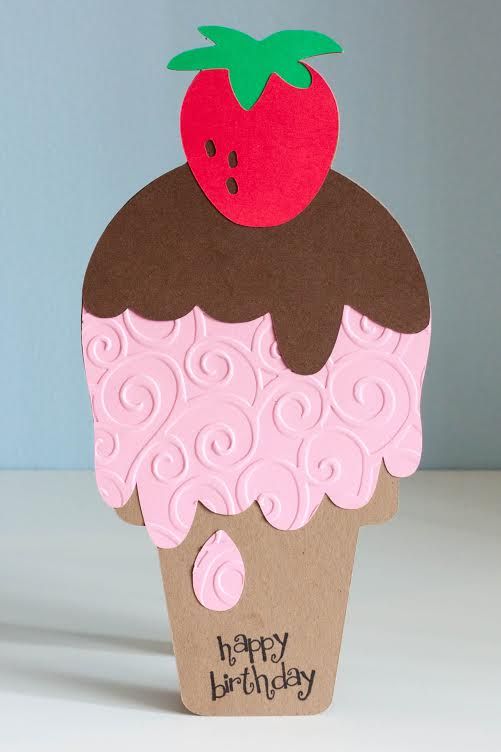 I did cut the chocolate syrup layer again in green, but I just didn't put down paper to cover the entire portion on the mat since I only needed the top part of the strawberry. I don't know why they didn't make an extra piece for that because if cut out exactly as it is in the handbook, the strawberry top would be brown too. Oh well. With Cricut Craft Room or a Gypsy, it's a lot easier to avoid wasting paper.
To add a bit more dimension, I used the D'vine Swirls Cuttlebug folder to emboss the pink ice cream. I would have done something more for the cone, but I couldn't get the sandwich correct with what I had. Plus, I didn't want it to look too busy. It worked out in the end since I needed a spot to stamp the happy birthday sentiment from Pink by Design's "Birthday, Birthday."
As you can kind of see in the picture below, I don't weld the front and back of the card in Cricut Craft Room. Instead, I cut out two of the same base pieces and score the back piece so that it can fold. Then I just use my ATG to attach them together. I prefer doing it this way because I think it looks better not having a flat top. Plus, there'd be no way for me to fit 16 inches on my cutting mat.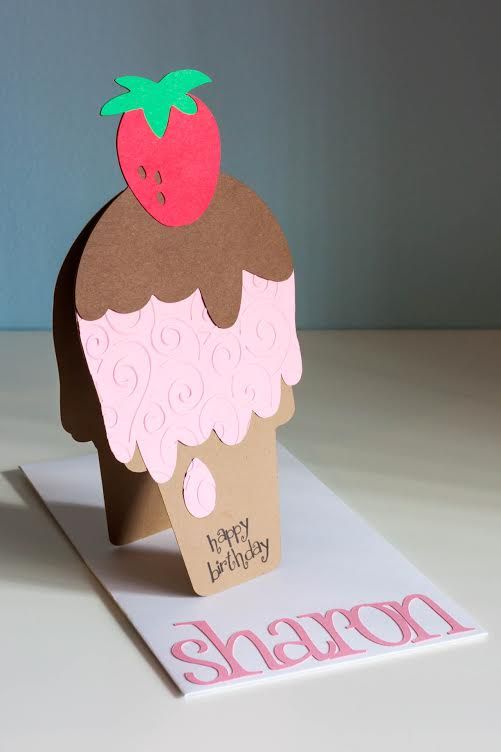 I finally had the opportunity to use my We R Memory Keepers envelope punch board! I had taken a picture of it along with a sneak peek of this card in a recent
blog post
. I did make it a little bit bigger than it needed to be, so next time I'll know that I can stay more true to the sizes on the board. I used a font from Lyrical Letters and welded the letters together for the front of the envelope. Now that I have the punch board, I'm looking forward to making more shape cards just like this one.