If you've been reading my blog and following me on Instagram, you might have noticed that there have been fewer and fewer CVS posts. In fact, in the past few weeks, the only things I've posted have been clearance finds. I've actually gotten tired of couponing at CVS because I have to keep track of my ExtraBucks and look for deals to roll. Now that we are pretty much fully stocked with non-perishables, there's no need for me to stress about getting the best deals. We have plenty of shampoo, toothpaste, mouthwash, body wash, deodorant, makeup, razors, Tums, dish soap, and chocolate! Because I've been able to score so many items at such low costs (if not completely free), I've been able to share with my immediate family, my in-laws, and my cousins. It's so much fun being able to put together a little bag full of goodies that they need and would have had to purchase for themselves. One of my cousins even asked me to coupon for some medicine before he left on a long trip to Asia. Sharing and helping really is the best part of couponing!
Just because I'm tired with CVS though doesn't mean I'm tired with couponing! Saving money is just so thrilling. It's kind of like a game as I search for coupon matchups. I do follow a bunch of couponers and freebie sites on Instagram and online, but when it comes to grocery shopping, I actually have to do more of the leg work on my own since we don't have similar stores and I don't usually have the coupon inserts. It might be a challenge, but it's one I'm willing to take to cut down our grocery bill.
Howard and I haven't gone grocery shopping in a long time because of the holiday season. It might actually have been a month since we last went. I think I popped in once or twice to grab some things from the supermarkets and Target, but we haven't done a big trip in a while, and our pantry and freezer were growing bare. I think the last time we saw our freezer that empty was maybe a week after we actually purchased the freezer itself! So today I was prepared for a massive trip to restock our shelves.
I make a list on a spreadsheet instead of using the GroceryIQ app like I used to do. I find it easier to actually print out a list so I can easily see the product name, the size/weight, the cost, how many I intend to purchase, what coupons I have, and the final cost. That also gives me a good idea of how much the total should be as well. Here's a snippet of part of this week's list for Stop & Shop:

Writing the list out like this makes the trip faster because we don't have to stand there wondering how many of an item to purchase. When it's time to checkout, I go through the stack of coupons I have clipped to the store's loyalty card and eliminate anything that might not have been in stock. I also count to make sure I don't forget one because that has happened at CVS before, and I kicked myself in the tush for accidentally leaving one out. As you can see, I also put a highlighted spot in an area that doesn't have a price because it's based on how many we get so I can fill it in at the store. As a side note, we do try to get our fruit from Chinatown because it's cheaper, but it's been SO COLD that we haven't gotten it in a while. We bought 2 Cara Cara oranges because they're my favorite!
My favorite deal was one listed above. When we first got married, I remember paying $2.50 for a box of cereal! I know, I know. It's embarrassing to even admit that out loud! This past week the Special K was on sale at both Stop & Shop and Pathmark for $2 a box, but you had to buy the specified amount. At S&S, it was 4 for $8. I was able to print 2 coupons for $0.70 off of a box of Multigrain, which is awesome because of the DOUBLING. Then I had a coupon for $1.50 off 2. That meant every single box of cereal had a coupon applied to it. Instead of paying $2 for each box, we paid $0.93! And the regular price for these boxes is $3.99. Score! We tend to do these big cereal deals and get a lot at once because we've found that they're cheaper. We almost done with our Cheerios deal as well as our Krave deal, so we were running low. Yay for inexpensive cereal! Plus, I'll be able to input the codes from the insides of the boxes for Kellogg's Family Rewards, so that's exciting too!
It was especially helpful to have a list like this during this particular trip because there was an $8 off $75 coupon in the circular, and if all the items we wanted to get were available, we would only be $20 away from spending that amount. That would mean paying $12 to get $8 of groceries free. After all was said and done, we only needed about $7 to reach the $75 (net cost, must be after savings and coupons), so it was essentially just getting things for free. Definitely worth it! Want to know how accurate the calculations were? When the cashier scanned my internet coupons (and I handed them to him in groups so that nothing would be missed ... I got that idea from watching Extreme Couponing on TLC), my total then came out be $75.47!!! How PERFECT was that?! I actually was prepared to run and get another can of corn or something if needed, but as I watched the screen, I got all giddy when I knew my last two coupons for $1 each would bring me to that exact amount. Yay!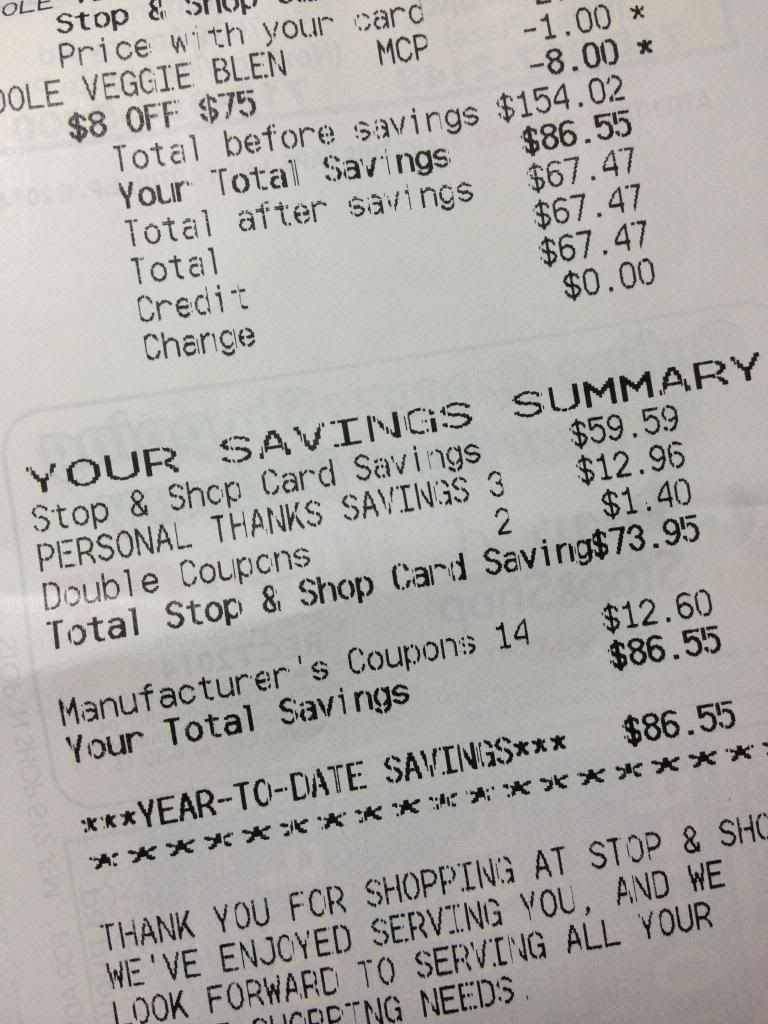 We filled our entire trunk with groceries. Granted, it's a small trunk, but during the first year of our marriage, we were spending that much on things that definitely would not be lasting us a long time. We are stocked on canned goods and our freezer now has more meat in it again! I just love being able to see that because of couponing, we were able to get $154.02 worth of groceries for only $67.47. That means we saved 56%!
I know most people might not have the time or patience to coupon, but even if you print and clip a handful to save a dollar or two each trip, that's still one more dollar in YOUR pocket! And if you've read my CVS haul summaries, you know how far a dollar can go!