Last November, my sister-in-law asked me to make a set of thank you cards. She is an elementary school teacher, and during the previous marking period, she had the opportunity to take her kids to the community pool each week. There were a group of parents who helped out during those days and she wanted to write them notes to thank them for their help. I immediately knew that I would be using the Teddy Bear Parade cartridge!
The super fun thing about specific custom orders is that I get to use cuts that I might not use for myself. A lot of Cricut images seem to be perfect for scrapbooking, but since my main focus is cards, there's an abundance of cuts that I haven't yet used. These two bears were happy to finally get some attention!
I wasn't very original and just kept to the colors that were in the handbook, but I did leave out the little ball or float that the girl bear carries because I wasn't sure what it was. The sentiment is from Pink by Design's "Scripted Year."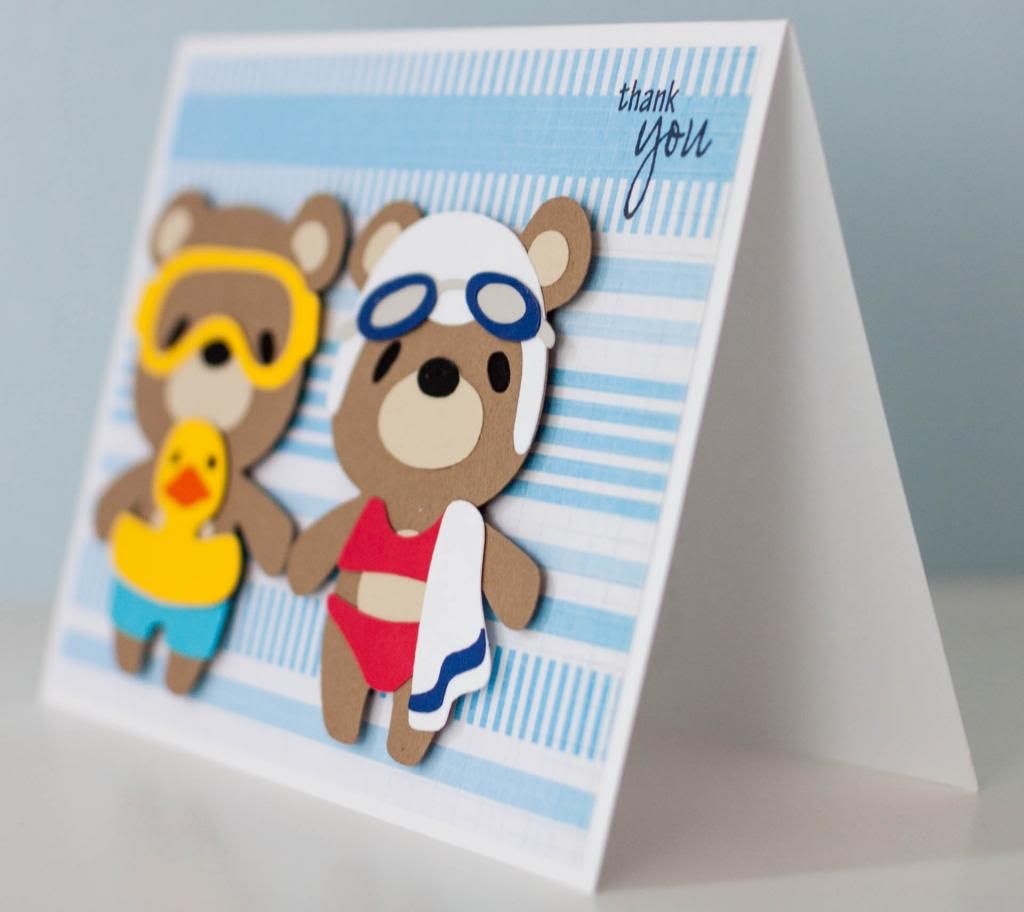 The paper is from a big paper stack from Michaels, which is really where I get the majority of my patterned paper when making cards. I only own a few non-Recollections stacks, and I don't really touch them because they're cardstock stacks. It's definitely one of the biggest issues of all paper crafters! It's fun to have tons of paper choices, but we always feel bad using them too! I do think this blue paper worked out well though because in my mind, I saw it as the lanes of a swimming pool.
I made a set of 15 for her. It took a good amount of time since I chose to do two separate bears for each card, but I'm rather pleased with how they turned out! I think it'd be difficult finding a card in the stores that would be specific enough for what she needed, so I'm always excited when I can complete a custom order like this!
* By the way, I used Howard's camera to take these pictures! I just had to record that because I think they look pretty good! Usually the hubs always photographs my cards for me, so I just found this to be a momentous occasion for me, haha.