Yes, it's pluralized. I did say HAULS. I've spent a good amount of money there in the last two months even though I've used Christmas money, gift cards from students, and gift cards from credit card reward points. I am definitely stocked up though and do not need to go back until the next semi annual sale in June! With the returning scents that I had actually never smelled before, I wanted to stock up so that I wouldn't be upset if I never see these again.
The first set was purchased on January 1st. I loved Capri Seaside Citrus and Rome Honeysuckle Amore so much that it was something that I wanted multiples of. I happened to find Citrus Orchid Chill lotion and loved it as well. As you can see, the fruity scents and particularly the citrus ones are my favorites. It doesn't bother me that they seem to be more spring/summer scents as I've been using them now in the middle of winter. In fact, every day before my shower, I choose a new scent to use! That's how much I love them all, and I do switch them up based on my mood.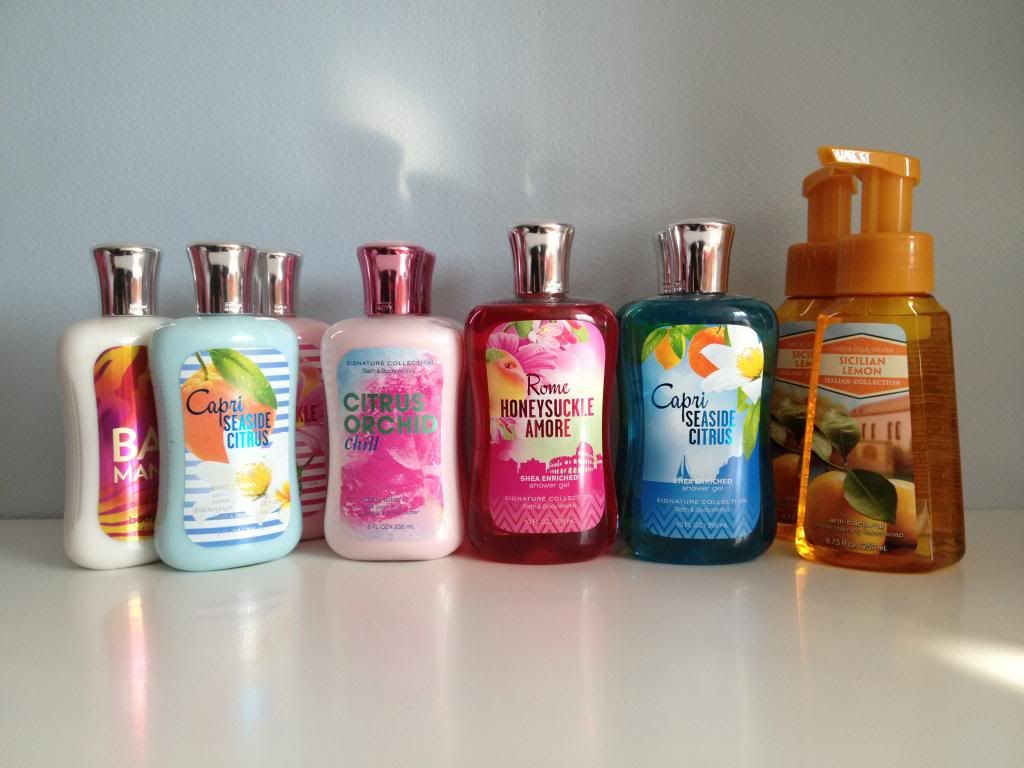 With my $10 off $30 coupon, I was able to save more. The lotions and gels that were originally $11 were only $1.90-$2.08. Then the Sicilian Lemon Foaming Hand Soap, which were originally $5.50 only cost $2.08.
When I went back on January 15th, I decided to pick up some more White Citrus items because it is our all-time favorite, and these were also really inexpensive because they were in the old packaging. I searched the bins and found them hiding, but when we went to try to get the free spring scent lotion, I saw a new bin FULL of White Citrus products. They really do put out new stuff each day as they keep getting shipments throughout the SAS.
With another $10 off $30 coupon (I used a survey coupon that never expires), I got the White Citrus items for $1.80. The Carried Away items were also $1.80. The foaming hand soap was $1.97. I had to get more Sicilian Lemon. It just smells like a fizzy lemon drink! The hand sanitizer holder was just $0.25 and will be perfect for vacations because I can attach it to my bag and have it easily accessible throughout the day. I chose Heartland Harvest Marmalade, Dancing Waters, and Hippo Berry because those were the ones that were 50%, so with the coupon each was just $0.57. Lastly, the Country Chic triple moisture cream (originally $12.50) was only $2.04! Their TMC is the best for dry hands. I use it pretty much every night right before bed, and Howard even uses the Rainkissed Leaves one that I got in my online order months ago. After purchasing Nivea and Eucerin for his hands, this is the one thing that seems to really be helping his skin! I'm amazed! It's much thicker than the body lotion, so I only use it on my hands. Recently I did major cleaning in the apartment and washed my hands upwards of 30 times that day. The backs of my hands were starting to crack, but after applying some TMC for a day, they healed up nicely.
Since I had the coupon and the 75% sale made everything so cheap, I didn't know if I had the correct amount to use my coupon, so I told the sales associate that I was going to hand them to her little by little so I could watch the prices. She was more than happy to help me out and point out the prices so I could make sure I wasn't spending too much. I decided to take two small tubes of White Citrus lotion out of my order since they were only 50% off and $2.50 each, and I ran to get another soap instead. That's when I picked the Peach Bellini one. We love this scent because peach things are just awesome!
Though it looks like a lot spent, like I said above, I used Christmas money on the first haul and then I used a Visa gift card that I found from a student's gift that covered the cost. Now I must be sure to stay away from BBW! The only thing that will bring me to the store is if they have another free offer.