Even though I only went to work yesterday and not the whole week, my body still does that thing where it's utterly exhausted on a Friday afternoon just from that one day of subbing! Because of my tiredness, Howard and I ended up falling asleep from 8pm-12am. The alarm that he set must not have gone off. Whoops! We then didn't go back to sleep until 3:30am or so because of our unplanned 4-hour "nap." That meant we slept in this morning! Despite losing a good portion of our morning, we were actually more productive today than our typical Saturdays!
Even though it was way past our regular breakfast time, I mixed together a pouch of Betty Crocker chocolate chip muffins. It's so great having these types of things in the pantry because they can be kept for a good amount of time. I especially like these pouches because all it required was water. There have been occasions when I wanted to make Pillsbury Quick Bread or pancakes and we didn't have milk or eggs. This is a great alternative. And boy, was it delicious because it was exactly what I was craving!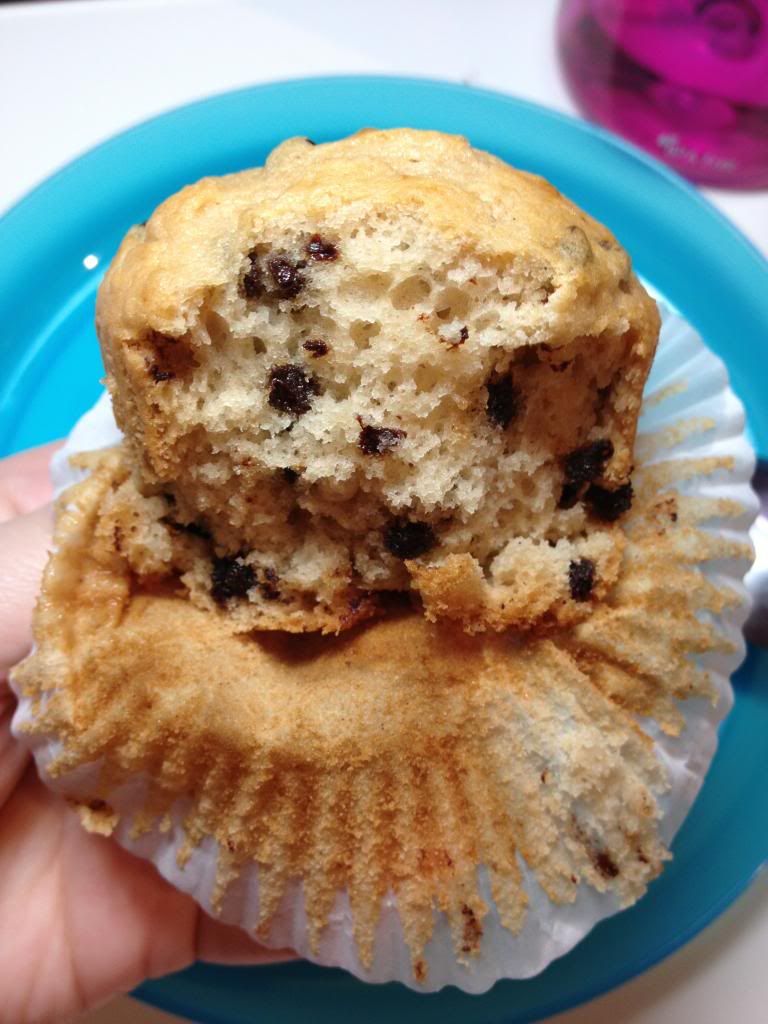 While we waited for them to bake in the oven and after we enjoyed a muffin for a late breakfast, we tidied up parts of our apartment. Howard worked on breaking down a lot of the boxes and cardboard that we've accumulated over the past few weeks. One of the difficulties of living in an apartment is that we don't have a recycling bin where we can just throw things in throughout the week. We have to bundle it up in a clear plastic bag, and we only do it when we have enough to fill the bag so as not to waste it. Then he fixed the left part of our coat closet to fit in more of our belongings. We have a big L-shaped piece of wood that goes in place of the washer/dryer to cover the pipes and hoses if there is no machine there. Since we did purchase a machine, we had to put that bulky piece somewhere, and the only spot that would work was our closet. It was taking up so much of our space, but he found a way to move it so we could have storage for more of our shoes and all my new boots!
I spent a good portion of my morning organizing our pantry and putting in all the groceries we purchased two days ago. With such a small place, we have to utilize the space wisely so everything is packed in there yet still easily accessible. It was quite a workout putting all those jars and cans into their spots! Thankfully, we do have a stepladder to make it easier to reach the two highest shelves. When everything was finally put away and we didn't have grocery bags in front of the pantry blocking the door to the bathroom, I felt very relieved. I definitely deserved another muffin, right? I enjoyed another one with a big cup of Tetley tea. As you can see, those muffins really aren't that big, so it was okay that I ate one ... two ... or twelve, right? I'm kidding; the package didn't even make twelve.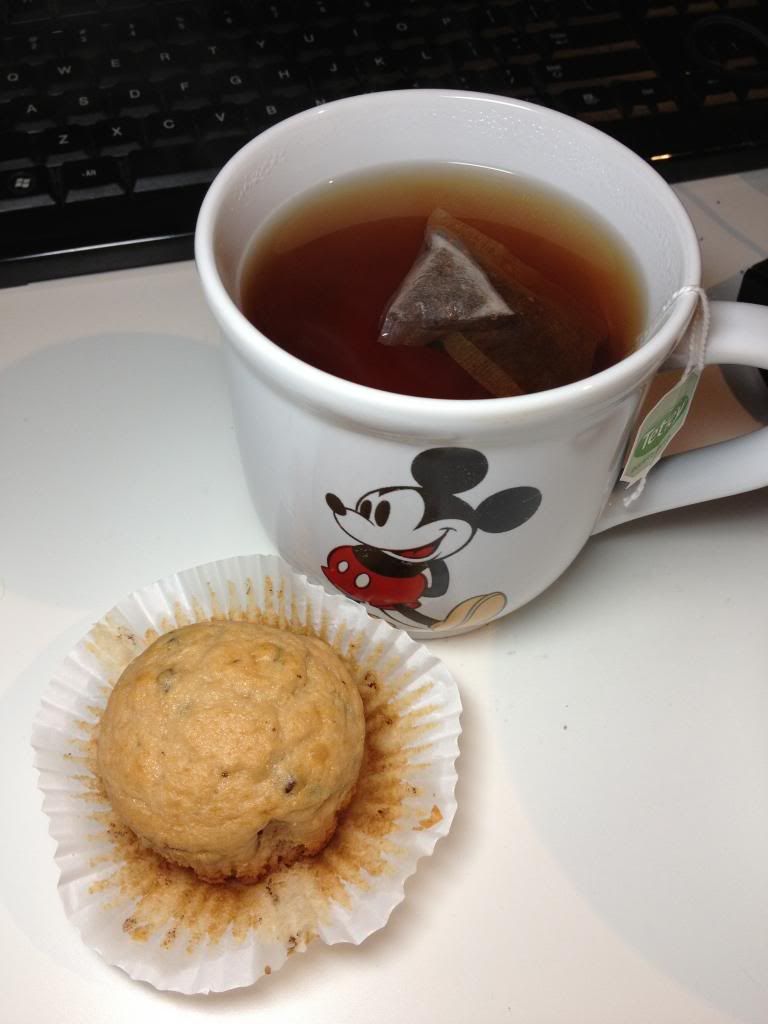 I didn't do all my coupon matchups for this week of grocery shopping, but I did check #couponcommunity and #targetclearance on Instagram today as I do every day. I found this unbelievably adorable onesies set that I might just have to search for this upcoming week! Every time we go to to the Disney Store, we check the little baby outfits that look like the characters in the movies, but they don't drop in price! This is such a cute alternative! I'm loving the fact that we now have a Target right by our supermarkets.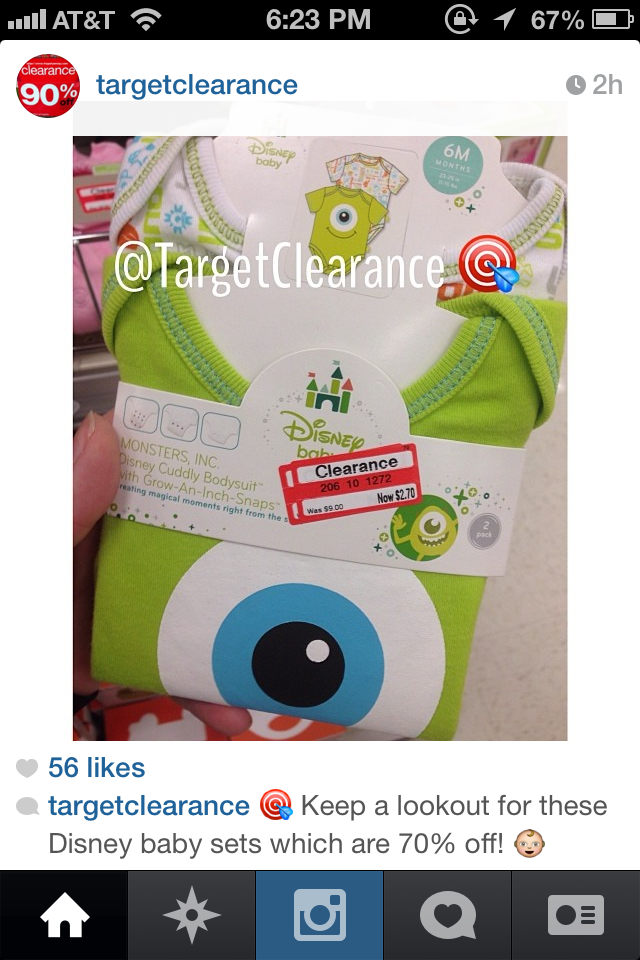 And no, we are not having a baby yet. I just love baby things and do look forward to having kids!
I also took the time to take pictures of my receipts from this past week for the apps I have on my phone. I got coins and some spins for Receipt Hog and I also submitted my Stop & Shop receipt to Ibotta for bread and got the notification that it went through. That means I now have $5 from Ibotta. I'm only another $5 away before I can "cash out" with an iTunes gift card! I'm loving all these things including Swagbucks so that I can eventually get some gift cards to use for fun things! It's definitely worth the time. And if you want to join Ibotta, do it from my link, please (http://ibotta.com/r/BTzpXA)!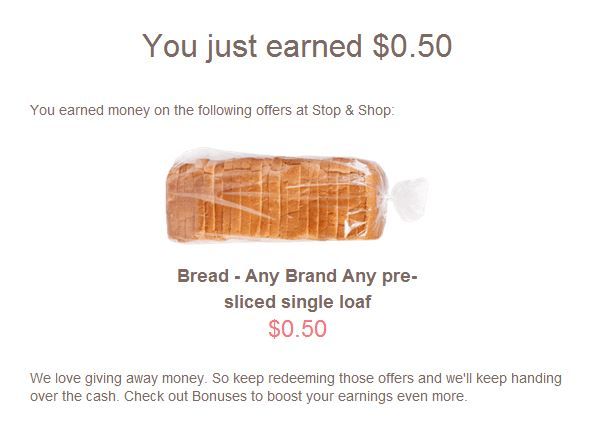 Despite the pain I have in a few of the fingers on my right hand due to my steam burn from last night's dinner, I did craft just a tiny bit. Here's just a quick snapshot of what I was working on. I'll post the official picture after Howard takes it and the card is actually given to the recipient!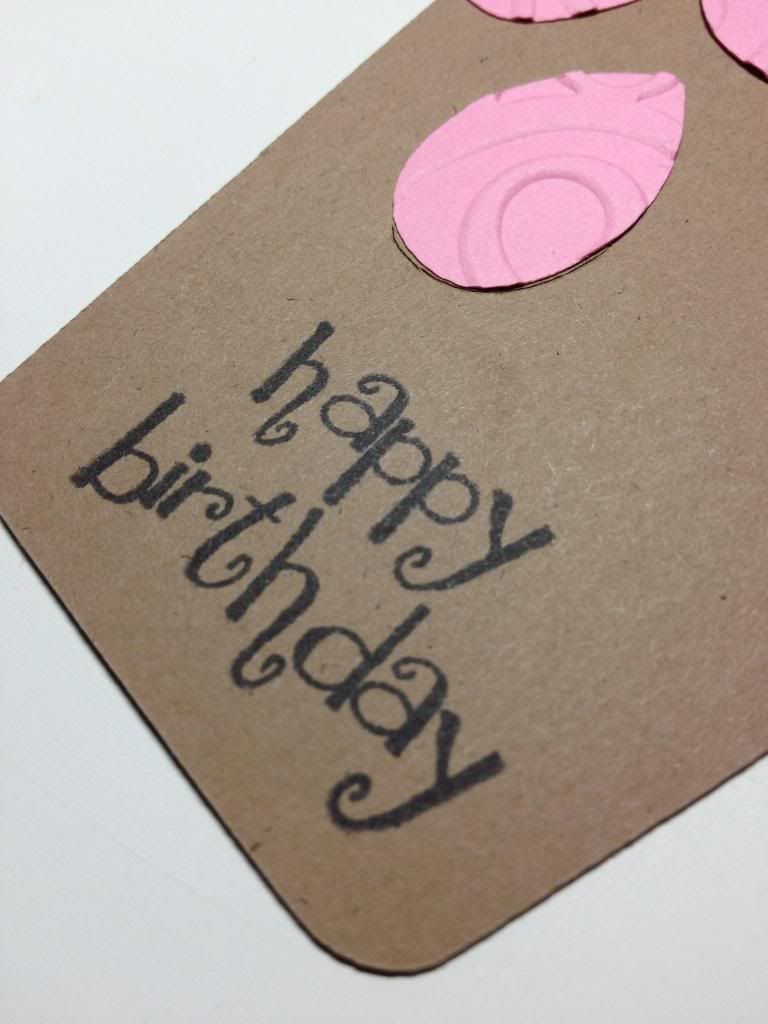 Because of the different size of the card, I finally opened up my Envelope Punch Board to make the envelope! Whenever I've had irregular sized cards, I've used my Martha Stewart Score Board. It does the job fairly well, but it does actually require a bit more work. When I saw that We R Memory Keepers came out with this punch board, I was hooked and knew I would eventually get it. I actually had a $25 gift certificate for Custom Crops that I won a long time ago in a craft challenge, but I never used it because I was always waiting for the perfect item and the perfect sale. When I saw that they had the punch board for $15.99, it was a sign to get it because I'd only have to pay a little bit to cover the remainder of the shipping cost (when they offer free shipping offer, it's over $100 or more). I kept trying to order it, but it wouldn't work, so I contacted the company. Now this is why I absolutely ADORE smaller scrapbook/craft companies! Apparently, my certificate expired a little over a month earlier, but because it was so close to the date, they put it through for me! And then instead of charging me for the rest of the shipping cost, they just made the certificate worth $26.64 and processed the order! It really made me SO happy, and I would definitely recommend Custom Crops. I had only placed one order with them years ago for some Cricut cartridges, but they still treated me like a loyal customer. I really appreciated their generosity, and it makes me wish we had some local small businesses that I could frequent to buy my craft goodies.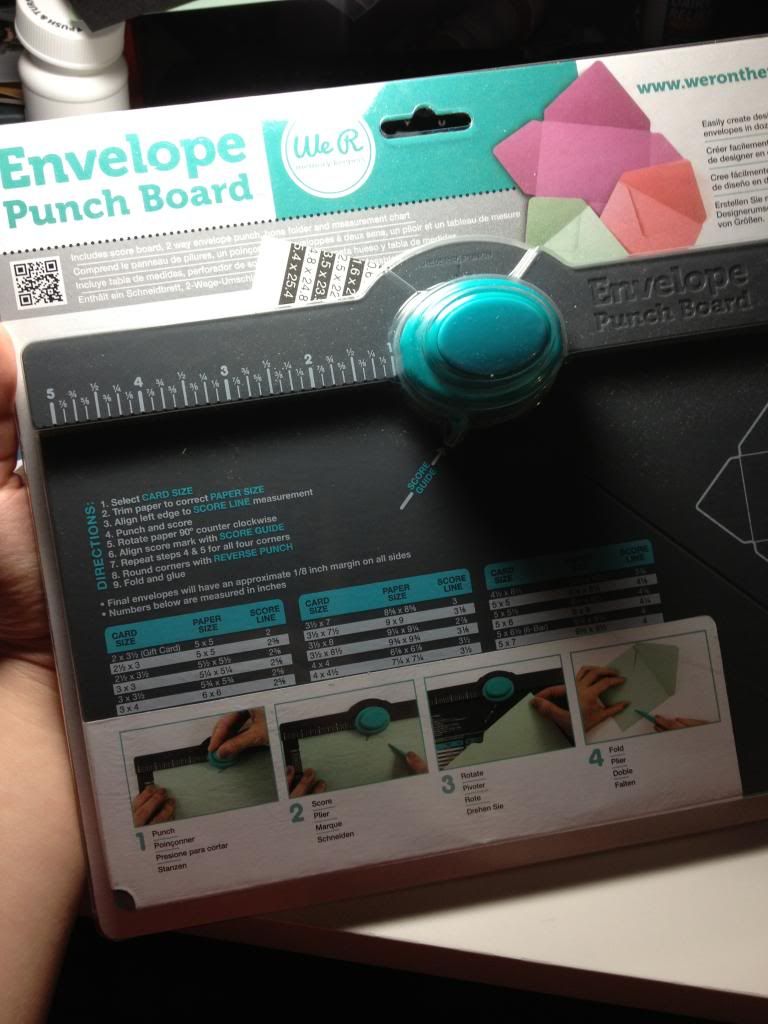 Even though I received it quite some time ago, I didn't open it until now. I had watched YouTube videos of the product a few times already, but I still needed to follow the super easy directions on the paper to make sure I was doing it correctly. It's really simple, and you really only need to use it once to remember how to punch and score. The envelope came out perfectly! I'm such a fan of the fact that the punch is built into the board so that I don't have to take out my scissors and cut out the corners like I did when I made envelopes with the score board. I highly recommend this product too if you make shape cards or want an easy way to make envelopes for 3x3 mini cards.
I'll still buy my A2 envelopes from clearbags.com because I don't think it's worth the money to buy cardstock just for envelopes and adhesive or the time it takes to make them, but I anticipate making more shape cards and non-traditional sized cards just because it'll be so easy to make envelopes. Oh, and speaking of Clear Bags, I should place an order with them soon since I'm almost out of the plastic boxes that I put cards in for bulk orders. There's a 10% code that expires on January 20th, so I should take advantage of it. It's kind of funny that all the money I've been making on custom orders so far will just go straight back into purchasing items for crafting!