As I mentioned in an earlier blog post, the card that I initially made for my mom to give for my cousin-in-law's bridal shower was not one she liked even though I liked it a lot. I ended up giving it to her instead! When I make any cuts from the Sweethearts Cricut cartridge, I usually use a larger sized card because of how intriate the cuts are. I still have a couple of packs of this size from when I used to purchased cardstock and envelope packs from Michaels. Even though I could easily cut and score it and make an envelope on my own, I still appreciate the ease of just pulling it out of the package.
This was the first time that I didn't just cut out the silhouette and decided to cut out all the accessories that go along with it too. Cuts like this really make me wonder what people did before ProvoCraft decided to create the Gypsy and then Cricut Craft Room. If you take a look at the page in the handbook, they have pretty much ALL the clothes and hair cut out for one image, so that means you'd be wasting a lot of paper to get each color. Thankfully, CCR means that I was able to separate all the pieces.
I don't have any skin tone cardstock, but I don't really worry about that anymore after I saw a blogger just use Copics to color in white cardstock when a specific color was needed. How simple! I don't shade with my Copics, but I just used E00 to color in the white before adhering all the other accessories. These types of cards would take a lot of time if someone needed them mass produced. I'd probably have to just cut shirts and shoes one day and adhere them before dealing with all the other little pieces.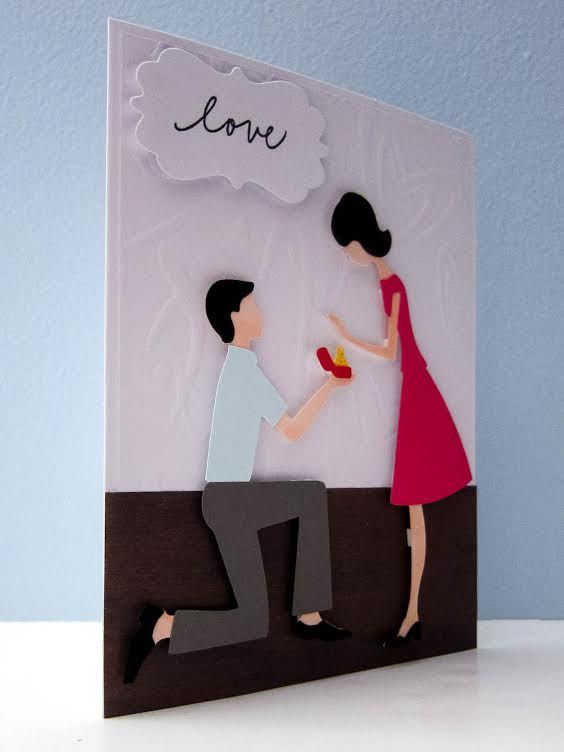 I used brown cardstock to make it look like the floor because Howard always says that the characters/people look funny when they're not grounded because they're just floating in the air. The sentiment is from Pink by Design's "Scripted Year." I stamped it on paper I cut out using the Stitched Curly Label Die from My Creative Time. For a bit of dimension, I used a Sizzix embossing plate to create the lightly raised hearts in the background. As a finishing touch, I added some Stickles to the ring so it would sparkle just a little bit. In reality, I don't even know if my cousin got down on one knee to propose, but I still like this card anyway!