At the end of December, my mom's side of the family gathered for dinner to celebrate my Por-por's birthday. "Por-por" means "maternal grandmother" in Chinese. I love that her birthday is after Christmas and that we can celebrate with another meal together during our holiday break. Because we live about 40 minutes away, it's kind of difficult getting to see my grandparents during the week especially when traffic makes the travel time even worse. Thankfully, I get to see them on Sundays, but these meals are extra special.
Dinner was at The Buffet. I had eaten there before with Howard's family to celebrate my father-in-law's birthday last March, so I was happy to go again because of SUSHI! Yum!
I actually missed taking a picture of my first plate, but that one had a TON of sushi on it. So it doesn't look like much, but I did eat a lot more than this! I tried a variety of rolls on my first plate so that when I went to get my second plate that you can see below on the left, I specifically picked out the one I liked the most, which had salmon and avocado on the inside and spicy salmon on the outside. I also got yellowtail sashimi and pepper tuna along with one sads piece of cooked fish. If they didn't have sushi, I would definitely eat more of the cooked fish because I love those little fillets. Howard and I also stood in line to get some Peking duck. I put a bit too much sauce on mine, and the guy gave me a too many scallions, but it was really good! He had just switched out the duck before it was our turn, so we had some good meaty pieces. But boy, it's so unhealthy with that fat on it! My third plate is on the right. I chose some more sashimi (I ate one before taking the picture!), some seaweed salad that was a little too runny in my opinion but still good, my favorite rolls again, and then I chose a roll that had no rice but was wrapped with rice paper instead. I don't know if I accidentally missed it during my previous rounds or if it was new because I totally would've gotten more of those too especially with the mango in it.
The fourth plate was actually shared with Howard. Neither of us eat much dessert, so we took a look around and only got a few things. The little chocolate cake was my choice, but the chocolate part had such an odd marshmallow-y texture, so I just ate the cake part of it. It was exactly how I like my Chinese cake to be - slightly sweet but kind of bland. It just reminds me of my childhood! Despite my love for these little fluffy cakes, I don't like ending the night on a sweet note, so I actually went back to get one piece of salmon sashimi!
After dinner, we headed back to my grandparents' house and actually had some birthday cake! I helped distribute it to everyone, which was reminiscent of all the times my girl cousins and I did that when we were much younger. When I looked around, I noticed that my grandfather wasn't upstairs anymore, so my mom, Howard, and I went downstairs to spend some time with him since we live the farthest away. It was definitely a great memory of the night for me.
My mom had asked me to make a birthday card for my Por-por, and this is the simple card I made. My mom doesn't always like giving the cutesy ones, and she usually asks for flowers, so I used the cut from the Sweethearts cartridge and cut them out in different colors. The sentiment is cut from the Birthday Bash cartridge. I just hid the cake parts and was left with the words.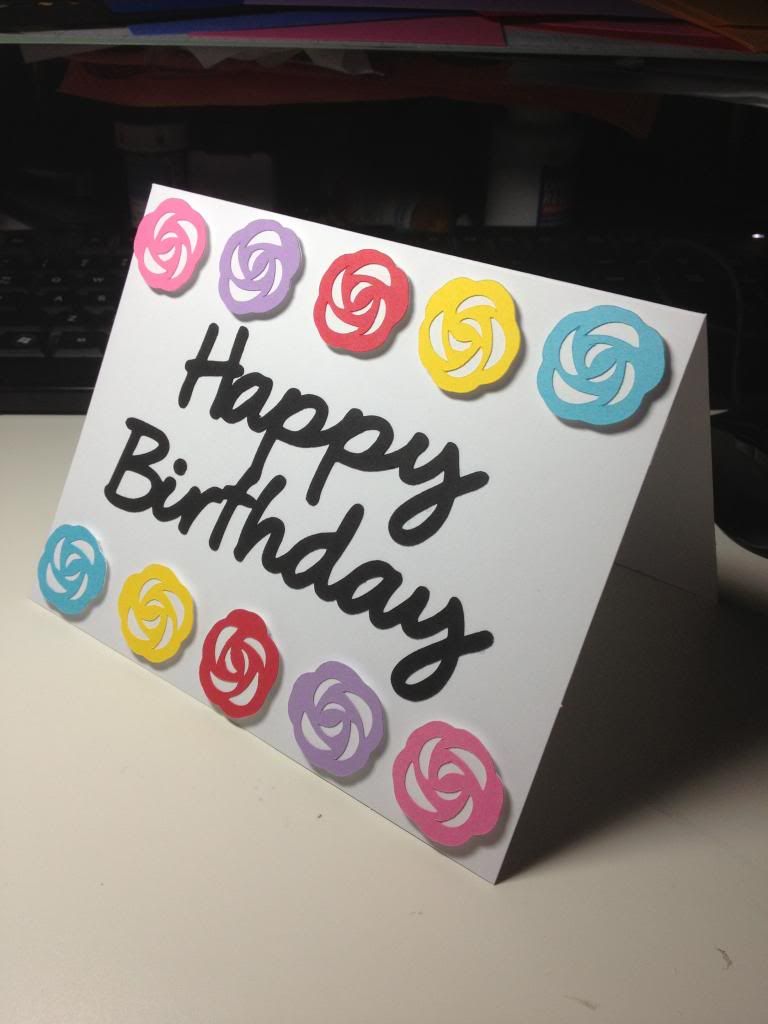 I think if I use the rose cut again, I'd use two shades of the same color to create some visual dimension instead of using white for the base. These cards make a lot more sense for someone like my grandma as opposed to the animals with party hats!