One of the things I enjoy about Disney is being able to be friends with so many people who share the same love for WDW that I do. It's so easy keeping in touch with everyone outside of DISboards because of all the social media outlets available nowadays like Instagram and Twitter that don't require sharing as much personal information as Facebook. As I got to flip through pictures of people's trips to the happiest place on earth, I started seeing the appearance of themed hair bows and was immediately drawn into the trend. I thought it was a fun way to accessorize considering I'm not one who wears or even owns many accessories in the first place!
Over the span of a few months, I kept looking at all the patterns and designs available, but I just didn't feel that I should spend the money on them since they're clearly not a necessity. Howard, however, decided to surprise me during my 29th birthday last September as he ordered 3 Disney bows for me from "
a bowtique shop
" on Etsy. He kept saying that I would know what he got me before he gave it to me, but I was actually extremely surprised and really giddy about them! A little while later, I decided to jump on a sale that another Etsy shop owner offered, and I purchased a few from "
Little Blue Garden
." Though I don't think I'll be the kind of person who can wear bows on a daily basis, they were the perfect thing to bring to Disney World!
This Buzz Lightyear bow was one of my FAVORITES from "a bowtique shop." It's funny that out of all the Pixar movies, Toy Story isn't actually my favorite though the movies are fantastic. However, I love the colors of the bow and how you wouldn't necessarily know what it was from unless you knew the colors of Buzz. I saw other Etsy crafters make Buzz bows too, and I believe this was the best one. I really do prefer how she made the buttons with other materials instead of using fabric paint. It just had a cleaner, neater look. Though I didn't wait on line for a meet and greet with Buzz, I specifically wanted him or Buzz Lightyear Space Ranger Spin in the background when Howard took this picture at the Magic Kingdom.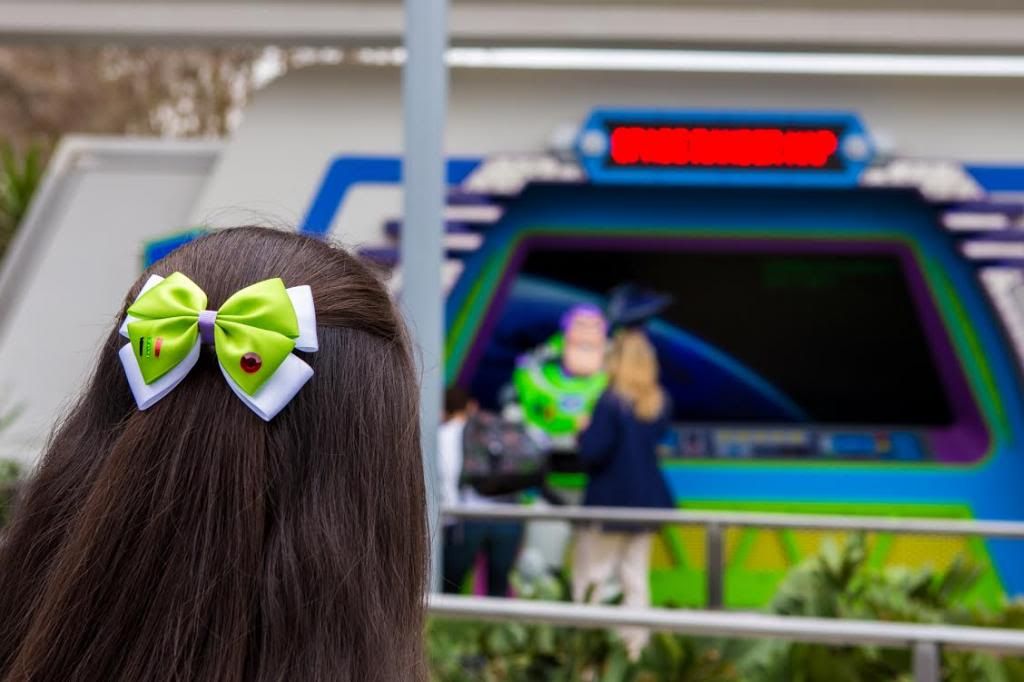 The R2D2 bow was another one of my wants from "a bowtique shop" because Star Wars is one of Howard's favorite movies, and we were able to enjoy Star Wars Weekends during our Disneymoon in 2012. This one might not be as obvious unless you're a SW fan, but I did actually have two separate couples notice it and love it! In the morning when we were waiting for Toy Story Midway Mania, the mom of the family standing behind us in line asked if it was R2 and where I got it. Howard and I saw that the dad and the two sons were covered in SW gear including all the expensive pins on their lanyards, so it was obvious that they would notice my accessory. Later in the day, another couple noticed it when we were waiting for Animation Academy to start, and Howard told them that it was a bow to represent the cute lil' droid. This picture was taken by Howard in the queue for Star Tours at Disney's Hollywood Studios as you can see C-3PO on the left and part of the StarSpeeder on the right.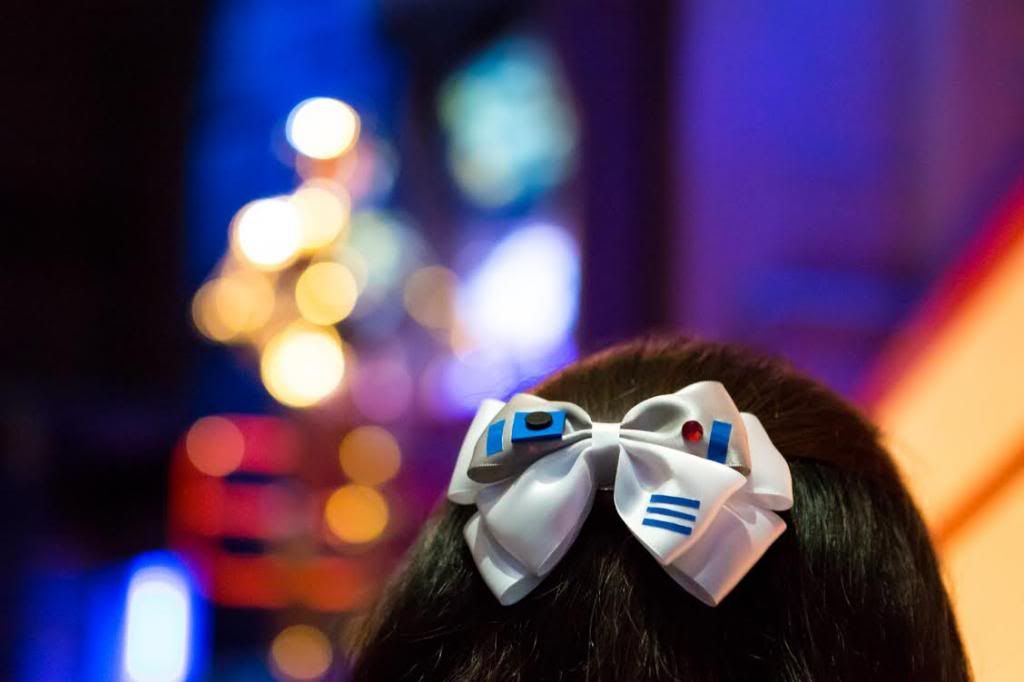 Since I only had 3 Disney-themed bows, I was able to wear my "Little Blue Garden" bows during this vacation too! While the ones above were made with ribbon, the LBG ones are fabric so they're in two completely different categories in my eyes. Howard helped me choose this tulip print one for our non-park day when we went to Downtown Disney. I love the cheerful colors on it and just had to have it because tulips are my favorite flowers. I didn't even realize the hubs had taken this picture. We were waiting in line at Disney's Pin Traders because we were actually there at the time the board was open! I was taking a look and scanning the three panels as best as I could so that I could zero in on the ones I wanted when it was my turn.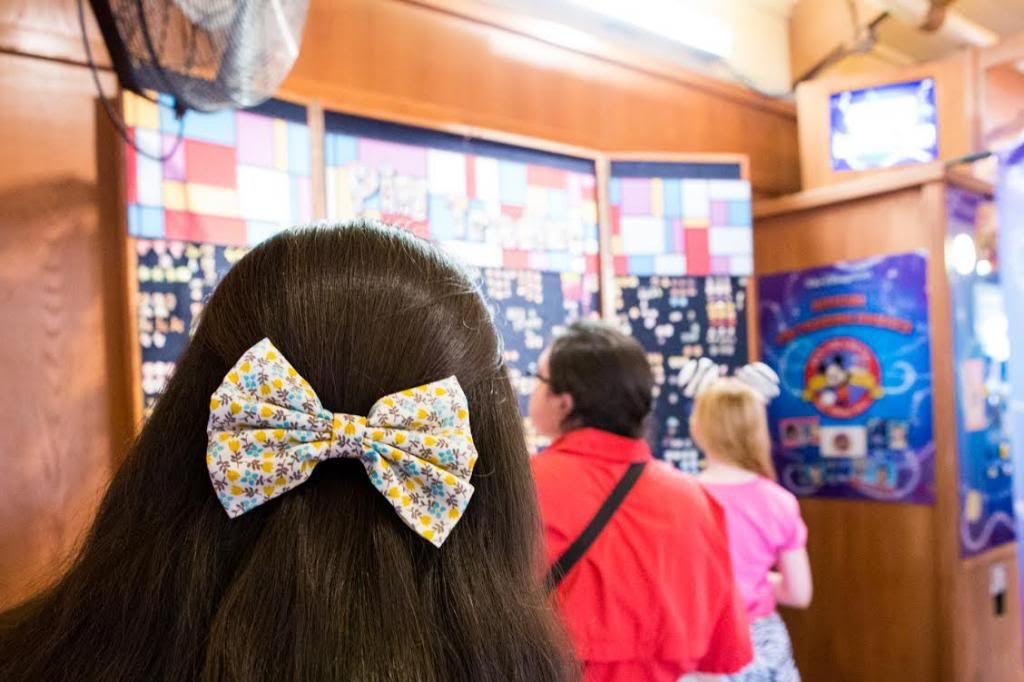 On our Animal Kingdom day, I was able to don another bow from "Little Blue Garden." This print totally reminded me of the park as a whole or even Jungle Cruise in Magic Kingdom. It felt more tropical or jungle-y (yes, I just made up a word). I know it's not as girly as my tulip bow, but this is actually one of my favorites and there was never a doubt that I would get this one as I was narrowing down my choices the day I finally ordered them. Howard took this picture after we spent two hours at Rafiki's Planet Watch, which is one of our favorite spots in DAK. Most families go over there for the meet and greets with characters, but we love the opportunity to watch a medical exam on an animal and see other animals up close.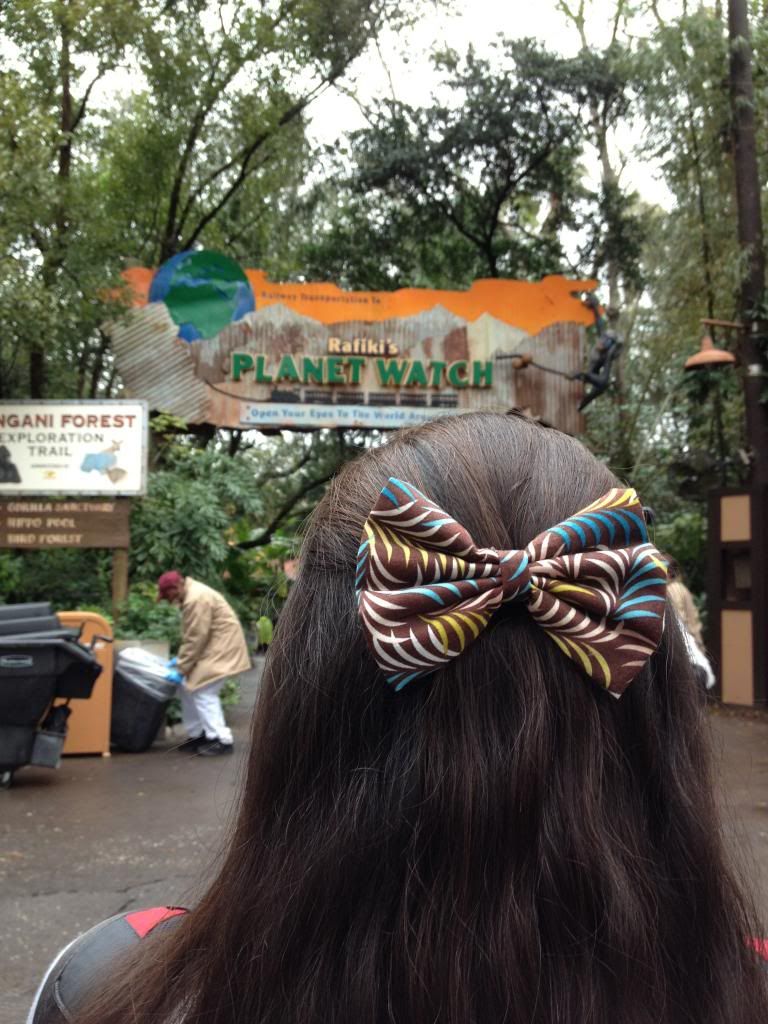 The final bow was worn on our last park day in Epcot. Howard chose this bow without my saying anything about it, and I'm so happy he picked Mulan! This too is another one of those bows that doesn't necessarily look like a character unless you know the colors of Mulan. Though we didn't try to meet her (she wasn't out when we were there), I did specifically want a picture of this one in the China pavilion. In the background is the replica of the Temple of Heaven, which is kind of funny at this point since my cousin is exploring Asia right now and posted pictures on Instagram of the real Temple of Heaven!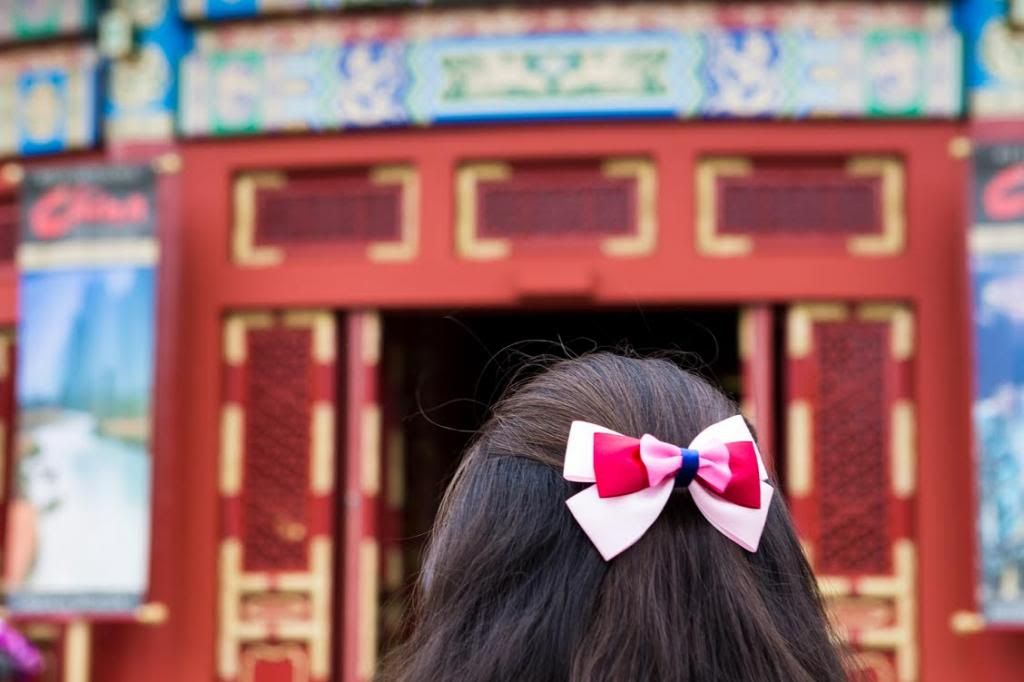 All the bows fit very well. I was actually afraid that they'd slip during the day because I have other barrettes that have the non-slip grip on them that stay in all day. However, I put them on in the morning and was able to take them off at night without having to redo them during the day. Well, that's not entirely true. I did have to redo the Mulan bow, but I guess that's just a hazard of going on Test Track five times in a row and being whipped around on the outer portion of the track!