Being a lazy cook means that I tend to use the oven if it's an option over using the stovetop. Our stove is pretty small, so it's sometimes a little difficult having a few pots and pans going at once. That means when we get veggies like zucchini, I immediately go to Google and look to see if there's a way to make them in the oven! In the past, I've cut them into circles and dipped them into egg and breadcrumbs, but this time I wanted something simpler (ahem, less work) so I found this
recipe
for roasted zucchini.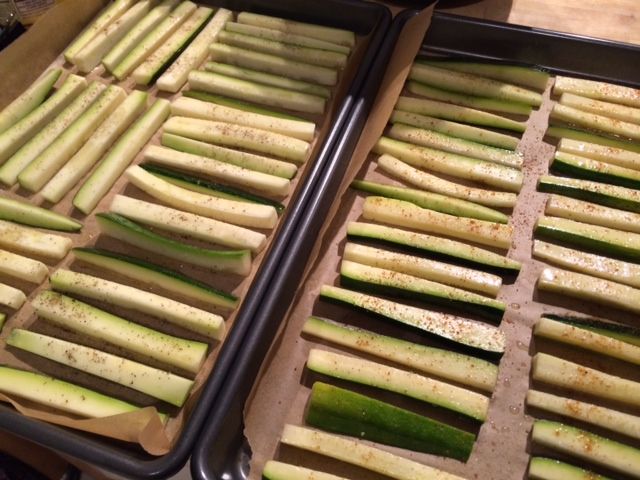 My parents had picked up some zucchini for us because they were at Top Tomato where it's much cheaper than getting it at the grocery store. I was very appreciative because it's not something we get often because it's expensive. But now that we've tried this new recipe of just tossing them in a bit of olive oil and throwing on some spices, I'm going to be addicted!
I cut two zucchini into sticks (next time I think I'll cut them a little thicker) and put them on baking sheets lined with parchment paper. The one on the left had just a little bit of salt and fresh cracked pepper. The one on the right has Cajun seasoning on it. After 15 minutes, I checked them because I didn't want the one on the bottom rack to burn, but they still looked okay, so they did stay in the oven for the full 20 minutes.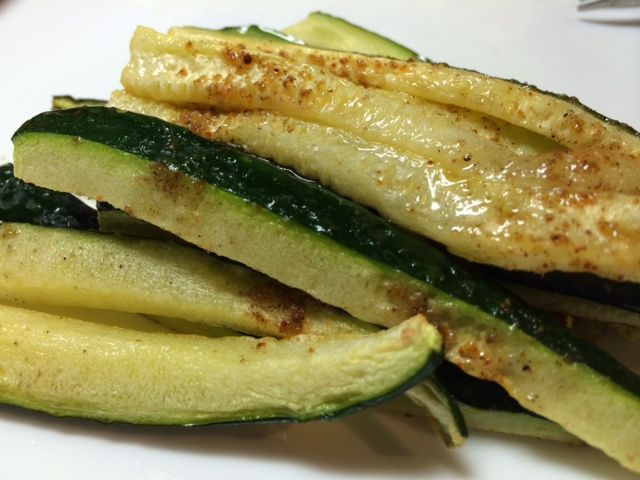 They were absolutely delicious! Some of them were a little bit greasy, so I also know that I can use less olive oil, which of course, will make it healthier. There's something about roasting the vegetables that makes them taste so good. I much prefer it this way than the breadcrumb way too. Hmm, what else can I toss in the oven to roast?