When I was a kid, I really didn't like eating eggs. Actually to be realistic, I didn't like eggs too much when I was a teenager either. I think it was my college years where I started enjoying an omelette once in a while, but I was really picky and liked being able to cook it by myself. It might've been hearing Gail Simmons on Top Chef talk about how she hates burnt, rubbery eggs that made me feel particular about how eggs are made! Nowadays, I feel as if I'm making up for lost time because there are days where I just crave eggs, and I don't feel better until I eat some.
Last year, I started hearing more about egg and potato frittatas. Though I haven't yet made a frittata, the mention of potato and eggs reminded me of eating potato and egg sandwiches as a kid because I didn't want the pastrami sandwiches my parents were eating when we went to the U.S. Open. Clearly, I didn't have much of a palate as a kid because I'm all for pastrami now even though I only eat it maybe once every few years. I figured it wouldn't hurt to make a potato and egg scramble. It's been maybe a year since I made it the first time, and it has ended up being one of our favorite and easiest dinners to have.
Basically, I just dice the peeled potatoes and cut the onions for prep. It's much easier doing this when old seasons of Top Chef are playing in the background, but that could just be my personal preference. Then I melt a bit of butter in a non-stick pan. We actually just purchased a new pan because our previous non-stick pan (Bialetti Aeternum Red Fry Pan) was worn down and started chipping (don't know if it was just due to age or because we didn't handle it properly). It lasted quite a long time since I've had it since my bridal shower in 2012; my Aunt Kathryn gave it to me and said it was good not to have all the chemicals in a non-stick pan. The new one we bought is the Orgreenic 12-Inch Fry Pan, which is also PTFE and PFOA free. It's ceramic nonstick, which helps in making dishes like this because it sticks when I use our stainless steel set. This pan says it doesn't require any oil, butter, or grease, but I wasn't sure if the potatoes would cook the same way without it so I used a little.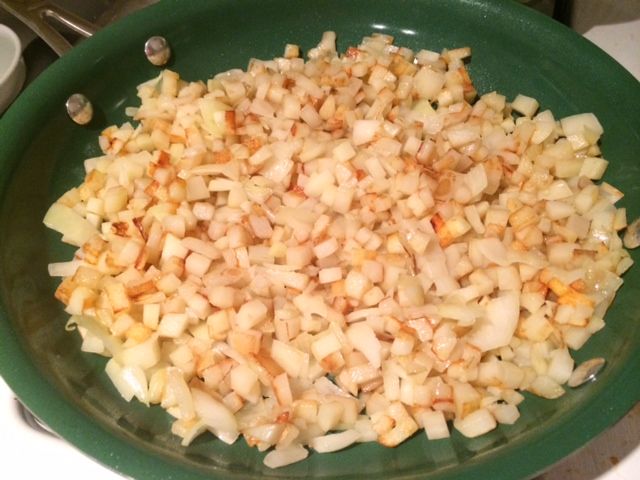 After the little cubes of potato start to brown, it's time to throw in the onions. Howard and I prefer the onions to still have crunch to them. In the past, I used to dump it in at the same time, but the onions would sometimes burn because they were in there too long. I learned that it's best to just leave the items in there to cook a bit instead of constantly mixing it.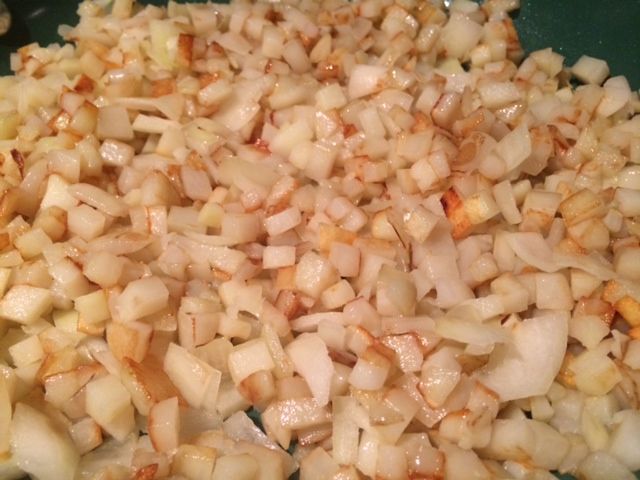 Once the potatoes and onions are done in the way you prefer, dump in the scrambled eggs. I turn down the heat a bit once the eggs go in since they obviously cook a lot faster, and I want to avoid brown eggs! Now it's all done and ready to be eaten!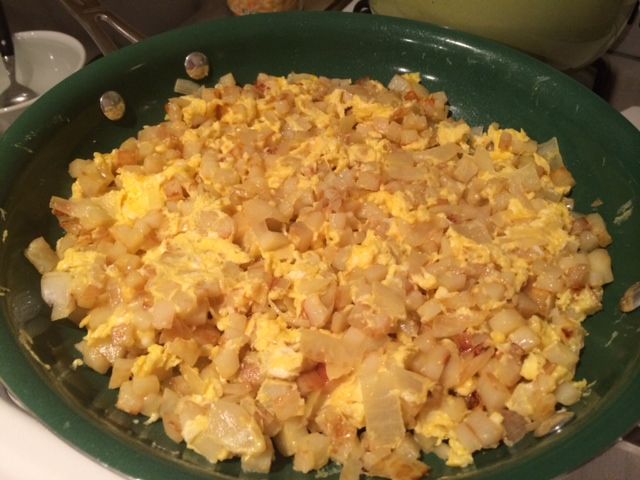 While most houses usually have bread on hand, we always have tortillas instead. I love them because they're a lot easier to store in the fridge or freezer because they're flat. I put some of the scramble on a tortilla and throw on some shredded cheese and salsa. That's all we need for flavor so that's why I don't add any salt or pepper to it.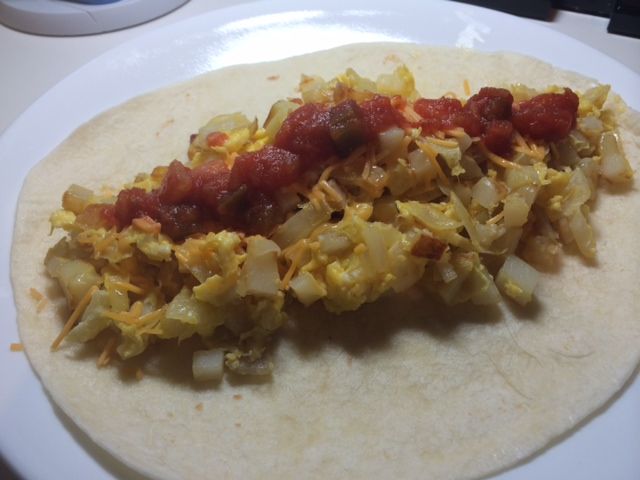 It's just so simple, but it's really something we enjoy eating! We've had it for brunch on Saturdays, but for some reason, it's so satisfying for dinner. Maybe it's because I know it's a quick and easy thing to cook with minimal prep, but it really does hit the spot.