It just seems like the perfect time to post these baby cards since our friends Enoch and Shirley announced on Facebook that they're expecting baby #2! Howard and I have been praying for them pretty much every single night along with the other moms-to-be that we know right now. It's so exciting when other people have babies because then we can get excited for them without having kids of our own just yet, haha.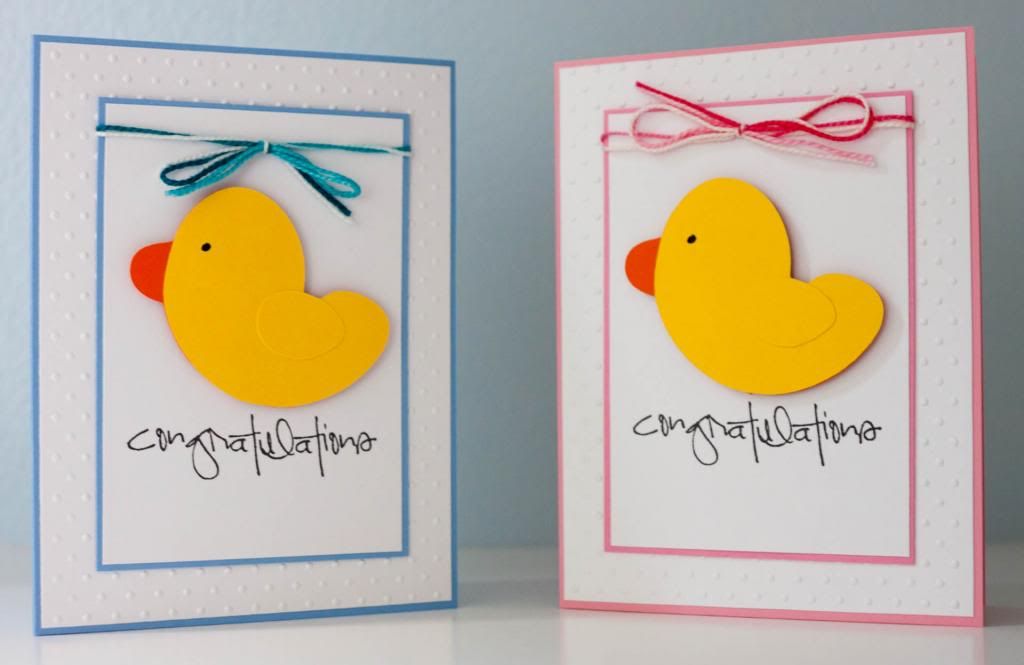 As you've seen in the past, there are times that I see fantastic cards on Pinterest that really catch my eye. I use a lot of cards as inspiration, but sometimes I just don't see how anything can be changed, so I end up just "scraplifting" the original card. This is the case with these duck cards. The original crafter is Silke Shimazu, and you can see her card on her blog "Get Inky with Silke" by clicking
here
.
The only slight change I made was that I did want the ducks from the Doodlecharms Cricut cartridge to be a little bit bigger. I also didn't have much ribbon at the time, and I'm also not the greatest at tying it neatly so I used embroidery thread instead. I like how each thread is comprised of a bunch of different colors to add a little extra something as opposed to just using solid blue and pink.
The bottom white layer is embossed with the Cuttlebug "Swiss Dots" folder to add dimension. Lastly, the sentiment is from Pink by Design's set called "Scripted Year." Thanks, Silke, for creating this wonderful card!