When I was working full-time, I knew that doing custom orders wouldn't really be possible because I knew they would stress me out. However, over the past year or so, I've come to realize that if I didn't have people requesting specific cards, I wouldn't be selling anything! Though I'm not into crafting for the money, I do enjoy what people ask for because it allows me to use cuts that I wouldn't normally use on general cards. This basketball bear (and really a lot of the other bears on this cartridge) is one of them!
My friend who requested this card said that the recipient liked sneakers (Jordan's), basketball, and poker. The only sneaker cut I had was on Nifty Fifties, so I knew that wouldn't work, and I didn't actually have anything that would work with the poker theme. If I get through these orders, I must must must pull out my Silhouette because then I would definitely have a wider range of images that I could use! For this situation though, basketball was it! I asked if a "cutesy" card would be okay, and it was so I immediately went for this bear on the Teddy Bear Parade cartridge. This 2012 birthday gift from the hubs is really getting a lot of use!
I actually made the bear bigger than I normally do because I knew I would cut out "30" to put on the front of the jersey since it was the recipient's 30th birthday. The normal cut has a "1" so I wanted to make sure there was enough room. It's really interesting how the pieces are set to cut. It seems as if there might be wasted paper since, for example, there's a red piece that's the size of the jersey and continues to the stripes on the sides of the pants. But after the cuts are adhered, I realize that the reason for that is to create depth. It wouldn't look as nice if the pants and jersey were just flat without any added dimension. The way it cuts makes the jersey come out more than the pants. Love it!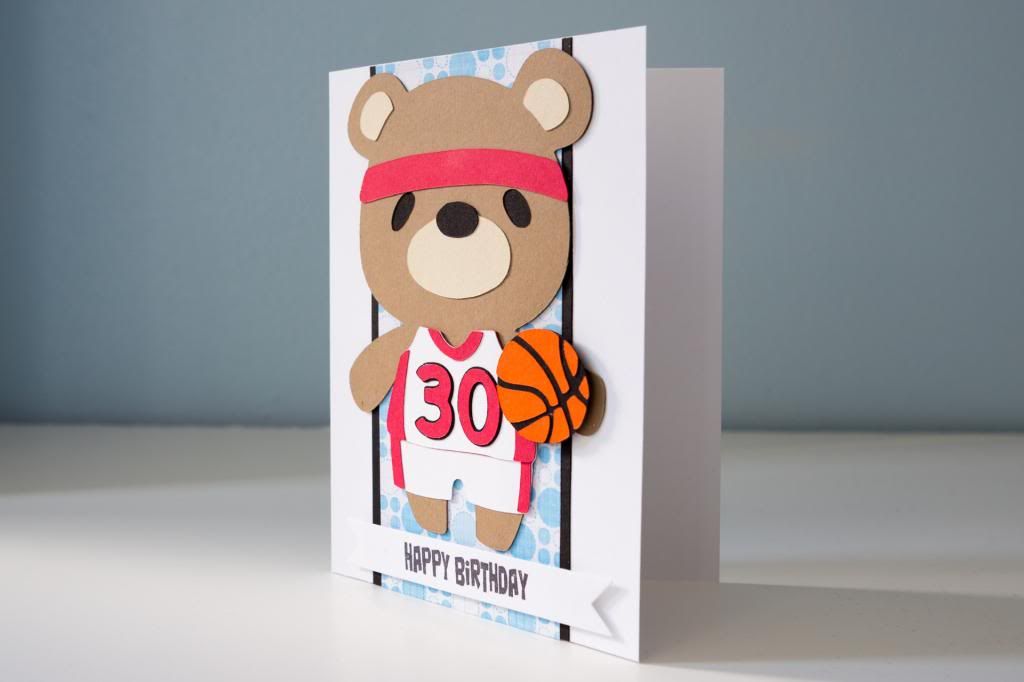 I decided not to pop the bear like I typically would but popped up the basketball instead. I really like how it turned out! It gives it a 3-D look, making it seem as if the basketball could be in play. The sentiment is from Pink by Design's "Birthday, Birthday" set stamped on a banner cut out using a die from Papertrey Ink.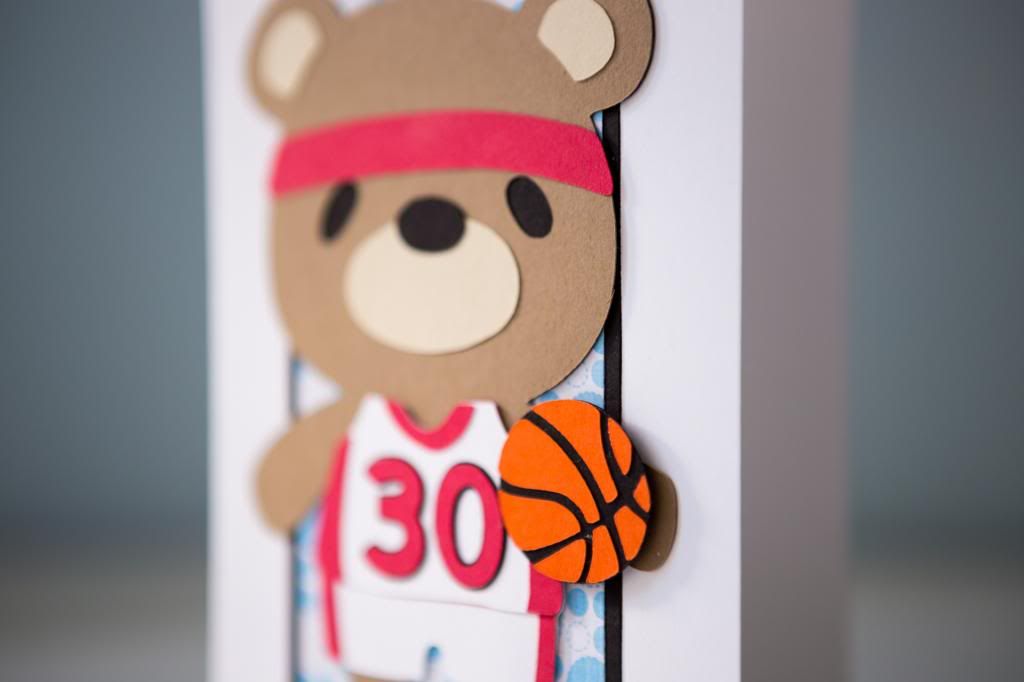 It was really fun making this card also because I only made one, so I just planned all the cuts on the mat and had to cut just once. It's so different from mass producing, but I do love doing both especially when it's with this cartridge! I wonder if I'll ever use ALL the bears on this cartridge!