One of the easiest dinners that I make is quesadillas! It seemed like the perfect thing for tonight's dinner considering I had done a lot of organizing and cleaning in the closet so that I could put stuff away because things were getting a little cluttered in the apartment. I remember when I first started making quesadillas after we got married. It took a little longer because I did it on the stove and flipped the quesadillas and had to make each one separately. After doing that for a few meals, I looked up an easier way to make them in the oven and have been doing it this way since.
We buy family pack of chicken breast because it's the best deal, of course. I'll usually make something with one or two of them within a day of purchasing it, but I'll wash the rest of them at the same time and separate them into plastic bags for the freezer. All I have to do for quesadillas is pull out a bag of one large chicken breast and stick it in some cold water to defrost. Then I cut it into strips and cook it on the stove with a little bit of olive oil. In the past, I used to use the Perdue Short Cuts because it would eliminate the step of having to defrost, cut, and cook the chicken, but it's really silly not to just do it myself to save money. Plus, it tastes better when I cook the chicken myself. In the past, I've also cooked chicken breast with just a little bit of water in the crockpot for 4 hours on high. When that's done, the chicken can be shredded and then frozen although that sometimes gets a little bit of the freezer taste to it when used in salads (though if you heat it up in a pan with a bit of Frank's Hot Sauce for a buffalo chicken salad, it's fine!). That's an easy way to have cooked chicken on hand ready for recipes.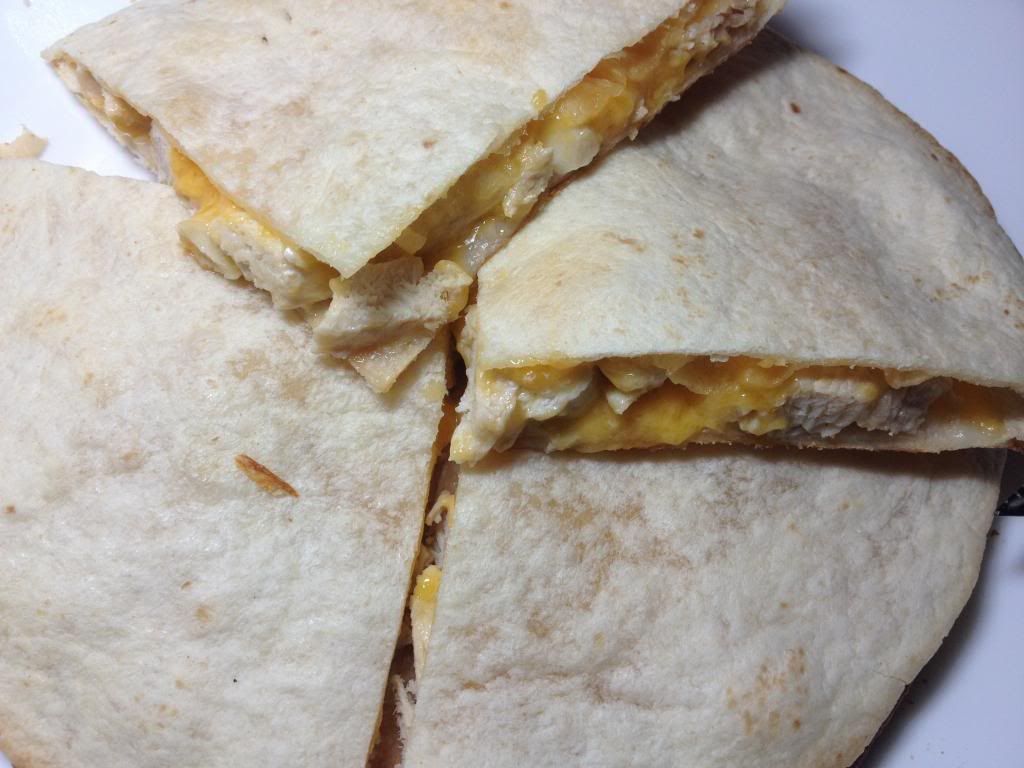 Once that's done, I lay out two tortillas on our largest baking sheet. We still have 2 packs of the flour tortillas in the freezer from the last time I stocked up and bought 8 packs when there was a sale and a great coupon. I'm glad I did that because I haven't had to buy them in months, and I know they're fine in the freezer. I've read that some people put wax paper in between them, but I haven't had any issues separating them even when frozen.
I divide the chicken and lay it out on the two tortillas and then sprinkle the shredded cheese on top. I still have tons of bags of cheese too from the last great sale! I don't like getting it for more than $1.50, and recently I got the Kraft bags for $0.17 or so because of a sale and coupon too. They last a while in the fridge when not open, but they can also be stored in the freezer as well. That's why quesadillas really are a great meal because I typically have all the fixings in the fridge/freezer! The only thing I didn't have that would make this better was an onion. I don't cook the onion all the way down because we like the extra crunch in there, but I didn't have any to use today.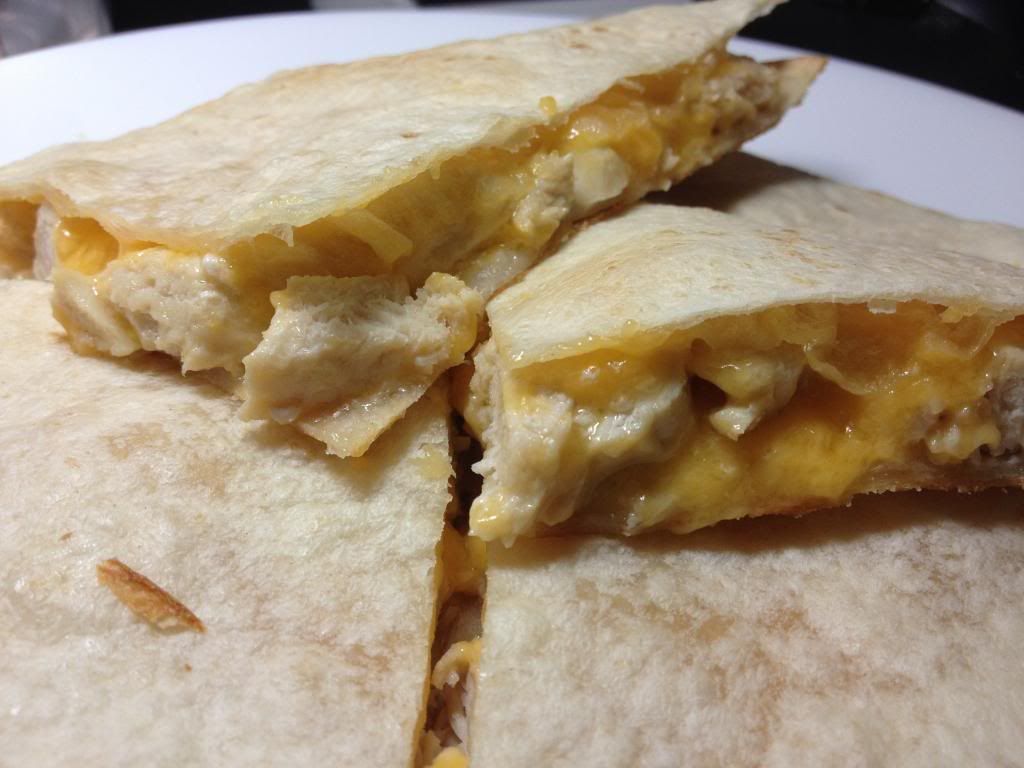 I put the other tortillas on top and just press them down a tiny bit so that the chicken and cheese are kind of the same thickness all around. I pop it into the oven that has been preheating at 400 degrees for just 10 minutes. I like the bottom to be crispy, but Howard usually likes it a little less crispy. It can go for a little less than 10 minutes since the only thing that really needs to be done is melt the cheese and warm up the tortilla, which doesn't take long. This was a full 10 minutes in the oven though because I knew there was more chicken. You can see in the picture below that the bottom gets nice and crispy without any oil that would have been required if doing this in a frying pan on the stove!
I'm sure it'd be better if they were in the oven for 5 minutes and then flipped for the remaining 5 minutes because then it'd be even on both sides, but Howard and I really aren't picky about it. Why complicate things? I'm sure that if I were making this for other people, I'd be good about flipping it, but when it's just us, it doesn't really matter. As long as one side is crispy, it'll hold up to the salsa that we put on top (and sour cream for me if we happen to have it!).
I like having simple dinner "recipes" like this for the nights when neither of us want to spend much time cooking or we didn't prepare for a more complicated meal. It can be made somewhat last minute since the defrosting is really the only thing that must be done ahead of time. The best thing is that it's also cheap and somewhat "healthy" in comparison to any meal from a chain restaurant like Chili's or Outback, which is where we used to get dinner when we were dating. I anticipate making chicken quesadillas for dinner when we have little ones too!