In all the years that Howard and I have known each other, he only gave me flowers twice. The first time was on the day I graduated college though I think that was more because his mother asked him what he was bringing to the ceremony for me. The second time was when he sent a floral arrangement to the house after I had my gallbladder removed. The funny thing is that the shop didn't even give the correct arrangement! He had chosen the one that had a small Chicken Soup for the Soul book attached to it, but they gave me one with instant noodles. And it wasn't just any ol' instant noodles; they were SPICY instant noodles that I couldn't even eat, haha. It was still a nice gesture though because we weren't together at that time, and he wanted to send something to show that he was thinking of me.
From that point on, Howard never gave me flowers again because as I've said on my blog before, I just don't cherish them or even want them the way other girls might. Plus, they create so much extra work what with the snipping and setting up the vase with the right amount of water and nourishment. I much prefer seeing flowers growing.
Knowing this and also knowing how much I ADORE tulips, he purposely took this picture yesterday when he got home from work before I did and didn't have his apartment keys on him. He went for a walk in the neighborhood (though is it really a neighborhood when it's around the expressway, haha) and snapped this colorful shot!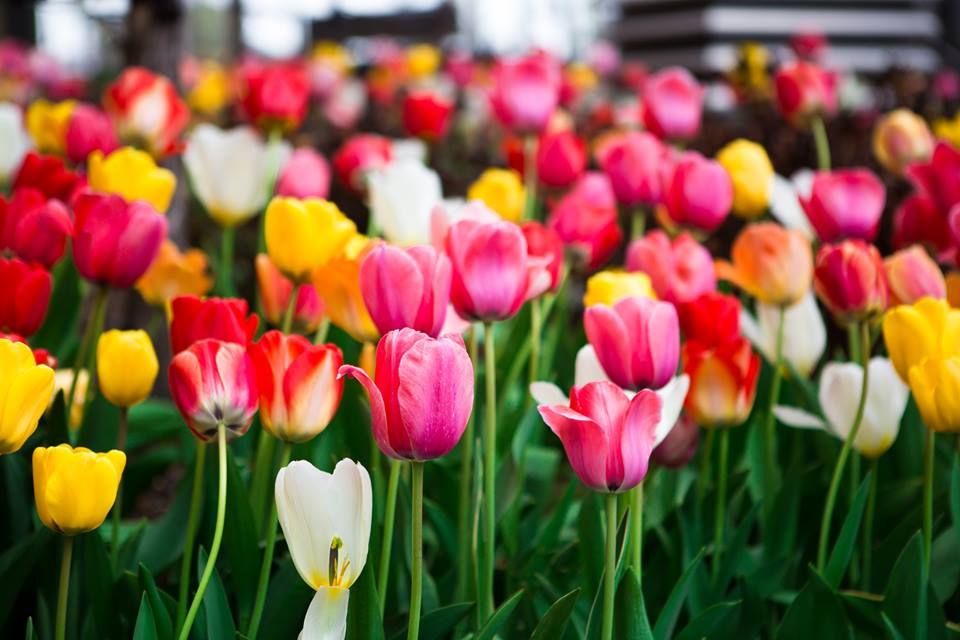 Aren't they gorgeous? I love the colors and how they just pop out among the green stems and leaves. It just makes me so happy whenever I see tulips or daffodils growing, and it also makes me happier knowing that Howard took this picture for me so that he could "give" flowers to me. So cute!