Because it's already May, the time for graduation is here! It's kind of crazy thinking that at the end of the school year, it can feel as if the year flew by, but throughout the first 85% of the year, it seems as if it's just crawling.
I had a custom order to fill that was for 6 graduation cards. Of course, I went back to the trust Teddy Bear Parade cartridge. I had actually seen other more basic cards on Pinterest that I wanted to try, but I figured they might be too clean and simple for a card order.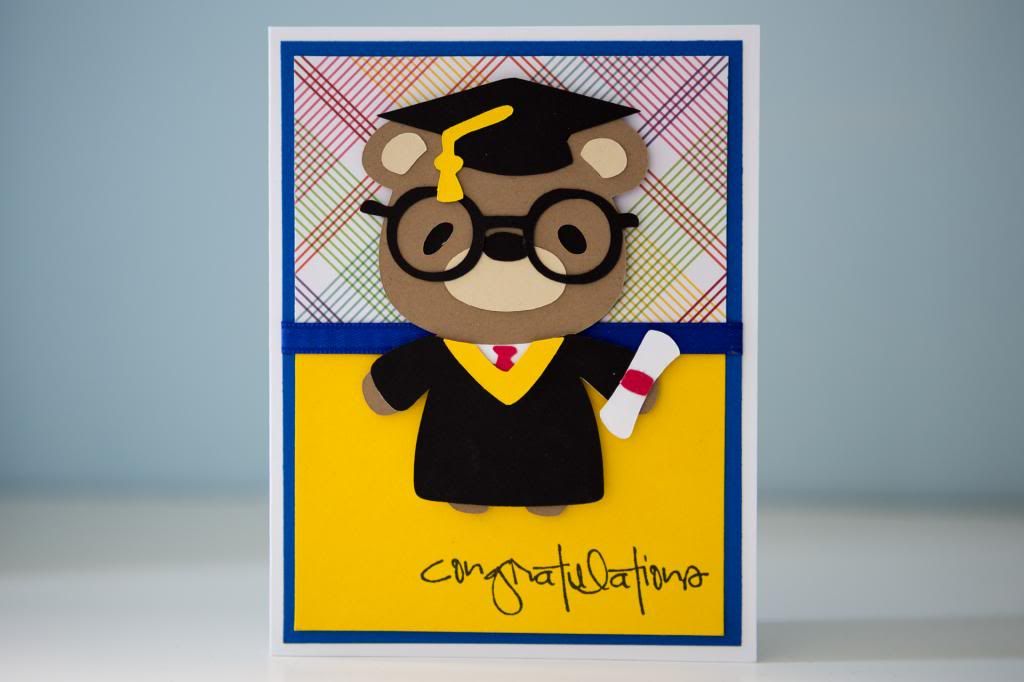 As I've said before about this cartridge, sometimes it's strange seeing how there are so many unnecessary layers when cutting out the clothing items, but when they're put together, it makes sense because then the cut has a little bit of dimension instead of just being one flat piece.
I thought about using the same layout that I used the last time I made graduation cards with this bear, but I don't have many sheets of the alphabet paper so I decided to change it a bit. I feel that the plaid was a little academic-looking while still being colorful, so I went with that for half of the base so as not to be too overwhelming. With some ribbon and an extra blue mat, the card was assembled. The last thing that was needed was a sentiment from Pink by Design's "Scripted Year."
Yay for completing another card order! Finishing 6 feels like an accomplishment, and it's just enough to typically utilize the full sheet of paper for particular layers. Now to focus on a large 50 card order once again!