When I know ahead of time that I'm going to be subbing in elementary school, I try to have a craft project ready for the kids. I do this for a few reasons:
(1) I like having something to do with the kids just in case we finish the work quickly or the teacher didn't leave enough to do for the entire day.
(2) I like having something with which I can bribe the kids, haha. I spoke to the class yesterday and told them that if we finished the work and everyone behaved, we could do the special project I had planned for them. We actually were able to finish 5 periods of work in 4 because they focused in the morning so we were actually done with the lesson plans before heading off to eat since right after lunch, there were only 2 periods left. For the most part, they focused on the work so we could have our "fun afternoon," which included celebrating a student's birthday at lunch, a trip to the book fair, and then the art project. By the way, let me just say that I did not in any way rush the lessons, haha! I still taught like I would on any other day, but they really didn't need the full 15 minutes to do the worksheets or answer the questions that were left for them to do after we went over the lesson. Once I saw all the kids were done, we immediately started reviewing it. I would never sacrifice instructional time for a project!
(3) By the end of the day, I am drained doing my best to maintain the structure and keep the kids with such a wide variety of personalities focused. The main reason why I like having a project is so that I myself can have a break! It worked out well yesterday too because the kids would not have been able to focus on work after spending a period at the book fair and seeing their parents. Many of them were also excited about the things they had chosen to purchase. If we hadn't done the history lesson about colonial life before we went to lunch, I don't think we would have finished the 7 or so pages of reading and the questions!
The last time I did a project with the 2nd grade class, I had to go around and help many of the boys with the folding as they were having issues with my directions. I decided to do something simpler this time, but a lot more personal.
This past Monday when I subbed for 5th grade, I had lunch with the elementary school teachers. I listened as the 2nd grade teacher talked about her baby shower and some of the ideas she liked (although her family members were telling her that she shouldn't have a say in how things were going to go for her shower!). She mentioned seeing onesies clipped on a string being used as part of the decoration and how much she wanted that for her own shower. I'm glad I heard that because that was why I chose to do this craft with the kids!
I used the onesie image from the B is for Boy cartridge and cut them at 6 inches. It was a pretty simple preparation as I only had to use 8 sheets of paper since I was able to get 2 from each 8.5x11 piece of cardstock. Then I used my Crop-A-Dile to punch holes through a bunch of them at once, so it was super quick. I brought white yarn so that I could string them together and hang them up after the kids were done.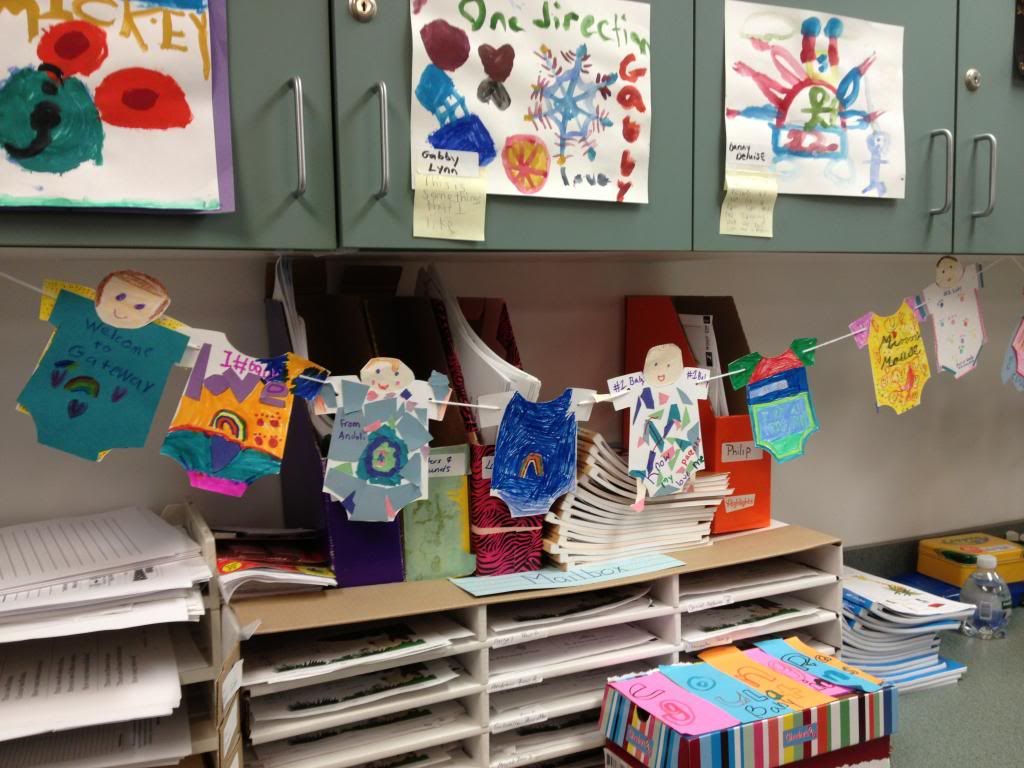 As you can see, some of the girls got really creative and added baby heads to them, haha. They really took the time to make them nice. Since we don't know if the baby is a boy or girl just yet, a lot of them stuck with rainbow colors. Actually, I think one student asked for the colors in the rainbow, and my mom who is a para in the class went over ROY G BIV with them on the board. Thereafter, a lot of them decided to use rainbows!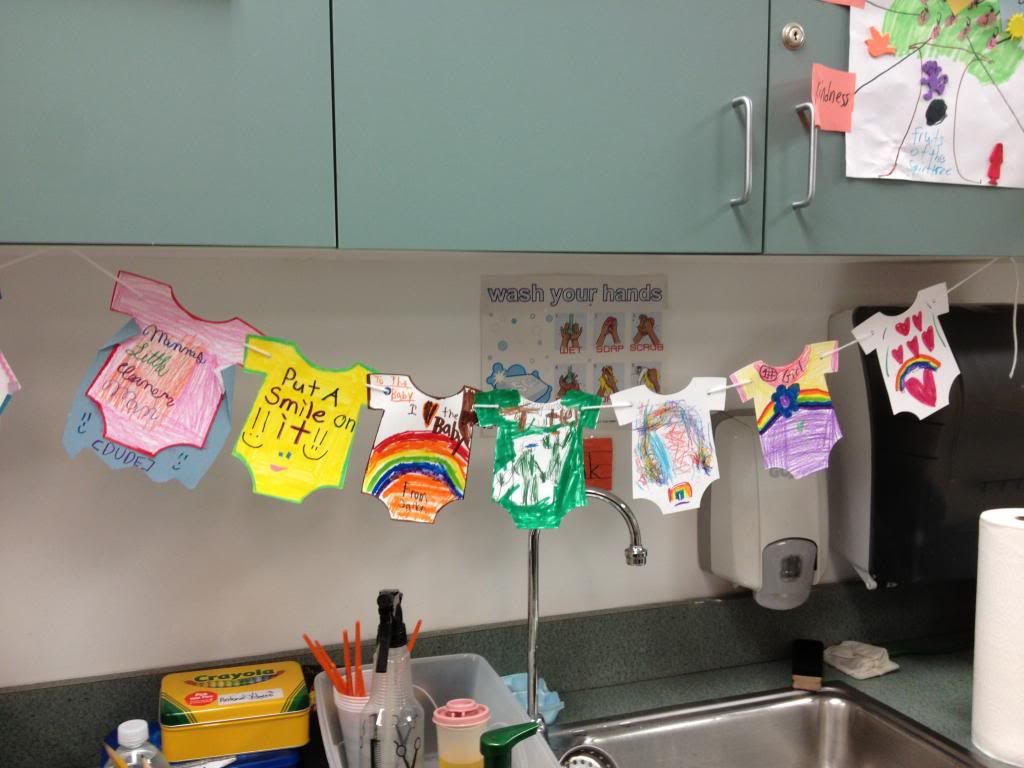 Though they're not very clear in the pictures, I did have some favorites (ooo, a teacher has favorites, haha). The three worth mentioning are as follows:
One of the boys wrote "We are men" and "I am a big man!" on the onesie, which I thought was appropriate because of all the "little man" outfits for baby boys yet it was also still extremely funny to me!
One of the girls decided to put a cape on the back of the onesie, which reminded me of all the ones I've seen recently at Target for like Batman and Teenage Mutant Ninja Turtles!
Lastly, one of the boys wrote "To the baby. I 'heart' the baby," which I thought was so cute!
Unfortunately, there were 2 kids who didn't complete a onesie since one of the boys was chatting up a storm and didn't finish it and another boy had SETSS and then was in the nurse's office. Even so, I think the onesies banner was a great project for this age group. I was hoping the teacher would enjoy the surprise, and she did! My mom told me that she was going to take it down and hang it up at home and possibly even bring it to her shower. I'm so pleased that she liked it!