After buying a bottle of blue nail polish to match the dress I wore to my brother's wedding and a bottle of red polish to match the dress I wore to my sister-in-law's wedding, the desire to have a TON of colors and options just magically appeared! Haha, I became one of those girls who was lured by beautiful colorful displays of nail polish at drug stores. Thankfully, the couponing side of me came out around the same time, so although I have quite a collection, I didn't pay retail value for it because that would be CRAZY! I also purchased many during the CVS beauty clearance and got inexpensive brands like Wet 'n Wild, NYC, and Sinful Colors.
During the end of my last school year, I changed colors every week, which made me happy since I don't accessorize outfits or anything like that. But then I stopped because I didn't take the time to paint them after I took the time to dry my hair. Well, it's about time I started again!
The manicure below was the one I did before our Disney World trip this past January. It's Wet n Wild Megalast "On a Trip" with Maybelline Color Show Polka Dots in "Clearly Spotted."
Since I was missing WDW today (as I do almost every day, haha), I decided to use the same polka dots again but just on a different color. Since I have a coral pink on my toes (Wet n Wild Wild Shine "Dreamy Poppy"), I decided to choose blue for my nails. Clearly, I really like the options from WnW because this is "Teal Slowly and See," which is from the Pop Art Craze collection from last summer that I bought as a reward for getting through jury duty! It was only $0.69, so it was a rather awesome price!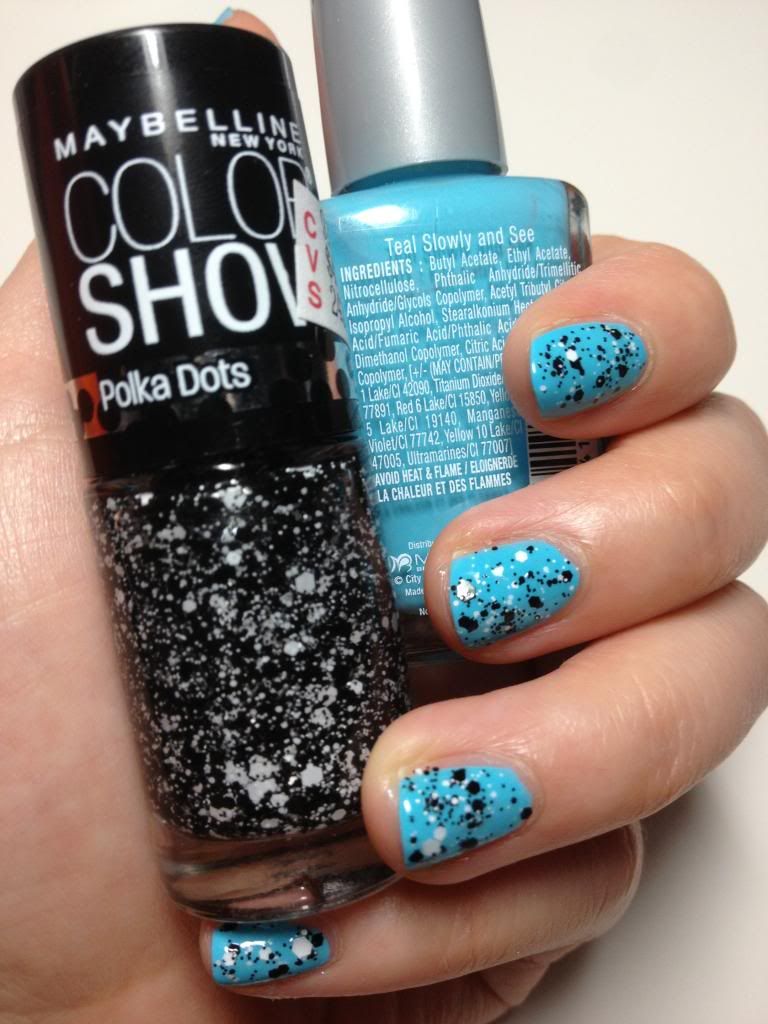 I know I'm jumping on the matte-glitter-bandwagon pretty late, but I love the speckled look without a glitter top coat changing the look of the color itself. Yay, I'm a happy girl!