You know how people have guilty pleasure TV shows? Well, I have to admit that one of my guilty pleasures is
Say Yes to the Dress
! The funny thing is that I think more than half of the brides on the show are completely ridiculous with their $10,000 budgets and wanting bling and "wow factor" and blah blah blah. There are, of course, the brides who have been through trials and are finally getting to celebrate a wonderful occasion. I love hearing those stories. However, regardless of the type of bride, I still enjoy watching the show when I am struck with the mood to have a Netflix marathon. Every time I watch an episode though, I am reminded of my own wedding dress and how I ended up choosing it and purchasing it!
In the same way that I had limited criteria for my flowers (not heavy to carry and no baby's breath), I also only had a few requirements for my wedding dress. I wanted it to be chiffon so that it would be flowy as I liked the Greek goddess look, and it needed to be light and easy to manage so that I could sit and stand without issues and go to the bathroom by myself! I had read what in my mind would be considered HORROR stories of brides needing their maid of honor or bridal party to hold up their dress while they went to the bathroom. One of my college friends even said she didn't go to the bathroom for 14 hours straight because of her elaborate dress. There was no way that that was going to be me.
My requirements were pretty minimal mainly because I was very particular about the things I didn't like, so it was very easily narrowed down. I didn't like satin because in my mind it looked like lingerie, and I also didn't necessarily like buttons down the back or the the corset look (though I clearly understand why that would make fitting into a dress a LOT easier). But I knew that when I finally went to try on dresses, I had to keep my mind open and try on things I might not have thought to try on.
I did some casual dress browsing with my mom at
Group USA
when we just happened to be at Jersey Gardens. Nothing really came out of that except that my mom finally knew why dresses cost so much because she thought I'd be able to pick up a $99 dress from the David's Bridal sales. It was good to hear because the dress I actually really liked (other than the low neckline that I was hoping could be adjusted) was this Maggie Sottero dress for about $950 or so. Doesn't it totally look like something I would wear considering it's a v-neck with tightness in the waist?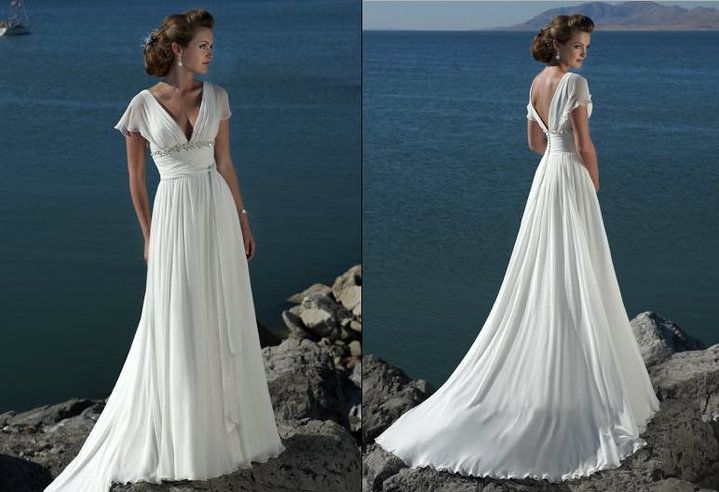 David's Bridal was really where I decided to look next. Howard and I got engaged in July 2010, and I was browsing in August 2010! But I had no intention to purchase, but I figured it would be fun at this point in time to just search. When my mom, Howard, Matt and I had plans to go eat barbecue at Big Ed's in NJ, I called David's Bridal to see if I could just walk in and search the sale racks. They suggested I make an appointment so I could be taken care of although it did make me nervous at that point! Though many brides enjoy the idea of having someone help them choose and try on gowns, I'm just not that kind of shopper. I liked setting my own pace, trying things on my own, and asking only my mom if I needed another opinion. But I guess I didn't have much of a choice!
Our lunch wasn't as tasty to me because I was just feeling anxious. If you know me, you know I do not like new experiences! I'm the kind of person who likes to be prepared for everything that's going to happen, so not having had time to read reviews or anything like that meant I couldn't relax. But I did the best I could to enjoy lunch!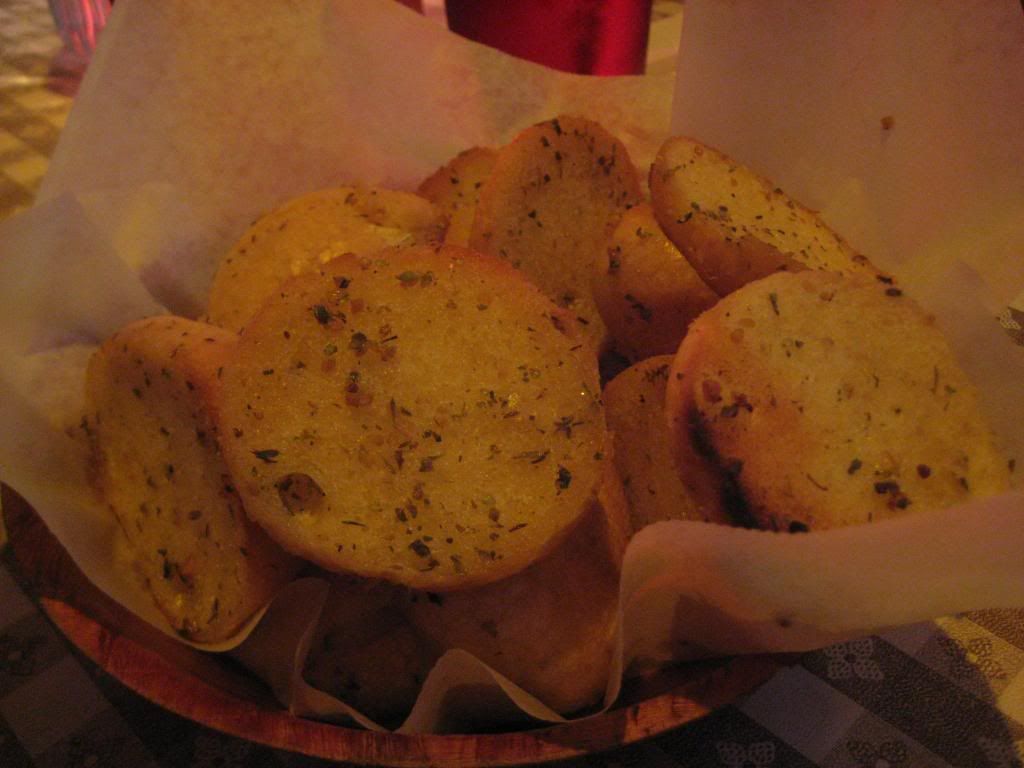 I'm pretty sure I ended up bringing home most of my lunch, but that's not anything strange. I do that all the time even when I'm not going wedding dress browsing afterwards, haha.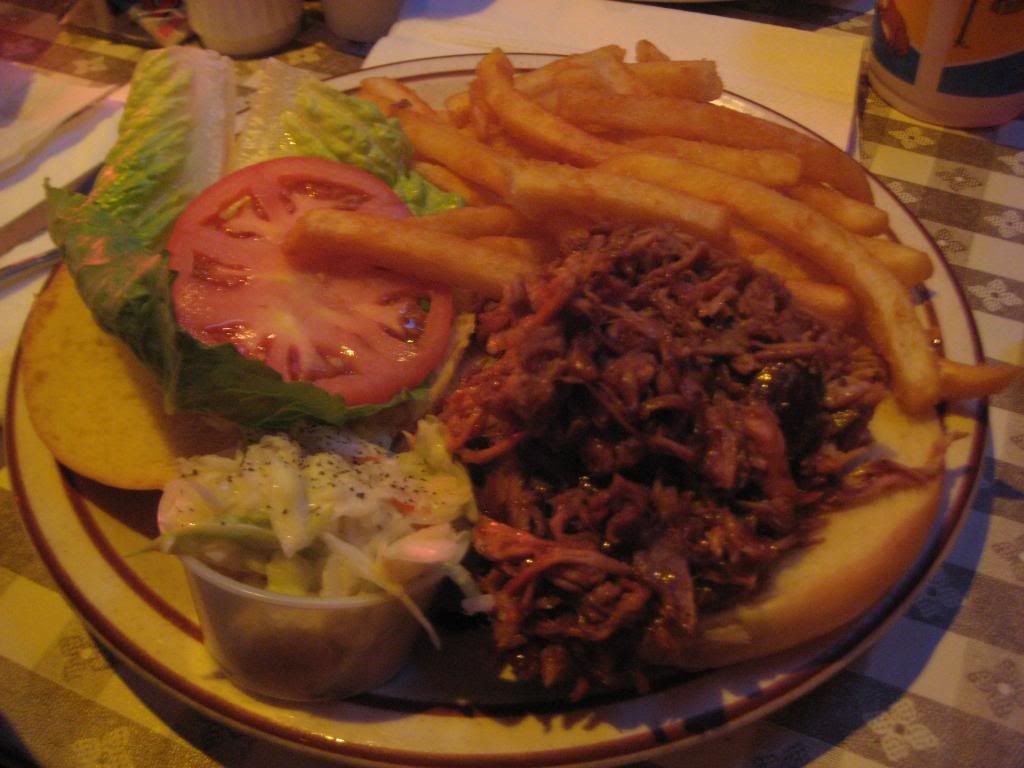 After lunch, we hit a farm or something where my mom was searching for some plants. From what I remember, that was the real reason why we were actually in NJ, and everything else just happened since we were in the area. Howard and I took this picture when we were surrounded by all the trees and the nursery.
It was time to finally head to David's Bridal! I wasn't expecting much because I know some people just don't like the place, but I didn't have high hopes about finding my dress. I just needed a taste of what it was all about. I had looked through their dresses online a few times and favorited a bunch. I printed out the sheet and handed it to the consultant I was assigned. We went to the aisle with my size so she could pull the dresses I requested. While we were going through them, I pointed out others that intrigued me, and she snagged those too. She even pulled one off a mannequin for me as we were walking to the dressing room because it caught my eye.
The actual trying on of the dresses went smoothly too. I purposely wore boy shorts that day so that I wouldn't have to worry about being seen by anyone since boy shorts cover more skin than what some girls wear at the beach! The consultant was excellent though and literally just handed the dresses to me through the curtain opening and helped me zip up or tied the back only if I needed the help and asked her for it. I'm not sure if that's what was normal for the David's Bridal attendants or if she could tell I wasn't all for being exposed if I didn't have to be. I mean, I've been to countless doctors' appointments and had two surgeries before, so I'm not really someone who's nervous about stuff like that, but I definitely feel there's a difference between a doctor and an employee of a wedding salon even if both have been in the business for ages!
The first dress I tried on was the chiffon dress I saw online that didn't really look that great
in the picture on the website
. Later on when read the reviews, I saw that a lot of people wrote that it didn't look special in the picture but was completely different on. This was pretty much exactly what I wanted except for the fact that it didn't have straps. Well, I'm definitely not spoiling anything by saying that this was the dress I ended up purchasing at $450 (haha, it's currently $300 right now after YEARS of being available!)! But of course, I had to try on more dresses.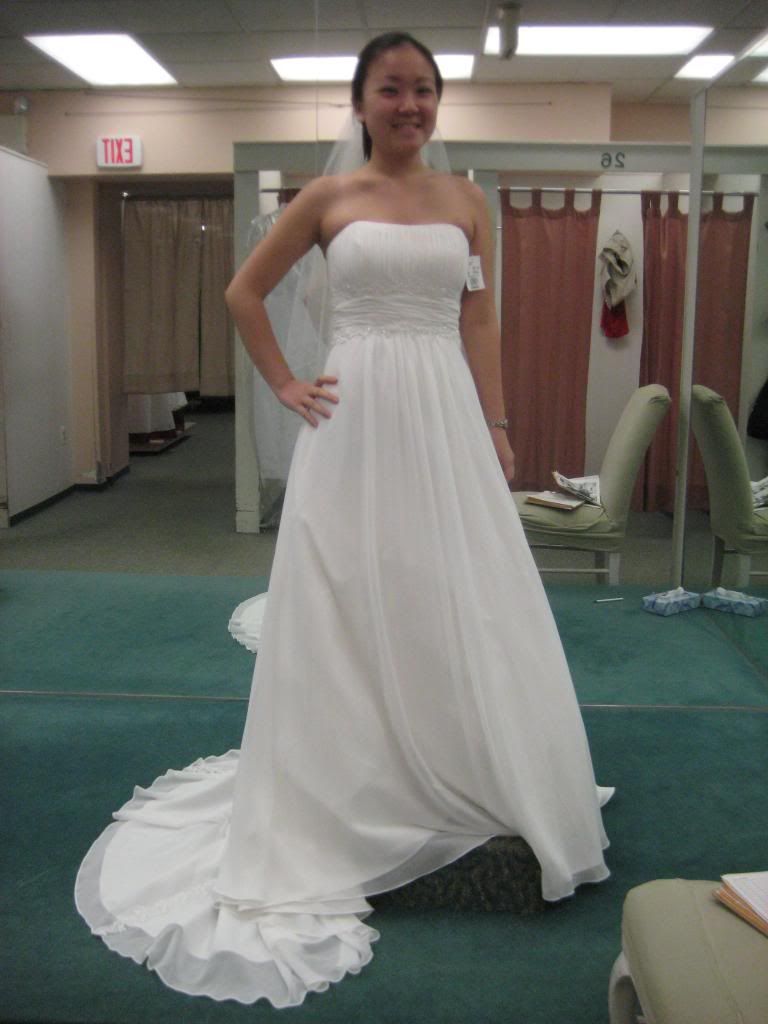 My mom took these pictures and said the back was very pretty. I didn't really even get to see just how detailed it was until I had the dress at home! It gave it something extra so that it wasn't too plain in the back. I actually thought I wanted a dress without a train too, but my mom and the consultant said that it would look nice during the ceremony if I had a train and that it would end up being bustled for the reception (that's a whole different story for another day!). So at the end of the appointment, I did end up buying this dress in petite to possibly save money with alterations. It still ended up needing hemming anyway when I got my actual dress, so I really should have bought the regular size.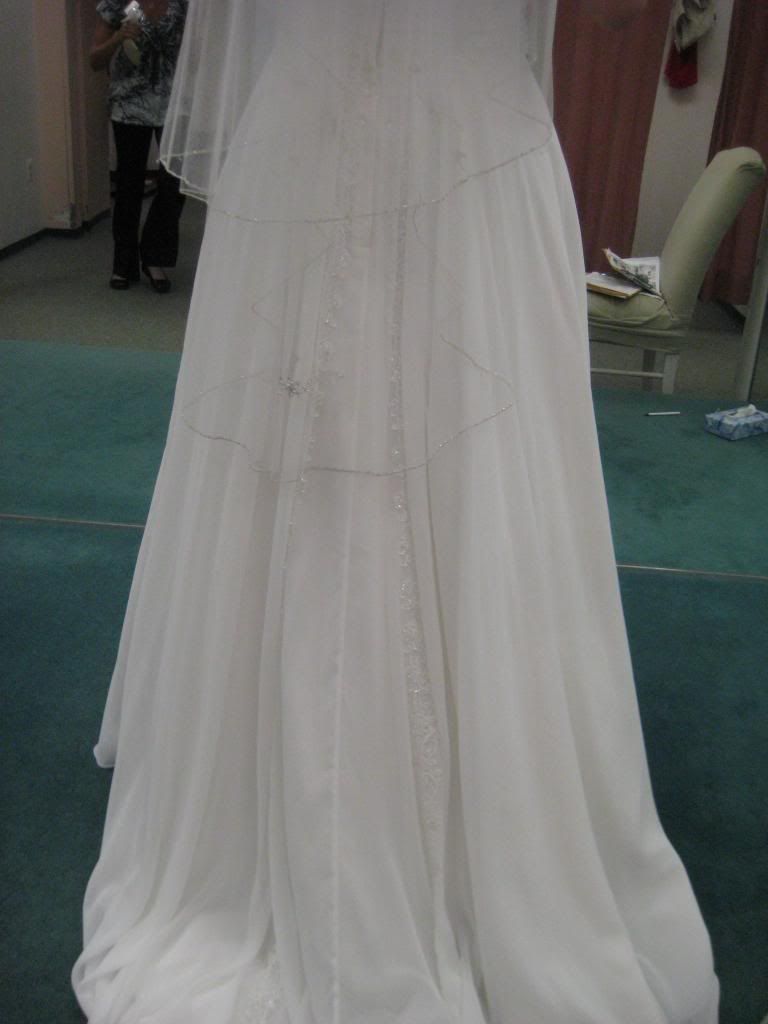 I do have to say that even though my mom and I did love this dress, I didn't have any emotional breakdown or strong attachment to this gown when I had it on. There was no crystallizing moment that confirmed this was my dress. I guess I'm not the type of person to have that kind of epiphany in the first place.
The other dresses I tried on were just nothing compared to the first one. As you can see, the dress I ended up buying was the only one where I didn't feel as if I needed to put a Photobucket sticker to cover any areas I just don't feel like showcasing on my blog, haha. Personally, I also feel that some of them had a cheaper look to them including the satin one below that looked like a comforter. That definitely stuck in my head after an episode of "Say Yes" where the sister of the bride kept saying, "It looks like a down comforter."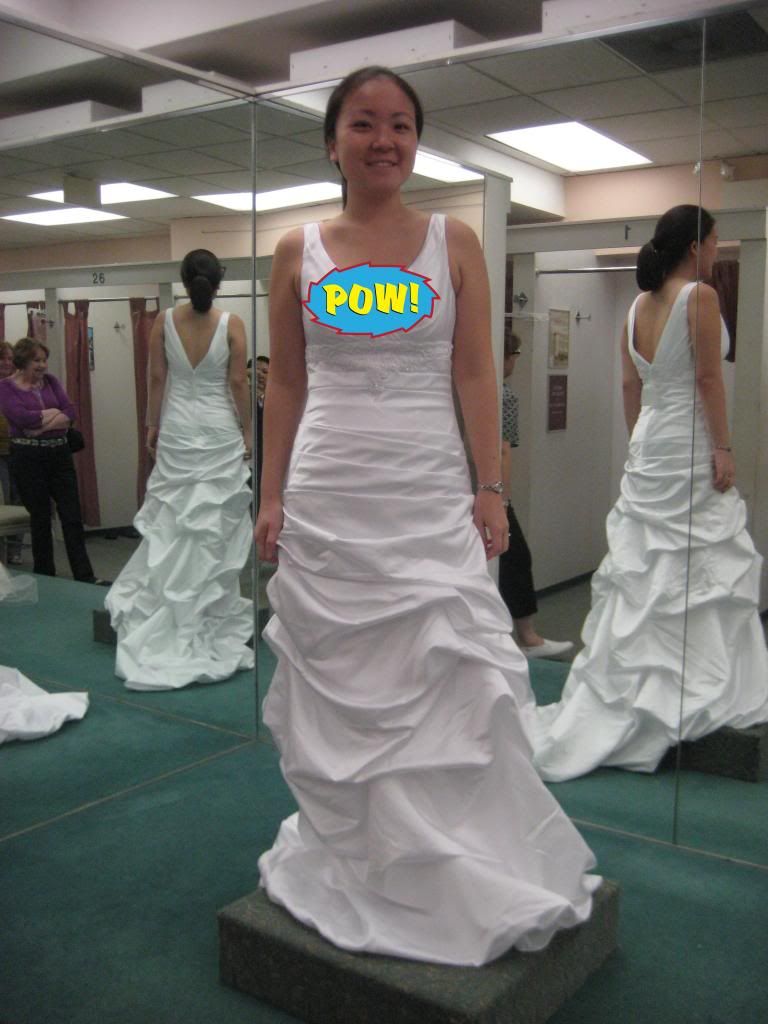 Other dresses just weren't as flattering either. I wasn't a fan of the sweetheart neckline, and if the tightest part of the dress wasn't accentuating my waist, I looked extra short and dumpy.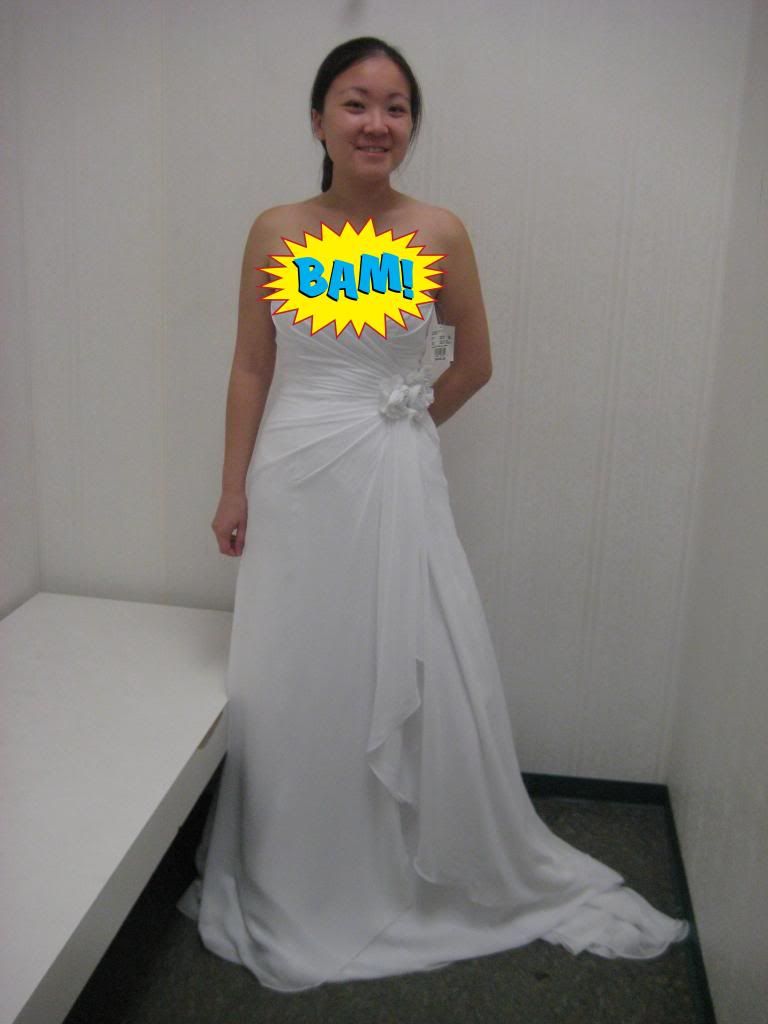 But like I said earlier, I knew I needed to keep an open mind. That's why I even put on a dress that had this kind of back. After losing weight before the wedding and worrying that my dress wouldn't be tight enough around me (I did not want to be the kind of bride who kept tugging her dress up throughout the whole day), I definitely understood why people go for this corset back. If you gain weight or lose weight, the tying would be adjusted that day without any issues!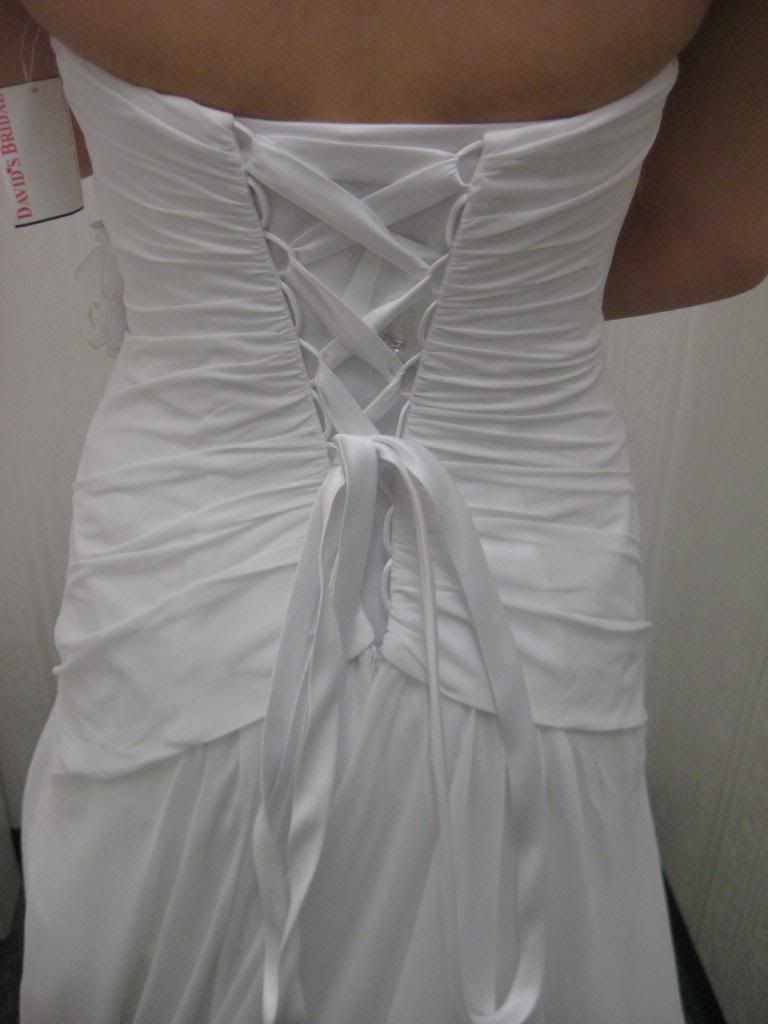 I feel that I may have tried on more dresses than what I have pictured, but at the same time, I think this really may have been it! From what I recall, there was another dress or two that I chose that I knew wouldn't work after trying the others on. I joked with my mom that some of the dresses would require a trusty ol' black tank top that I like to place under a lot of my sweaters and tops! In fact, I wear them so often, that they eventually rip and I have to buy new ones! I guess I should be happy that Forever 21 sells them so cheaply so I can just replenish my collection with new ones, haha.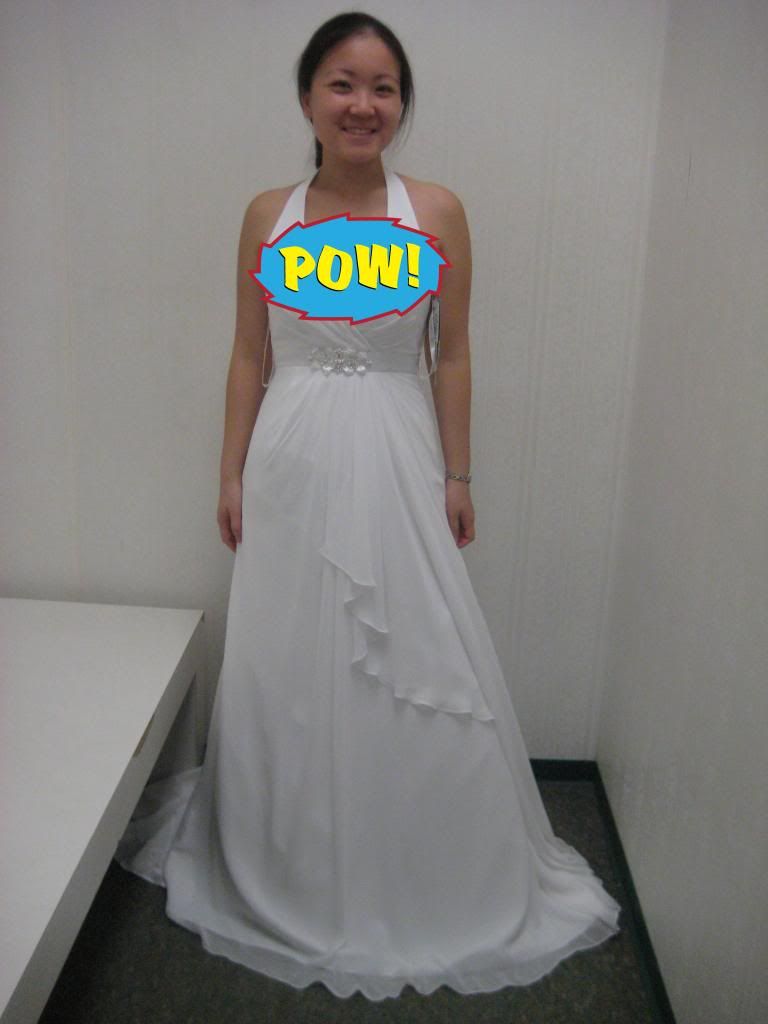 The other dresses were definitely unsuccessful, and so I put on the original dress in the petite size and just knew it was the dress. The consultant said that with David's Bridal, they don't know just how long they will have a dress available. It could have been a sales pitch, but I wasn't willing to risk it. I would have been upset had I lost out on the opportunity. Plus, there was a $50 sale from the original $500 price, so that meant I kept to my "no more than $500" plan! I did obsessively check the website thereafter until our wedding day, and the price NEVER dropped lower than what I paid.
It was definitely unexpected that my casual browsing would result in my purchasing my wedding gown! Though I had to wait almost two years before I could actually wear it, I'm glad it worked out the way it did. It was just my mom and me discussing what worked and didn't work. Even though I initially thought I'd show Howard the dresses I tried on since I didn't feel as if I was seriously shopping, the consultant and my mom suggested that I not, so he and my younger brother sat outside on one of the couches throughout the entire appointment!
And no, I technically didn't need help going to the bathroom, haha. It was so easy to slip on and off that my cousins Danielle and Nikki just unzipped the back so I could step out of it and then step back in after I was done! That in itself definitely confirmed that this dress was the one!