Celebrating holidays usually means making plans with Howard's family and with my family. Since we postponed Father's Day celebrations with my dad, we didn't have our official dinner yet. We did go out to church on Sunday with my parents as always, and then after service and Sunday School, we joined them for lunch.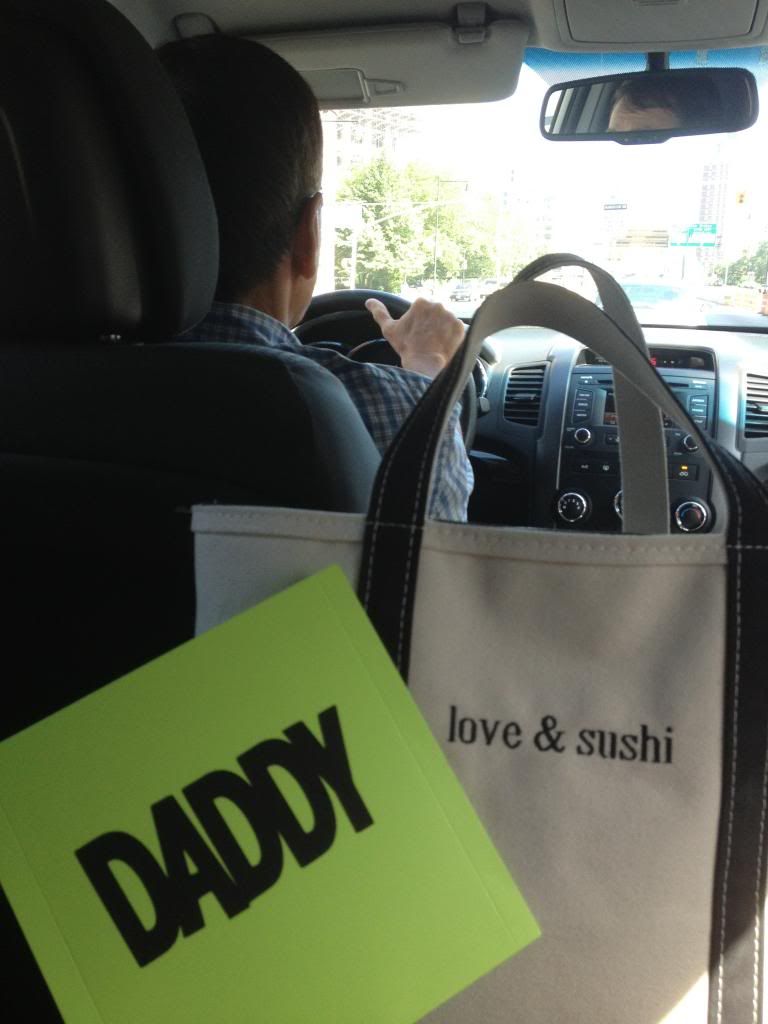 We went to a Shanghai restaurant on Mott St (can't quite remember the name), and my Uncle Jimmy and Aunt Emma were there too. It was a surprise seeing them since my uncle is back in NY for a bit. Though it's bad saying I have favorites, I can't help it! Haha, they're my favorite aunt and uncle out of my dad's side because they live next door to my parents, so that means I grew up with them always there. My older brother Jonathan and I would just leave the house through the kitchen sliding door, walk in the backyard, and then let ourselves into their house to play with our cousin Stephen. Steve did the same thing and came over all the time too. Then when I was older, I used to hop in their car to get dropped off for high school since I didn't mind getting there early and my cousin had to go for jazz band during 0 period (my brother took the bus later for 1st pd). Nowadays, they're helping Howard and me because we're renting our apartment from them, so it's always nice having meals with them.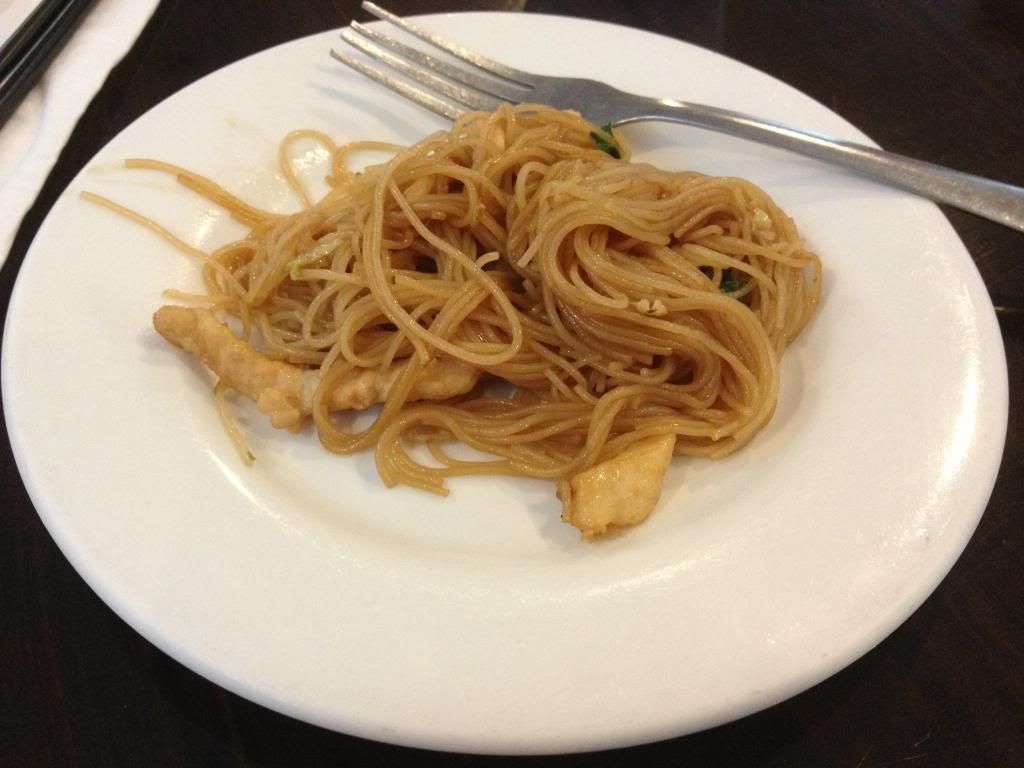 We split a bunch of dishes including noodles and then three different orders of dumplings including pan fried dumplings of which I ate one (oo, living life on the edge!).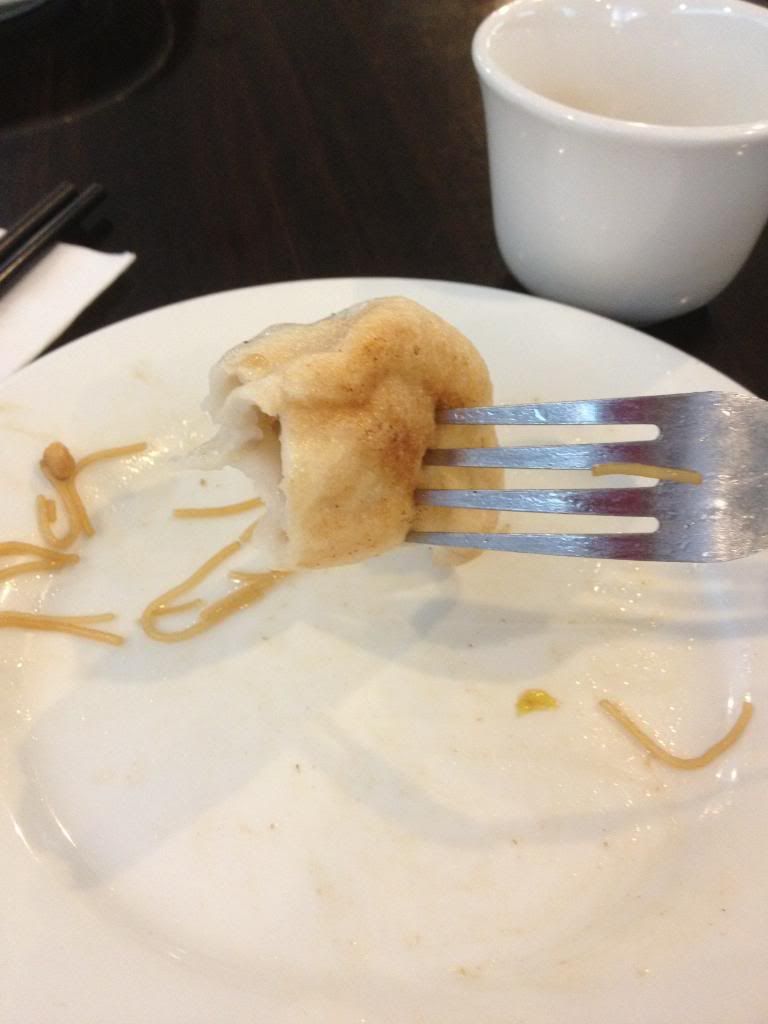 The xiao long bao (or soup dumplings) were more my speed. I didn't have any soup spillage as I nibbled off the top portion to slurp the soup.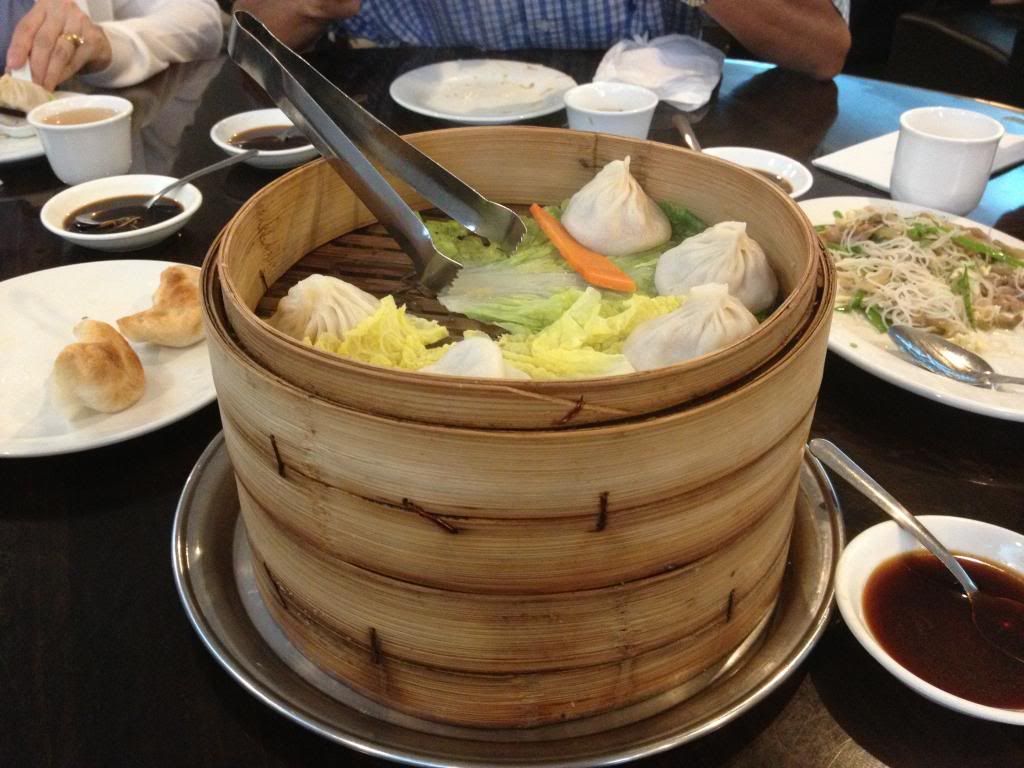 We unfortunately had to sit in traffic on the way home from church, so we didn't have as much time at home as I had anticipated. It worked out though. We headed back out to Howard's parents' house and all 6 of us (yay, almost 7 because my sister-in-law is due at the end of July!) hopped in the van to go to a restaurant in Brooklyn called Marietta. I was happy to see that we were able to park right across the street! I love when it works out like that. The decor when we first walked in was interesting. I said to Howard that I liked the place already because they decorated with potatoes, haha.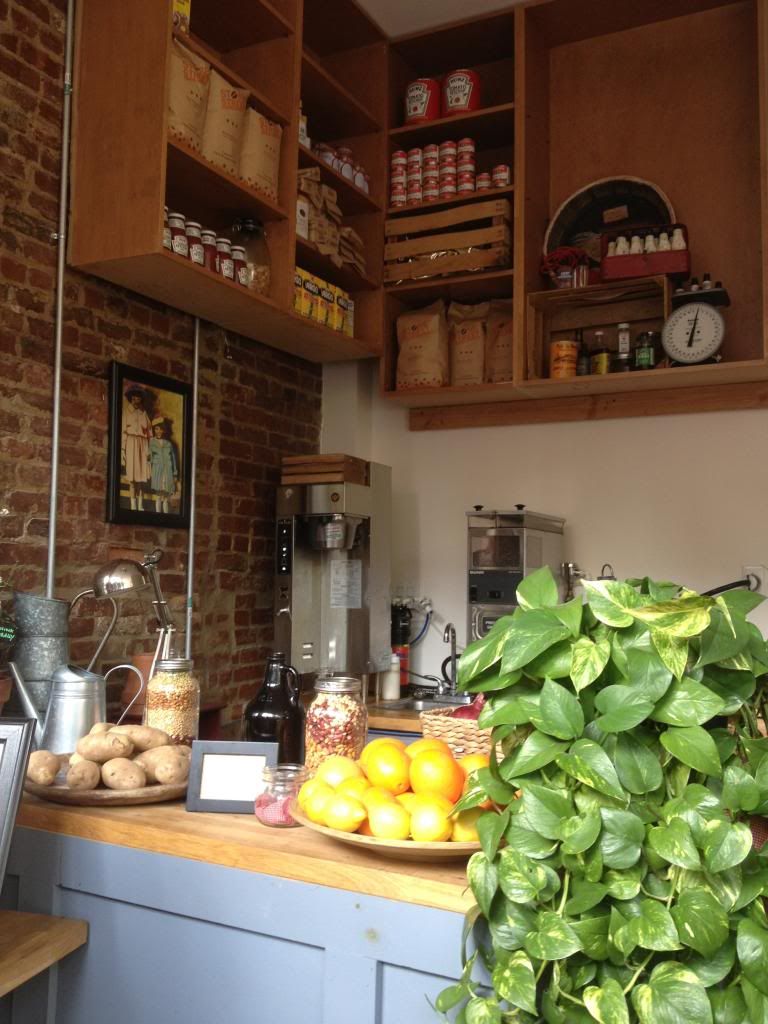 We sat at the end of the restaurant by the windows where we could see people from the neighborhood just lounging on the street with their lawn chairs. This, however, was the view I had since my back was to the window. There were a few other people in there, so I took this picture after they left. I liked the country-esque feel to the place.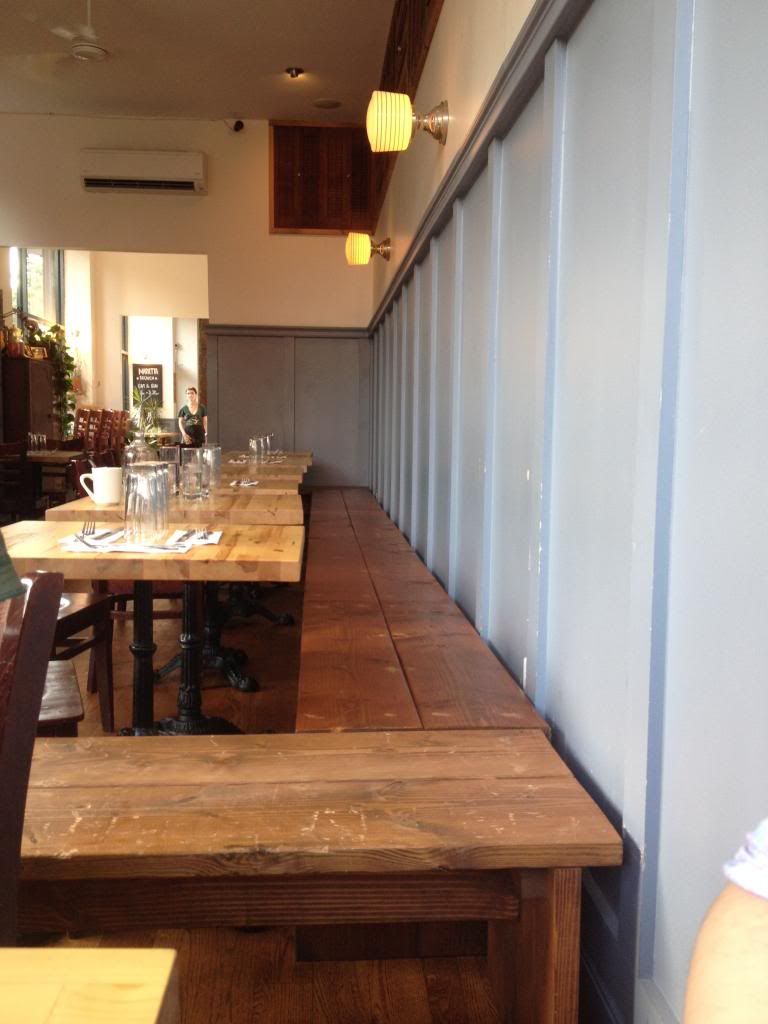 We split the Charcuterie Plate ($16), which included "Brown Jam, Cheek, Mousse, Ham" as listed on the menu. It was a sampling of all the items that could have been ordered individually.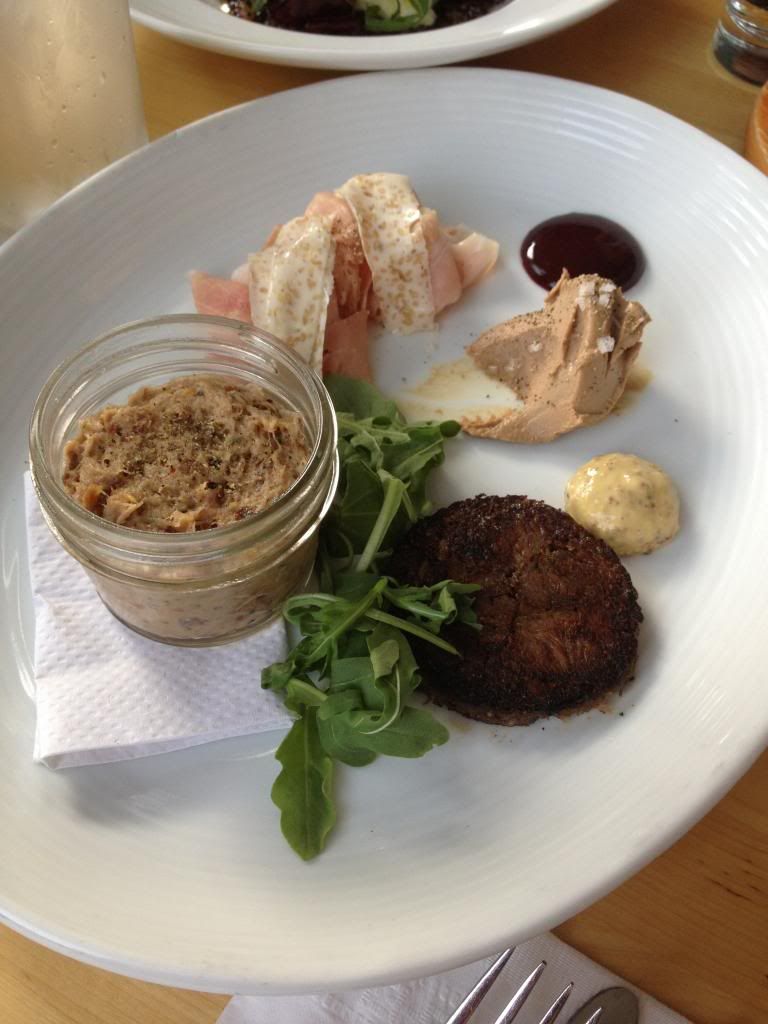 At the top of the plate is the country ham, which the waitress said was their version of prosciutto. On top was their homemade shaved sesame butter (pretty sure that's what it was, and I just asked hubs for comfirmation). I didn't try any of that because I'm not a fan of prosciutto or those types of cured or salty meats other than pepperoni on pizza or salami in a sandwich every once in a while. I think everyone like it though.
My favorite was the chicken and foie gras mousse, but I couldn't detect how it was any different than regular chicken liver other than the fact that it had a stronger liver taste. Of course, it was incredibly smooth compared to chopped liver. That was paired with the cherry marmalade.
Below that you can see the little brown patty, which was the seared pork cheek. I don't really know how to describe it other than it was like pork, haha. The whole grain mustard that was served with it was really good though. I would put that mustard on EVERYTHING. I like the Gulden's spicy brown mustard, but this totally trumps it.
Lastly, the stuff in the little jar was the Tennessee brown jam, which is "whipped pork shoulder." It definitely had a kick to it and had a smoked flavor to it. I tried it and said to Howard, "Do you know what this tastes like? Spaceship Earth." That really was the best way to describe it because the smokiness reminded me of the smell during the scene where they show the burning of Rome! It was so exact! Later when I had some more, Spaceship Earth was still the first thought that popped into my head. This was my second favorite on the platter.
We were given grilled country bread to eat with it. When we got this plate, I said to Howard that they could've given us 6 pieces instead of the 5 since there was 6 of us! Haha, I mean, I get that 5 was probably the serving, but it would've been a nice gesture. When she came back later on, she asked if we wanted more bread to finish the charcuterie plate since we still had a little bit of stuff left, but we said it was okay. We just ate it with the remainder of bread or just ate it plain. As Howard and I looked up the menu just now to get the item descriptions and prices, I saw that the grilled country bread was $2. I wonder if we would have been charged if we had said yes to the bread.
The other appetizer we got to share was the Roasted Beets ($11). This was delicious! But then again, I love roasted beets in any form. It is served with black quinoa, lemon ricotta, and lamb's leaf lettuce. The quinoa gave the dish some texture. I admit I probably could have just eaten this whole dish as an entree, and I definitely would have been satisfied. When we were leaving the restaurant, we passed by two girls who were sharing it as well, and I would've reached over and grabbed some if the thought of eating other people's food wasn't so disgusting. Oh, and if it weren't rude and against all proper rules in a civilized society.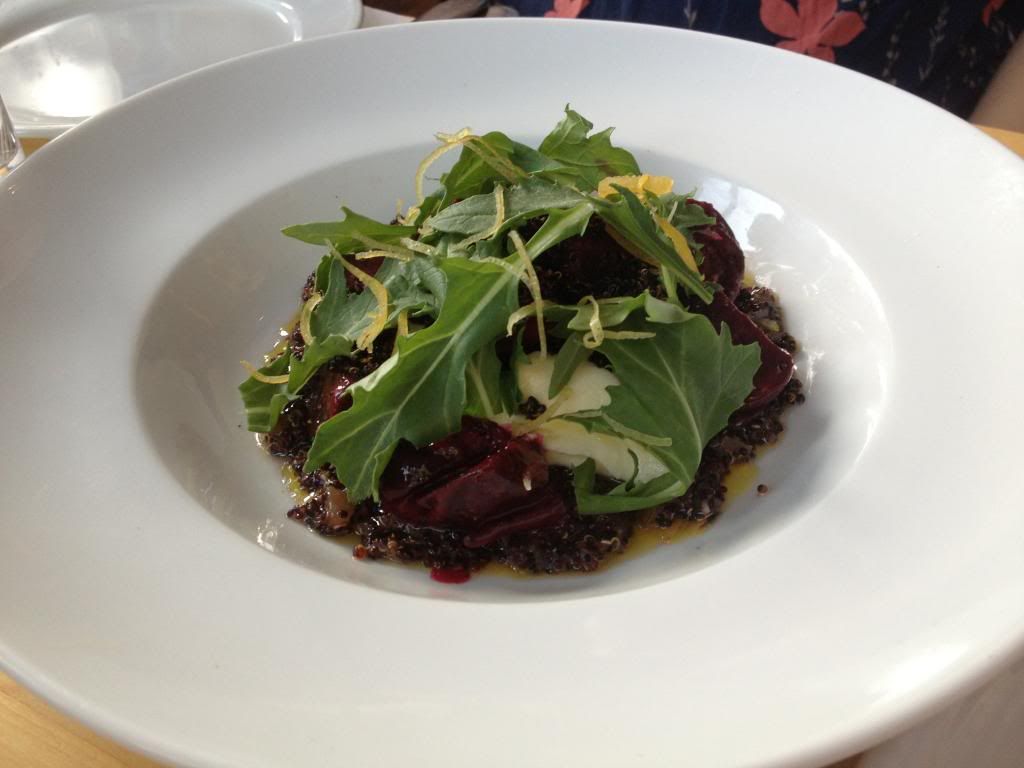 For the entrees, Howard ordered the Rib and Tail ($23), which is seared ribeye, lime, red chile, fresh herbs, and oxtail sauce. He said that one of the herbs had an intense flavor and was also a little spicy. I think he enjoyed it more when everything was put together in one bite. They didn't ask how he wanted the steak cooked, but it was kind of thin and served medium.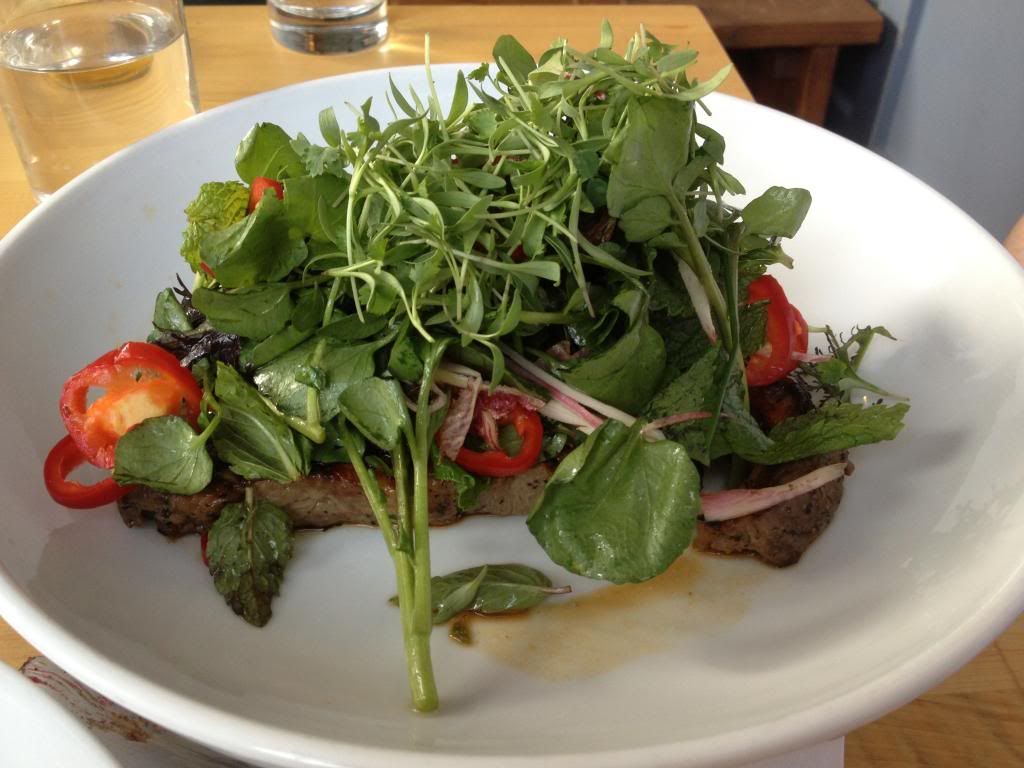 I ordered the Long Island Whiting sandwich ($13) that came with red cabbage slaw and "Comeback" sauce. Though I tasted the sauce in the larger bottle, I ended up eating it without it because the waitress said they were spicy. I was already pushing it by having fried food. For me, it definitely didn't need the sauce anyway. It was really crispy, and the fish wasn't at all overcooked. Since they piled on so many fillets of fish on the bread, I didn't actually eat it as a sandwich. I used my fork and knife to eat it and didn't finish all the bread either because that was grilled as well. Haha, that's why bread can be so good in terms of taste when you eat out, but in terms of what I should and should not eat, I like plain ol' bread. With so many foods that I should avoid because of my health issues, if I'm going to eat things that might upset my stomach, I'm going to be picky about it. So I enjoyed the fish a lot and just had about half of the bread instead. The slaw had some tang to them too, so it worked well with the fish. I should have eaten more bites of both of the things together.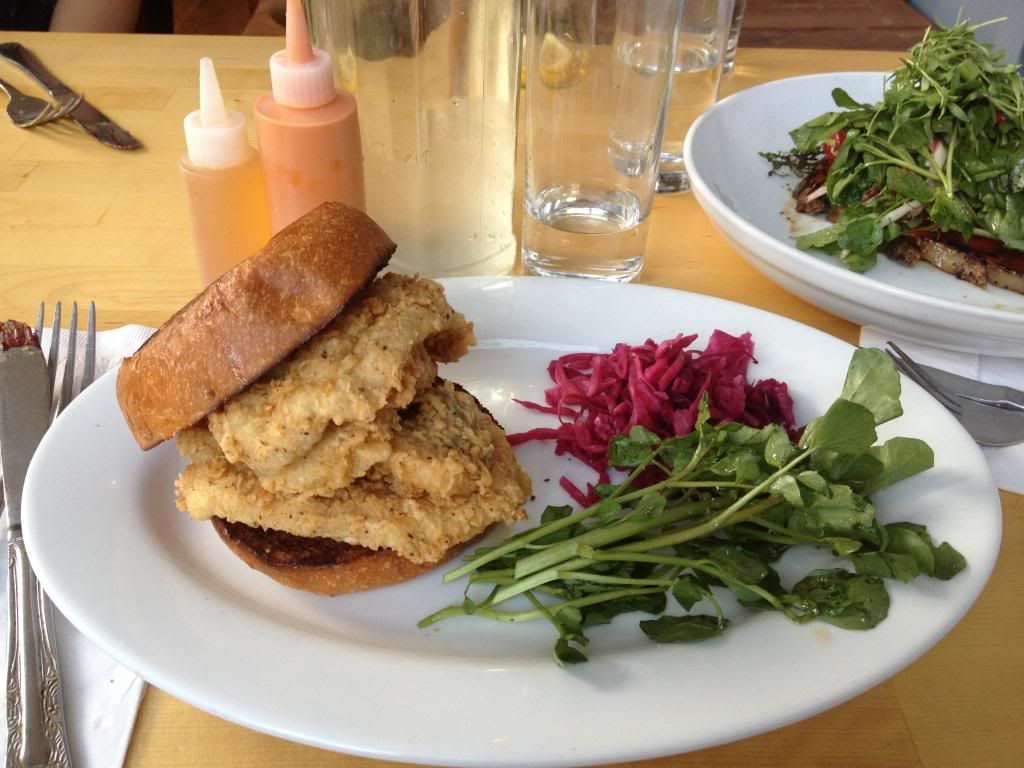 My mother-in-law had Crispy Skin Arctic Char ($21), my father-in-law and sister-in-law had Extra Fancy Memphis Fried Chicken ($16), and my sister-in-law's husband had Blue Crab Spaghetti ($18). An appetizer of the Ham and Cheese Heirloom Grits was also ordered for the table though I didn't try that since I didn't want to push it trying something rich. I didn't take pictures of any of their dishes, haha. They did take pictures of their own though as you can see below!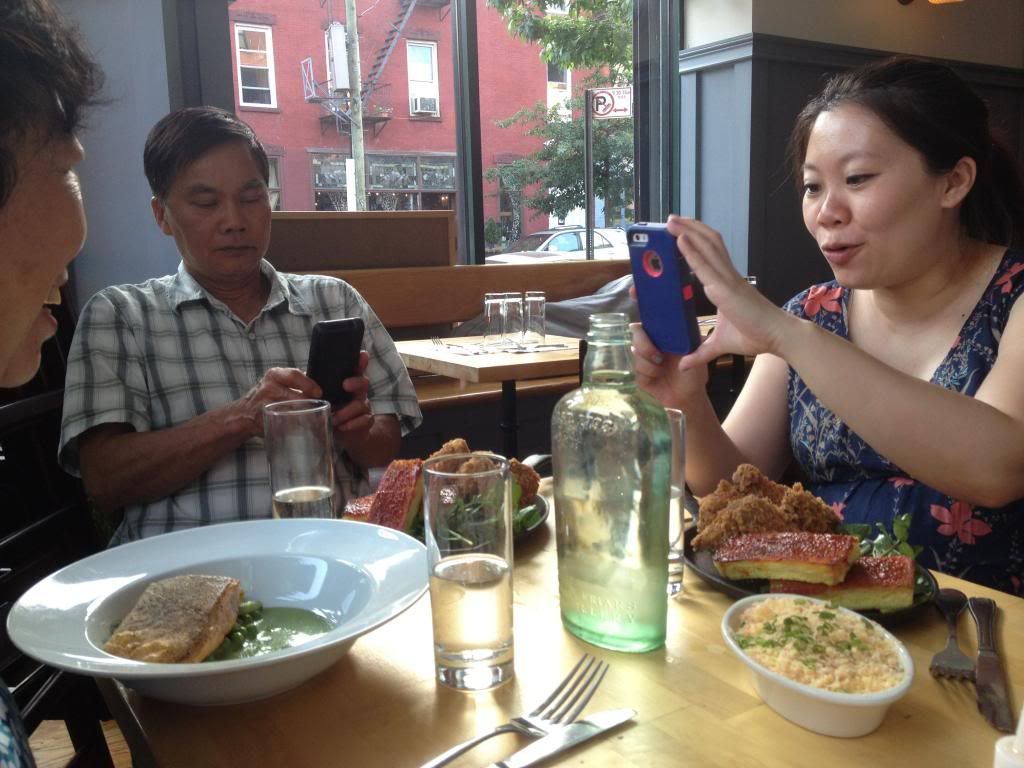 Dinner was really delicious, and because it was Father's Day and not Mother's Day, we didn't have to deal with heavy crowds at restaurants. We were able to get home fairly early in comparison to other dinners, so it was a pleasant day!