Since my mom is enjoying her Easter break this week, we were able to run some errands together today. One of the stops that was a requirement in my eyes was the Disney Store because of their Earth Day promotion. Since there were a lot of people at the counter, we browsed a little. Well, let's be honest. I would've browsed even if the store was bare! And why wouldn't I when they have such adorable merchandise like this Buzz Lightyear iPhone case! The wings pop out and pop back in. I love how it doesn't exactly SCREAM Disney the same way a case with Mickey and Minnie would (not that I'm against those!), but it's only recognizable if you know the colors of Buzz. I'm sure most people would be able to tell what it is, but I still appreciate how it's still a bit abstract.
The cartoon Mickey and Minnie tumblers were on sale for $4.99, and I did consider getting one since I'm still holding on to some credit on a Disney gift card. But I decided not to mainly because the new Winnie the Pooh line of tumblers is also extremely adorable and maybe it would make more sense to add one of those to my collection when that drops in price. I wouldn't feel entirely guilty about it considering the two that I do have at home are just one color and I got them from students. I find that I drink a LOT more water when I use a tumbler because of the fact that the straw helps me sip and I don't worry about it getting knocked over.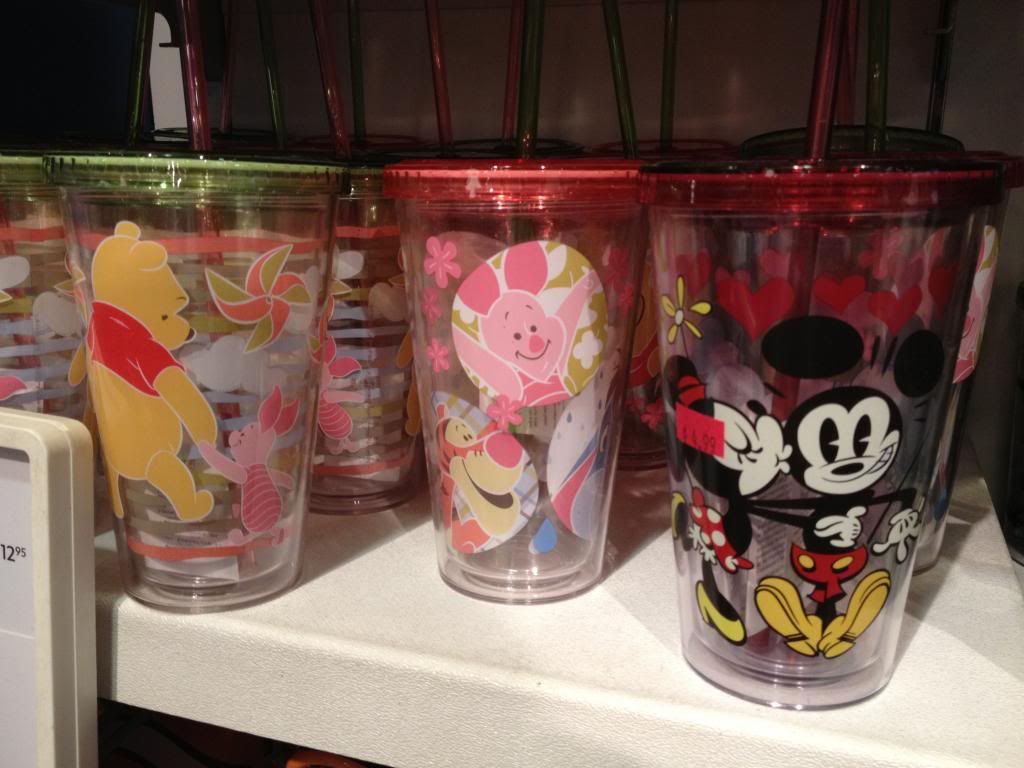 The Winnie the Pooh mugs were also on clearance for $5.99. The little added piece to the handle makes them really cute though I feel that you'd have to be extra careful with it.
I don't buy plushies because they take up space and my penguin Huey and my Build-a-Bear teddy bear Howie Wary Bear (both from hubs when we were dating/engaged) would get jealous, haha. On a typical trip to the Disney Store, I usually bypass this section and don't even give it a second look, but my mom took a peek and I noticed the bears! I think it'll be fun for our kiddies to have plushies that actually look more realistic. Not to say that there won't be an Oswald or Steamboat Mickey in their collection too ...
Well, the reason why we were at the store can be seen in that plastic bin on the floor behind the counter. For Earth Day, the Disney Store was offering an excellent trade: 5 plastic bags for a new reusable bag! Last year, there was a choice and that's how I got my Brave bag and my mom got the Cars one. This year, they just had the Bears one, but I was fine with that. Howard and I are looking forward to adding that movie to our collection.
When we finally got the counter and finished trading Vinylmation, I asked the manager a question knowing that it was a long shot. I explained to her her that I had told my friend in Wisconsin about the promotion but she didn't have a store near her, so I was wondering if I could get another. The manager who Howard and I have long conversations with about Vinylmation and Disney World said that it was fine as long as I had another set of 5 plastic bags, which I did! Yay!
I'm really excited that I was able to get an extra for my DIS friend Sarah. We got to know each other via Disboards and connected not only over our love for Disney but because we were both in education. Then we ended up being able to meet in WDW because we were there at the same time during our April break in 2010. We were in Disney World again the same time in 2012, and we randomly met up once more as she and her dad saw Howard and me on Toy Story Midway Mania while they were waiting to board! Sarah is also the one who really got me to see Animal Kingdom in a whole new light and was the one who got me interested in Disneynature in the first place, so I'm super happy to have been able to get one for her. I had messaged her a few days ago to let her know about it since I knew she was bummed having to return from her recent trip. I thought it was going to cheer her up, but she said she didn't have a store close by.
She has definitely sent some pixie dust my way by getting the "Just Engaged" buttons I wanted so much from the parks, so I'm ecstatic that I too can send some her way!