These particular items seem so random, but they were exactly what I intended to pick up when I last went to Target with my mom. Since I've been to work these past few days, we've been stopping at stores every once in a while because it helps us clear our heads and gives us more time to talk about what happened during the previous 7 hours when we were off doing our jobs! So even though these aren't major shopping trips, they're still things that I wanted to get since we pass by on the way home. It helps me avoid the long drive from the apartment to the shopping area.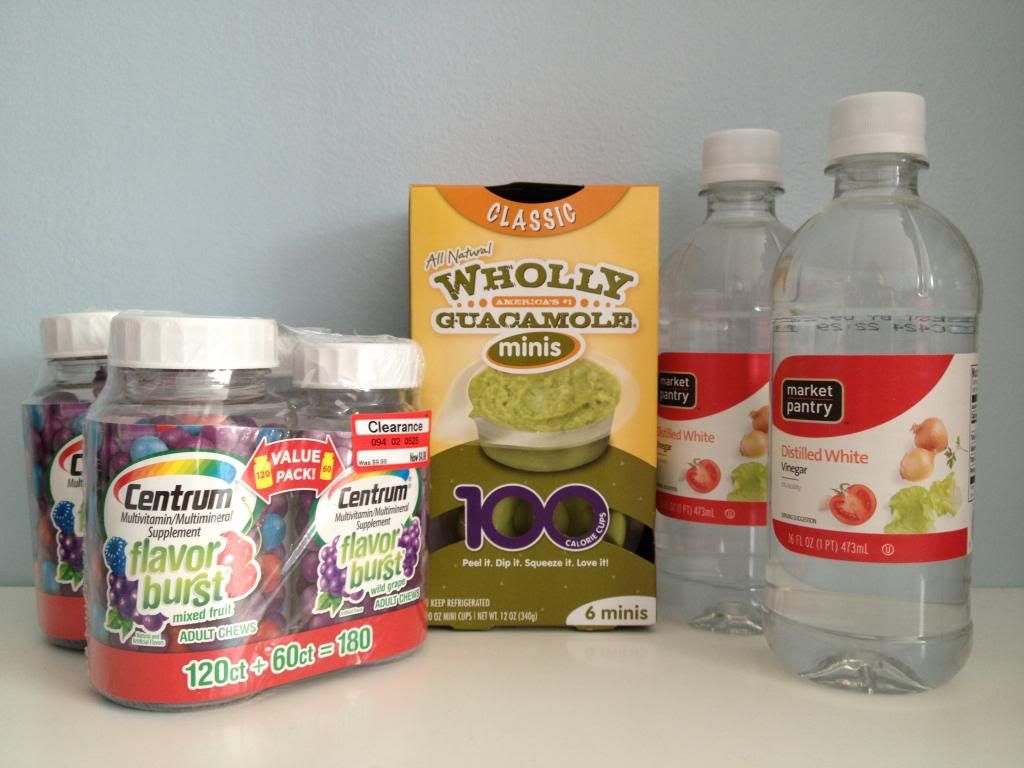 I had been watching the clearance endcaps for the Centrum vitamins ever since I saw it on Instagram. The store never had it until just recently! There were a good amount available, so I decided to wait to see if the price would drop a bit lower. When I saw them at the 50% off price, I was still holding out for 70%. However, when I was at Target on Friday, there was only one more left on the shelf! I grabbed it at $4.98. I was disappointed that there weren't more than that, so my mom suggested I check the aisle where the other vitamins were. I didn't think I'd have any luck, but my mom was right! I spotted another one! I used manufacturer's coupons on each to save $2 so each set was only $2.98. Pretty good deal for vitamins, I think. The expiration date said June 2014, so I opened one today so Howard and I could take these while we pause on our vitamin gummies. I saw that only the smaller bottle has the 6/14 date, so there's no rush for the bigger one!
And yes, I like my vitamins to taste like candy, haha. It's mainly because I have an issue with swallowing pills. If I have to take my regular medication in pill form, I'm going to choose to avoid taking anything else if I can get it in the form of a gummy. The Centrum ones are similar to Skittles though they do have a vitamin aftertaste. We had tried it a few months ago as a free sample, so I knew that they were decent.
The Market Pantry vinegar was $1.07, but with the 5% Cartwheel offer and the $0.50 Target printable, it cost just $0.54 for each bottle. I read that an easy way to clean the microwave is to put some white vinegar in a bowl or cup (I have to check up on the details) and then microwave it for a certain amount of time. Then it'll make the inside easier to clean. Plus, we needed some white vinegar to clean our new humidifier. Pathmark had the same amount of Heinz white vinegar for $0.98, so I'm happy to know I got twice as much for the same price.
Just as an added note - the great thing about Cartwheel is that they have a feature where you can just scan the barcode of the item to check if there is an offer. I completely forgot about the Market Pantry CW offer when I saw it on Instagram, so I'm glad I take the time to scan my basket to save the extra $0.06!
Lastly, the Wholly Guacamole minis were the regular price of $5.19. I'm not someone who typically enjoys pre-made guacamole anymore ever since my parents started buying fresh avocados. The pre-made stuff just doesn't compare. However, I had requested a freebie coupon a while back and got it recently, so I wasn't going to pass up on it! Plus, the coupon was for anything up to $6.50, and the coupon autodeducted so I got $1.31 in overage that applied to the rest of the items in my cart.
I liked how my total was over $17 when the items were scanned, but then after coupons and Cartwheel, I paid under $6 for it especially when the trip included bottles of vitamins. Yay couponing!