Here are a few of the random photos I took this week. Normally, I use a series of photos in blog posts, but these are the "strays" that didn't really have a place or weren't as "worthy" to be on Instagram.
This past winter, I finally bought boots! I have a few to choose from when I need to wear one on a cold day. It's funny because even when it was freezing out or raining, I have worn flats without socks when going to work or church. It's just something I was used to doing. The cold finally got to me so I picked up great boots from Payless, which I wore this week as I went to work to help with the proctoring. On the last day, however, I was getting a little tired of the boots so I risked it and wore flats and hoped my feet wouldn't get too cold, which would then make it difficult for the rest of me to be warm for the rest of day. I snapped a picture to send to Howard when I told him I chose to wear flats that day. I do very much love them though! They're from Kohl's, and looking back on it now, I really should have purchased at least another pair because once I find something I like, I pretty much like it for good. Oh well!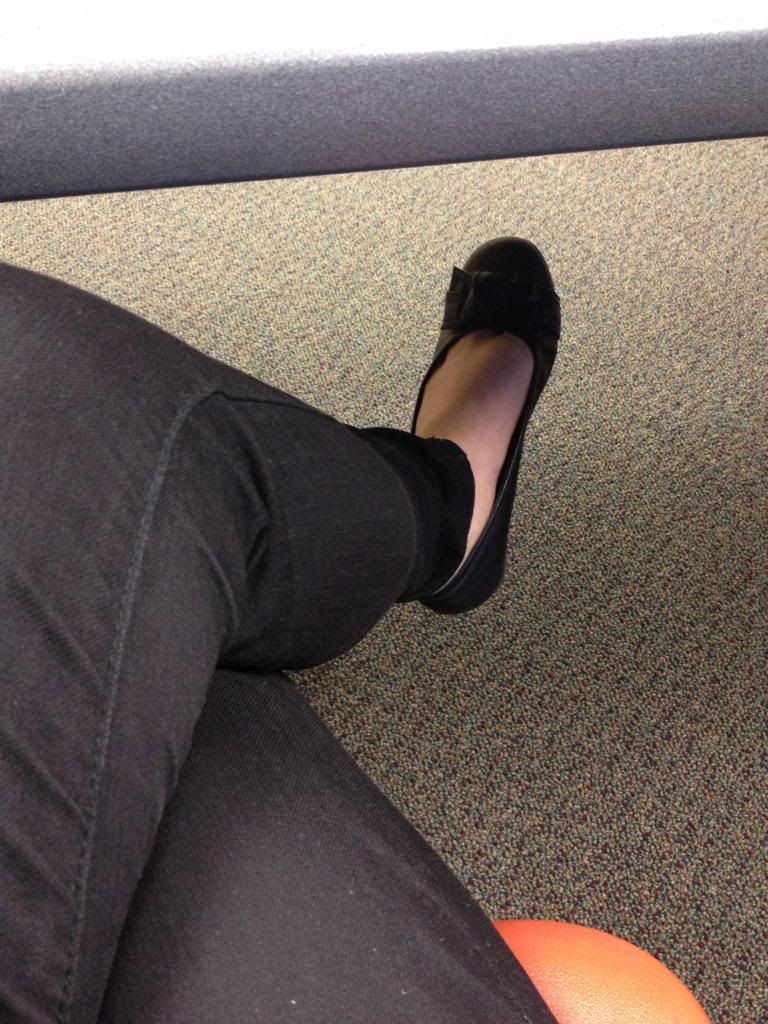 Ok, so I lied about the non-Instagram thing with this next picture, but I wanted to post it here too! As many of you know, Howard and I love trading Vinylmation! I make sure that we have some in the glove compartment of the car so that if we just happen to be going to the mall, they're there to pop in my bag. During my last trip, I traded for Emile from Ratatouille even though we already have a few of them. There's a clear trading box in Magic Kingdom's Frontier Trading Post that is Pixar only, so knowing that they have some boxes with strict rules, we don't mind getting extra Emiles to use for this purpose. I ended up leaving him in my bag to bring into the apartment instead of putting him in the glove compartment, but I forgot to take him out. When I was searching in my bag for lotion, I saw a little face peeking out at me and had to take a picture!
Yesterday mom and I didn't have lunch to bring to work, so we made plans to stop by Panera on the way to school to pick up some sandwiches. Mom insisted on treating me, so I I ordered the Bacon Turkey Bravo sandwich, which is the one with gouda cheese in it. When I opened it up, I took a few bites and realized they gave me the Roasted Turkey & Avocado BLT! Haha, that's not a problem for me because the avocado was excellent! It was just huge pieces of it. It wasn't slivers or chunks, but like, almost full avocado halves! It made the sandwich kind of messy because it wasn't flat, but it was really tasty. The avocado made me a happy camper before moving on to finish the rest of the day with elementary school lunch duty following my lunch break. Thanks, Mom!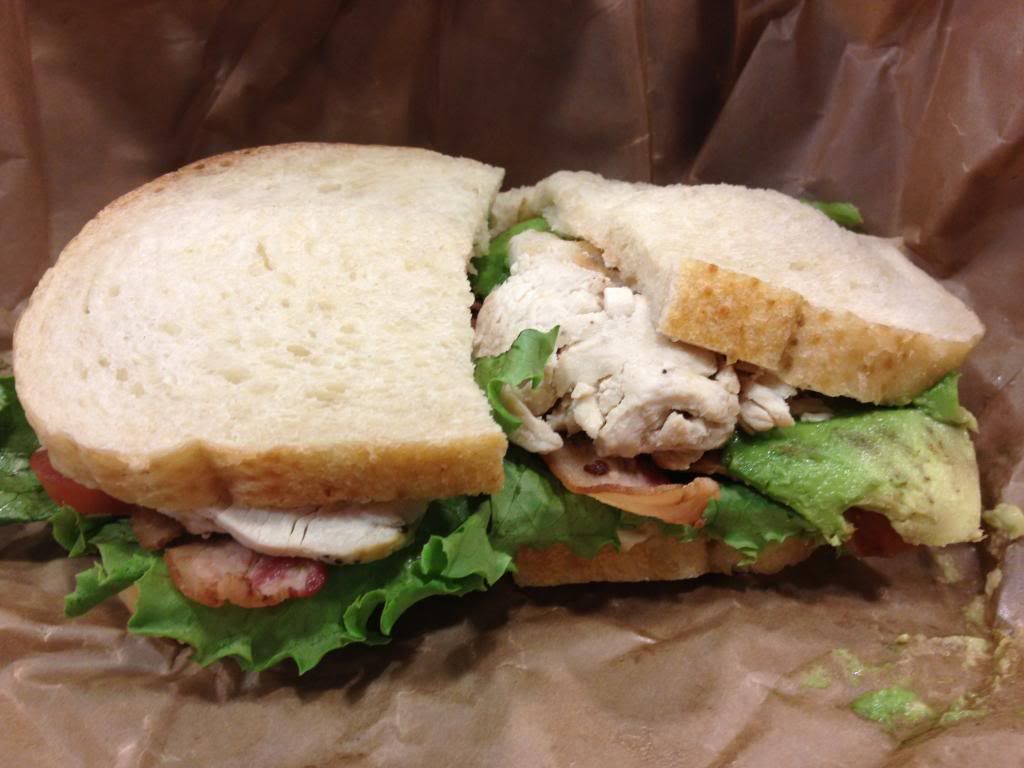 For the past couple of weeks, I have been searching for baby clothes since we had to go to Howard's cousin's baby's 100-day celebration tonight. I kind of vowed not to buy onesies for any babies since I know they will grow out of them so quickly, but this one below was super cute and on clearance at Target. I wanted to get it for my sister-in-law, but I decided not to because I know I can get something more worthwhile with the money. I did snap a picture of it to send to Howard though! Looks super simple. Maybe I really should figure out how to do something like this on my Silhouette!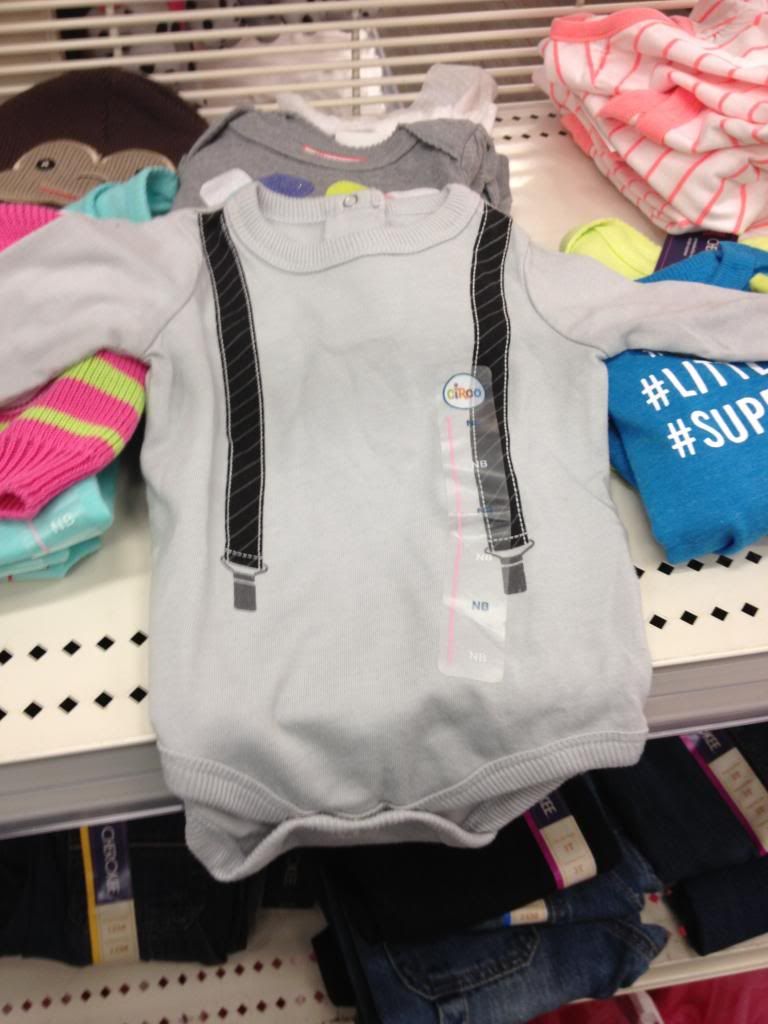 That's all for tonight. I know Howard and I will be sleeping in late tomorrow after this work week and the dinner. Have a wonderful weekend!