This past Saturday, we celebrated my Grandaunt Doris's 85th birthday. My dad already had plans for that night, so Howard drive the rest of us and my aunt to Queens to have dinner at The Buffet.
Any type of buffet usually makes me really nervous because I'm afraid I won't be worth the cost. That's why the only ones we have tried in Disney World are 'Ohana and Boma because we really wanted to experience the food. Sometimes I read trip reports on DISboards and think about how the person didn't eat his or her money's worth, but I also understand that most people go to some of them for character interaction too.
However, The Buffet is not one I worry about too much because they offer sushi! Sure, it's not the greatest sushi in the world, but it's actually pretty tasty, in my opinion. They don't overload the rolls with a ton of rice and they also offer sashimi too if you don't want to fill your stomach with carbs. It's no surprise that my plates always have at least two or three (haha, though usually more) pieces on it.
My first plate always seems like the most enticing because there's a variety of colors and tastes. However, the reality is that there's a lot of tasting going on and mental notes of which ones I want to have again. Though the family and friends at my table get an assortment of items, Howard and I always get a sushi-only first plate.
When we went up for the second plate, I knew I would focus on more sashimi so as not to get full on too much rice. The rolls I got were the ones with spicy salmon or spicy tuna because I like having the strong flavors and a little bit of heat in between sashimi since I don't use wasabi. I also for some seaweed salad too because it's probably one of my favorite appetizers at a Japanese restaurant despite how basic it seems.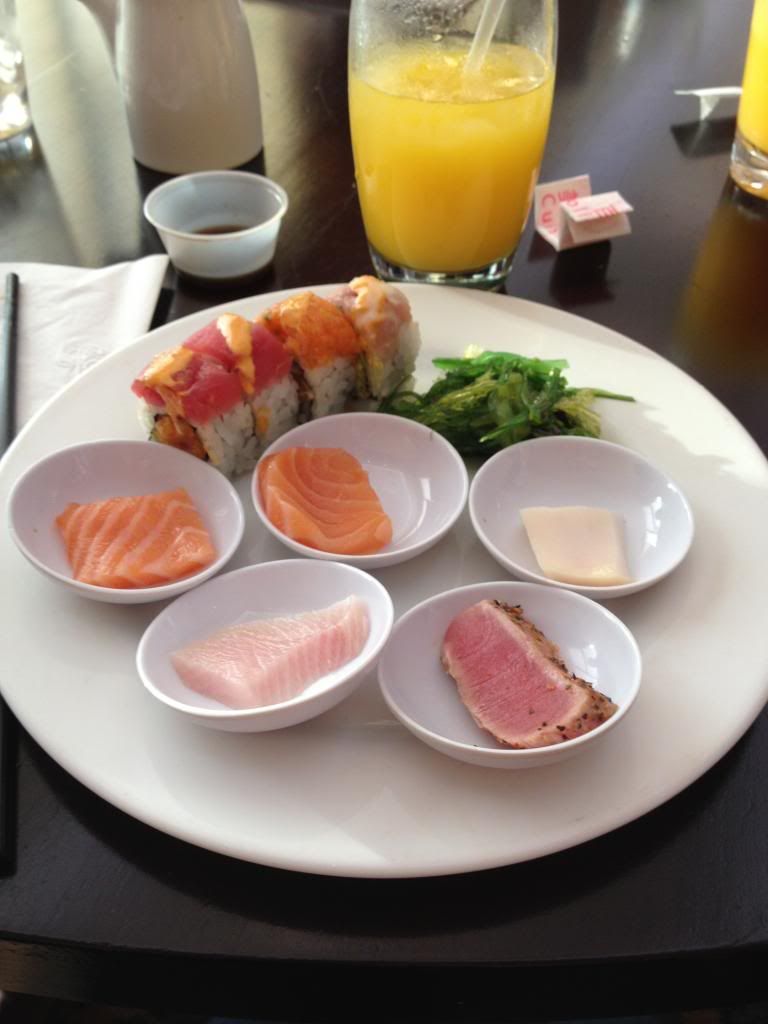 I did choose to be a little daring with my food adventures though. Howard had gotten pig ears, and I was curious about it because Guy Fieri has had it on Diners Drive-Ins and Dives. Of course, he had a big 'ol floppy ear whole placed between two pieces of bread, so this was a lot easier to stomach. It didn't really taste like much. When I chewed it, I felt that I was just chomping on some cartilage, which is something I don't really like anyway. Well, at least I can mark it off as something I tried!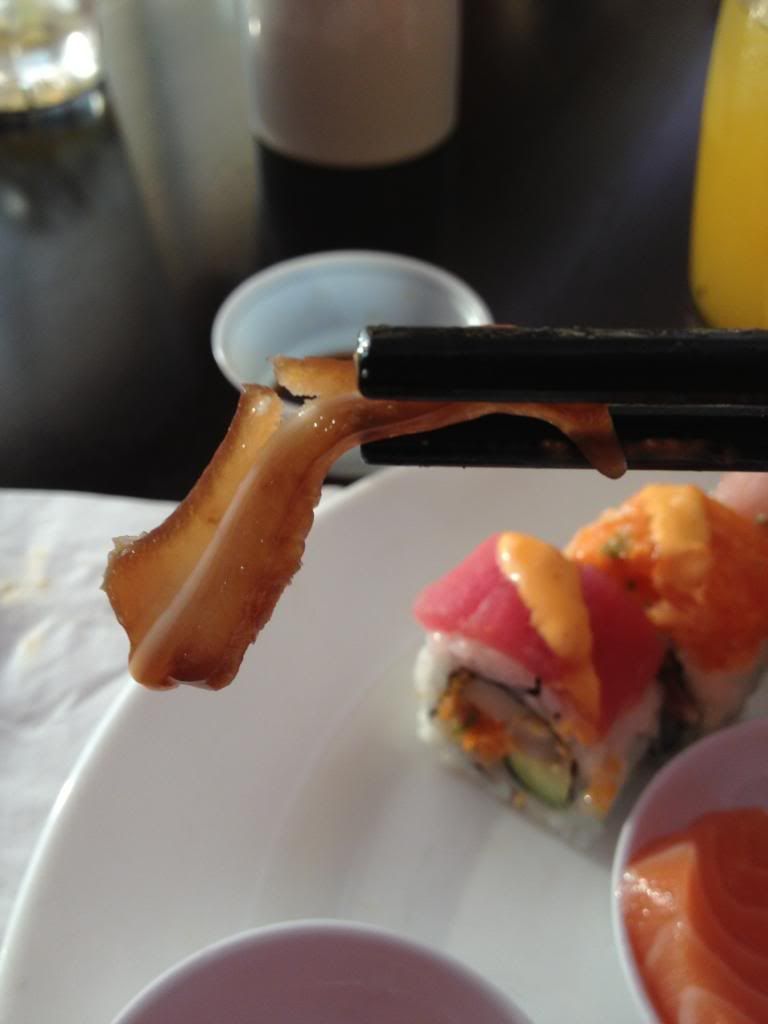 For my last plate, I told myself I'd get some hot items, but as you can see, some sushi ended up on it anyway. The shrimp was still slightly crispy despite being in the mayo sauce and on a buffet line. The veggies were listed as kale, but it clearly was Chinese broccoli. This was actually quite refreshing too with its very strong vegetable flavor. If I had known, I would have gotten some ok each plate. Howard and I also stood on the line for some Peking duck. Last time, we got two each because that's the maximum listed on the sign. This time we knew one was plenty! I had the piece of meat from the drumstick, so it was very meaty instead of fatty, which made me happy. There's a piece of "duck" in front of the rolls, but it was actually part of fried taro (similar to the fried taro ball you can get from dim sum). I wish I had gotten another piece! Lastly, You can see a spring roll on the plate because I have a weakness for those as well. It might be the remnants of my childhood when I used to enjoy fried food. I actually left a bite of that on my plate because it wasn't spectacular. It was the only thing on all my plates that I did not finish.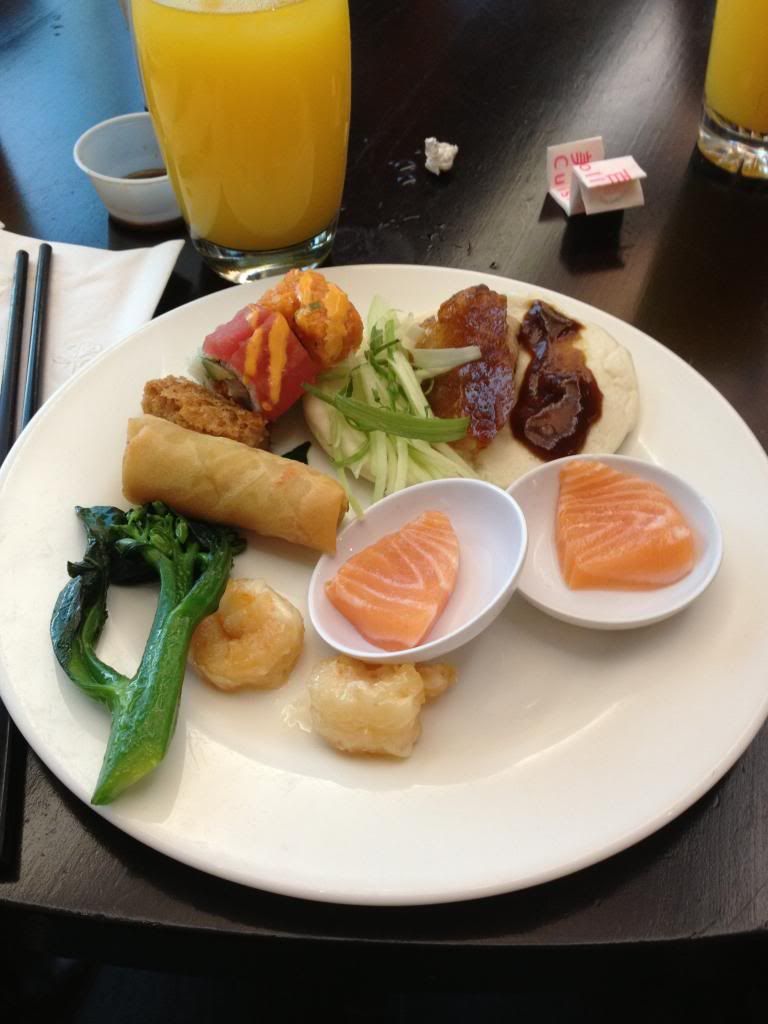 I was really satisfied at that point. One more bite probably would have made me feel really full. I would have liked to grab one more piece of sashimi as my "dessert" since I don't like the sweets they have to offer and wasn't really feeling a sweet tooth at that time anyway. I was good though and said no to anymore food because I knew we still had a drive ahead of us with potential stops and waits from traffic.
On the way out, I took two quick pictures of the assortment of rolls and sushi.
When we celebrate birthdays and holidays with my mom's family, I know our stomachs will be happy, but I also know it'll be a great time spent with family and friends. I was especially excited to see my aunt and cousin who we haven't seen in a really long time. We all said our goodbyes and headed home after the meal because most of us would be up early the next morning to see each other at church!