The title of this post has absolutely NOTHING to do with the content, but as I was trying to think of something catchy that had to do with spring, I started singing "Springtime for Hitler" from
The Producers
in my head (oh, memories of seeing Matthew Broderick on stage)! Now it's stuck in there. The bad thing about it is that I only know that one line ... haha.
Even if I did know the entire song, it wouldn't change the fact that today was clearly NOT a day for spring weather! When I woke up this morning, I saw on Facebook that people were talking about snow. Snow? What? It's April 16! I looked out the window and saw that the branches had a layer of white. I nudged Howard who was still in bed because he wasn't feeling well and took a sick day, and I think I really confused him. He must have thought I was delirious when I said there was snow outside.
I walked out of the apartment to go to work knowing I'd have to clean off the car, but I didn't at all anticipate how long it would take me. I think it took me longer today than it did the many times I've had to do it in the winter! What was left wasn't snow; it was just an icy layer. As you can see in the photo below, our parking spot is not in the sun at all, so there were actually other cars that weren't
as
bad.
While scraping the ice off, I had to stop a few times to take a break because it was tiring! It didn't help that I was wearing flats and getting a shower of freezing precipitation with every scrape. I knew I might have to drive a different car once I got to my parents' house, so I didn't want to wear boots. However, when I was starting to get extra cold, I was regretting that choice. Thankfully, I had put on my big winter jacket and my gloves were in the pockets.
I was happy to see the brightness of the sun throughout the rest of the day because I knew it would get rid of the residue I didn't completely remove from the car. But the sun we saw wasn't nearly as amazing as what could be seen in Florida! At one point during the day, there was apparently a halo around the sun! I've never seen a rainbow like that even in pictures until today. Though I'm sure the real life experience must have been jaw-dropping, I'm glad that a few of my friends posted their views on social media so I could share in the wonder.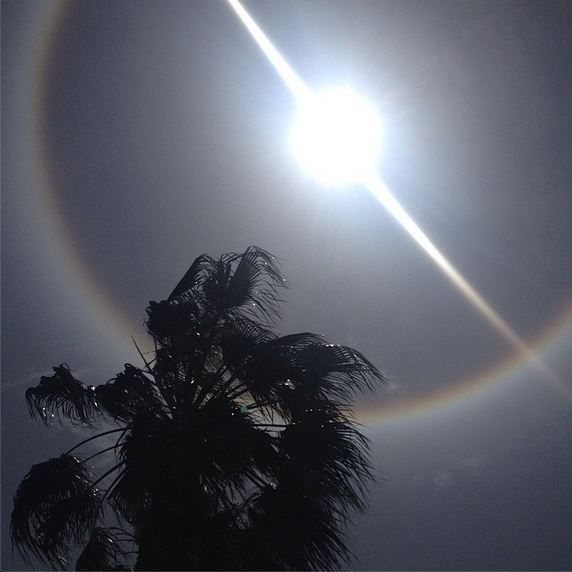 Photography courtesy of Susie Katz (one of my DIS friends who now lives in Florida!)
I do remember that it has snowed in April before so it wasn't entirely uncommon, but let's hope that this really was the last of the snow until winter returns at the end of the year!