With the many trips I've been taking to Target lately, it has basically become my new CVS. I didn't realize that it was possible to coupon so well at this store mainly because I wasn't used to going to Target except on "special occasions." But once we finally got the second store, I started seeing that it'd be silly to pass up on some great deals!
A few days ago, I decided to go for the Suave shampoo gift card deal. We really don't need shampoo at all, but this was actually a moneymaker. The only reason I was willing to do it was because I just got enough kicks on Shopkick to get a $5 gift card that I could roll. This entire transaction cost just $1.83 out of pocket, which includes tax, of course.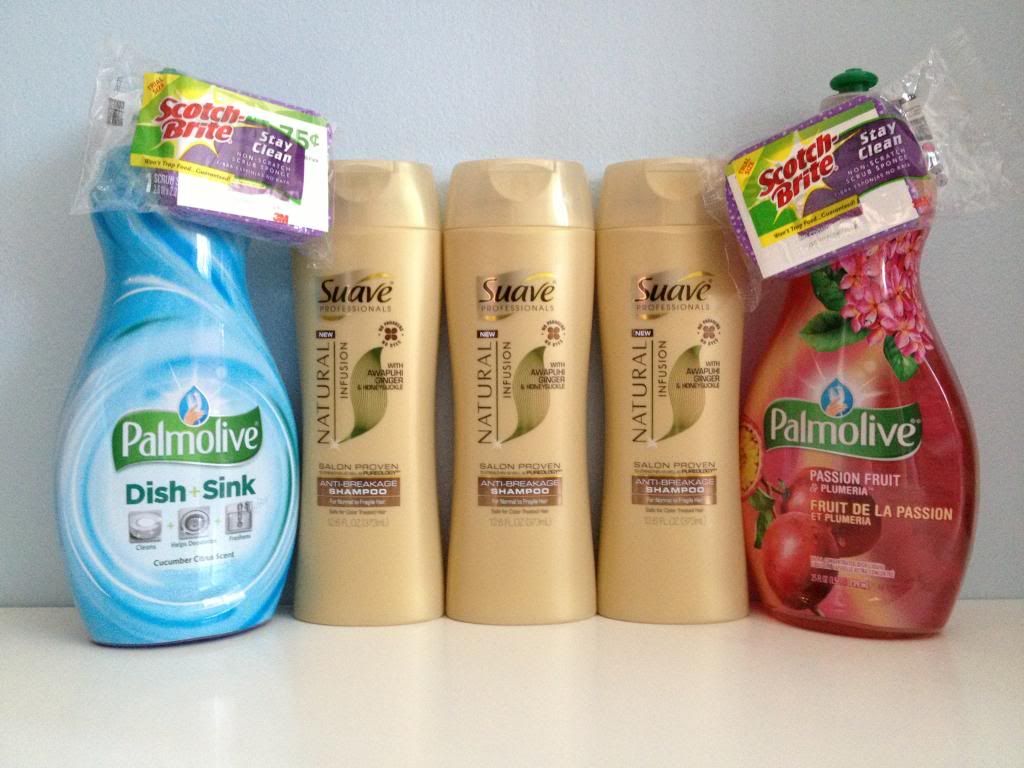 The Suave shampoo was on sale for $2.89, but I used a $1.50 manufacturer's coupon on each. When you buy 3, you get a $5 gift card. So the bundle only cost $4.17 to get the $5 gift card.
The Palmolive was on price cut for $2.73, but I used a $1.25 Target coupon on each (one was mobile, one was a paper copy that my mom had mailed to her house) along with the $0.50 manufacturer's coupon. I don't need dish detergent either, but I got excited about the fact that they have different scents. When you do dishes so often by hand, it's nice to have variety! I know that sounds silly, but an option of fragrance really makes it a little easier to deal with this chore. I grabbed these particular bottles because they had the little sponges attached to them. It's basically like a freebie!
I have to say that this was one of the easier couponing trips because it was clearly not complex. However, the cashier seemed to be distrusting of me and tried handing back the Palmolive coupons back to me after he scanned one of the Target ones. Before I could say that they were manufacturer's coupons, he must have realized it himself and pulled his hand back to scan them. He also checked my bags to see that I did indeed have enough products for each coupon. I completely understand that it's necessary because there are those who have been committing coupon fraud. All cashiers should be doing that, but I think it should just be part of how they check customers out and not make it seem as if I'm trying to steal from the store. Oh well, I guess there are always going to be dishonest people making it difficult for the rest of us.
For me, it's worth spending the $1.83 out of pocket to get the $5 gift card because I've been hitting Target more often for groceries these days. Couponing really needs to be a personal thing though as you have to ask yourself if it's worth the out of pocket cost. If I didn't have the Shopkick gift card, I would
not
have done this deal.