The insane cost of weddings in general really made Howard and I dislike all the planning because we knew we weren't the kind of people who would care about the extras for the day. Did I have a dress? Yes. Did we have a church and a location for the reception? Yes. Did we have the pastor who was going to marry us and our close friends and family? Yes. What more did we need? Everything else was just unimportant details.
Well, the one thing that we knew was equally as important as the things above was the photographers. That's why we were so delighted to have chosen
Dreamlite
because Jon and Howie really helped make our wedding memorable and even relaxing for us. We trusted that they would capture the moments of our day including the candid and the posed.
At our reception, we spent a lot of time going from table to table for group pictures. In all honesty, I think that was probably a pretty big waste of time looking at it now since we didn't even know everyone in them! I don't look at them at all now because they're just a little dull. Plus, seeing the pictures reminds me of how frustrated I was when it was happening. I felt that the time for our celebration was just slipping out of our hands as we had to wait for people to return to their table from the bathroom or deal with 5 other cameras and phones being taken out to be used on top of the photographer's camera. I just wanted to shout to everyone that we already paid our photographers to take the pictures, so let them do their job!
Amazingly, Howie never flinched at all when there were others competing for the shot. He just let it happen and was clearly a lot more calm about it than we were. I guess they must deal with a lot at their other weddings and events. While all the commotion was happening though, the following picture was captured:
A quick photographer's eye to catch a picture of a picture!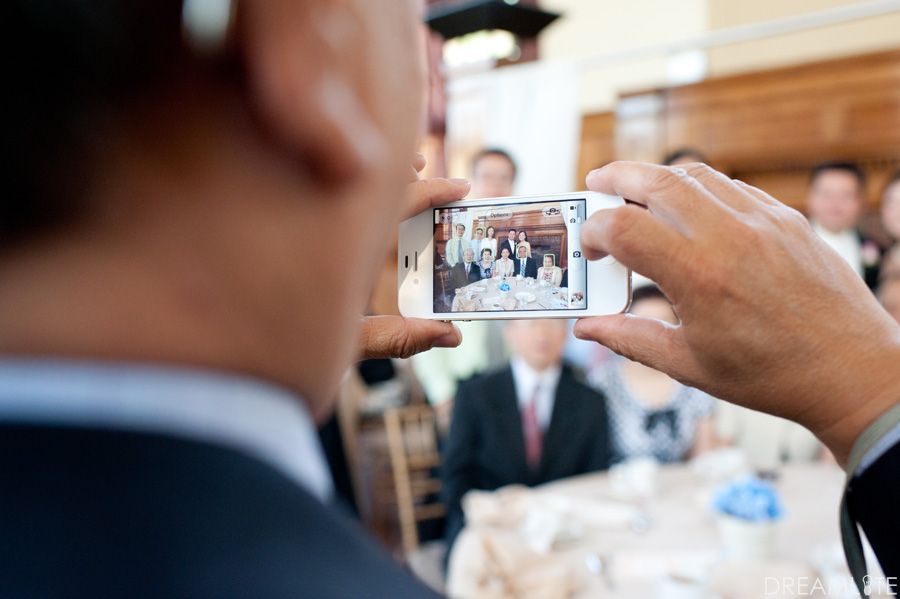 Despite not enjoying all the chaos, I actually really loved this photo of someone taking a table picture with an iPhone. I guess it just reminded me that everyone wanting their phone or camera to be used was clearly because they too wanted a photographic reminder of the day. I just really like the perspective of this.
Of course, if we were to do it all over again, I'd probably still get frustrated, haha.
(Read Part I and Part II of the series)